Summer 2018 Travel Program to Berlin and Budapest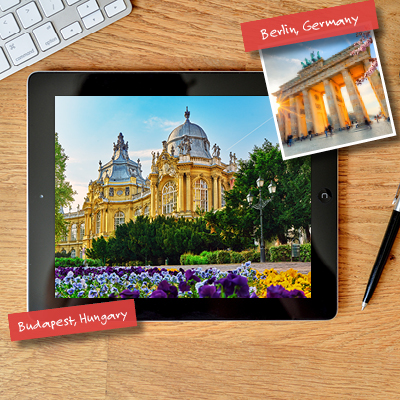 Summer 2018 program to Berlin and Budapest.
When:
July 30, 2018, 12:00 PM - August 12, 2018, 12:00 PM
Where:
Berlin, Germany,

Budapest, Hungary
Contact:
For further information and to apply, please contact Rabbi Menachem Lazar at (347) 708-0267 or menachem.lazar@touro.edu.
Explore Jewish history in Berlin and Budapest with Touro College.
Program
The program runs from July 30 to August 12.
The program is open to all - young and old, students and non-students.
Earn 3 college Credits.
Itinerary
Introductory classroom lectures followed by touring in and around Berlin and Budapest, including visits to museums and Jewish historical sites.

Berlin: Brandenburg Gate, The Wall, Holocaust Memorial, Gestapo Headquarters, Checkpoint Charlie, Jewish Museum.
Budapest: The Parliament, Margaret Island, Jewish Museum, Schindlers House, Shoes on the Danube.
Meals and Lodging
All meals are kosher under the strict supervision of the Kashrut Department under the Badatz of Berlin and Budapest. Accommodation will be in 4 star and up hotels. Full Shabbos program includes all meals and lectures.
Cost
Registration fee: $250 (non-refundable)
Program cost: $1,350 when registered before May 1. $1,450 when registered after May 1.
All travel expenses to Berlin and from Budapest are the responsibility of the participant and not included in the cost listed. Transportation to attractions and flight between Berlin and Budapest are included. Participants need to arrange arrival in Berlin and departure from Budapest.
How to Apply
Step 1. Complete the application
Step 2. Pay the non-refundable $250 registration fee
Step 3. You'll receive an acceptance email and will be required to complete payment.
About the Faculty
Peter Klein, Ph.D. is a professor for Holocaust Studies and dean of the master's program Holocaust Communication and Tolerance at Touro College Berlin.
Israel Singer, Ph.D. is vice president of international affairs at Touro College and a professor of contemporary Jewry.
Rabbi Boruch Oberlander is a senior chabad rabbi and head of the Orthodox Rabbinate of Budapest and author.
Dean Stanley Boylan, Ph.D. is a vice president of undergraduate education and Dean of Faculties at Touro College
Daniel Bodnar, Ph.D. is president of the King Sigmond University in Budapest, Hungary.
Please be advised that details of the program may be subject to change.
Contact Info
For further information and to apply, please contact Rabbi Menachem Lazar at (347) 708-0267 or menachem.lazar@touro.edu.