Prelaw Success
Small, Intensive Program Sends Students to Top Law Schools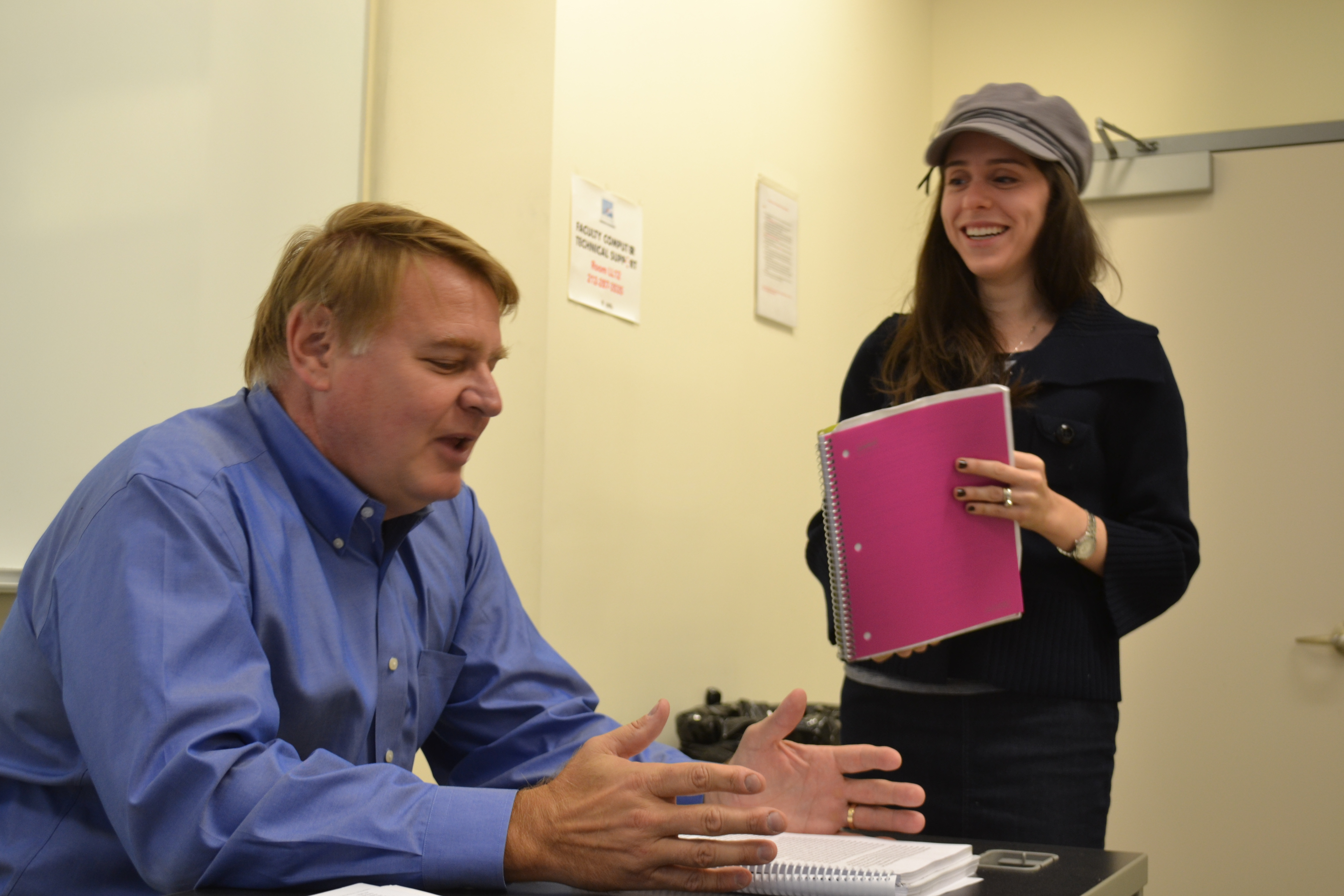 Prof. Thomas Rozinski meets with Ariella Roth, a student at Lander College for Women.
Since 2010, Touro College has increasingly placed its prelaw students at top-rated law schools. In the last three years, seven of its students have been accepted at Harvard Law School. In 2013 alone, seven students gained admission to law schools ranked in the top 21 in the country by U.S. News and World Report.
"This is a remarkable achievement for a small prelaw program that annually sends only 20 students to law school," says Thomas Rozinski a professor of political science, and Touro's principal prelaw advisor.
Touro graduates who are now in law school credit their admission record to the prelaw preparation they received while applying to law school. A laser-like focus on each step in the process — from choosing the undergraduate courses to help them prepare for law school, to choosing references who can best present their strengths, to repeated revisions of their application's personal statement — has generated winning outcomes for these students.
"I got incredible guidance," says Yossi Lieberman who is in his first year at Harvard Law School. He credits Rozinski with his own success.
"He gave me great advice on the application process itself," says Lieberman, who attended Touro's School of Lifelong Education (SLE) and graduated in June. "He advised on everything — the essay writing, what I wanted to focus on, what law schools are looking for in an essay, how to come across, when to apply to the different schools, the ways to commit or not, to a school.
"There's a lot of intuition involved, and the details are things you might not discover without doing extensive research. But he eliminated that; he laid it out very clearly."
Based on his LSAT scores and his GPA, Lieberman applied to five schools on Rozinski's advice. That strategy paid off when Lieberman was accepted to four of the five and wait-listed at the fifth. He faced the choice of uprooting his wife and children to move to Cambridge, or to stay in New York and attend law school at either Columbia or New York University. "It wasn't an easy choice," he says of deciding on Harvard. "All my family is in New York."
Avigail Shloush, now in her first year at 21st -ranked George Washington University, in Washington, says that the small size of Touro's prelaw program "works hugely to our advantage, because the prelaw program is basically a one-on-one personal guidance by Prof. Rozinski."
Rozinski helped the 2013 graduate from Lander College for Women-The Anna Ruth and Mark Hasten School (LCW) tailor her choices and applications. Shloush was given individualized counseling, and an intensive review of her personal statement.
When Shloush came to LCW, law school "was more of a dream than a realistic option," she says. Touro's lineup of law-related courses, however, set her on her current path. Two semesters of business law, and a political science/pre-law class taught by Prof. Daniel Chill, who tested students using exams patterned after those given in law school, set her on her current path.
"I have friends [at law school] who attended various other undergraduate schools, yet their prelaw program and advising was not comparable to what I received at Touro," she says. "Without such advice and direction, it's fairly possible that I wouldn't be where I am today."
Rozinski chalks up Touro's success to the prelaw courses Touro offers as well as the intensive counseling. He notes that many of the students benefit from Talmudic studies that give them regular practice in close reading of texts and debating their meaning. Courses such as 'Civil Rights and Civil Liberties' and the 'Supreme Court and the Constitution' refine their skills by teaching them to write a judicial opinion and "synthesize the law on paper." At the end of the semester, they argue their case before a panel of three lawyers.
Rozinski's course on 'Judicial Politics' examines the role of courts in restructuring government agencies, and is based on a course he previously taught in law school. "It's extremely unlikely that prelaw students outside Touro would even have access to such a course," says Rozinski.
To assist its undergraduates, Touro recently launched its new prelaw website at www.touro.edu/departments/prelaw/, which offers help to aspiring law students in an easily searchable format. The site gives an overview of prelaw preparation, a list of prelaw political science courses, and contact information for all prelaw advisors. The site also explains the skills law schools expect from entering students and provides a step-by-step view of the law school application process.
"I think our emphasis on developing critical thinking and writing skills really helps our students when they get to law school," says Rozinski, himself a graduate of Harvard Law School. "Because of the small size of my classes—which average five students—they get far more attention than at schools with dozens of prelaw students."
In addition, he and former student David Kupfer have developed an intensive pre-law school boot camp that takes place in late July, right before the new crop of law students enrolls in law school. The program prepares students for their first year in law school and teaches them how to reorient their writing skills for the law school curriculum.
Kupfer, a 2008 Touro graduate and 2011 valedictorian at Fordham Law School, says the prelaw boot camp is about "keeping connected to young lawyers and my love of teaching." He is currently a commercial litigator at Sullivan and Cromwell, one of the top firms in the United States. "This is a substantive preview of what they will see in their first year of classes," he says.\
Being prepared seems to be the least of this newest crop of legal newbie's concerns, however.
"I was worried how I would stack up against students who had been through Yale or Harvard as undergraduates," says Lieberman. "I have them in my study groups. I'm just fine. Really."