A Team Up For Technology
Touro GST Grad Wins 50K Grant for Brooklyn School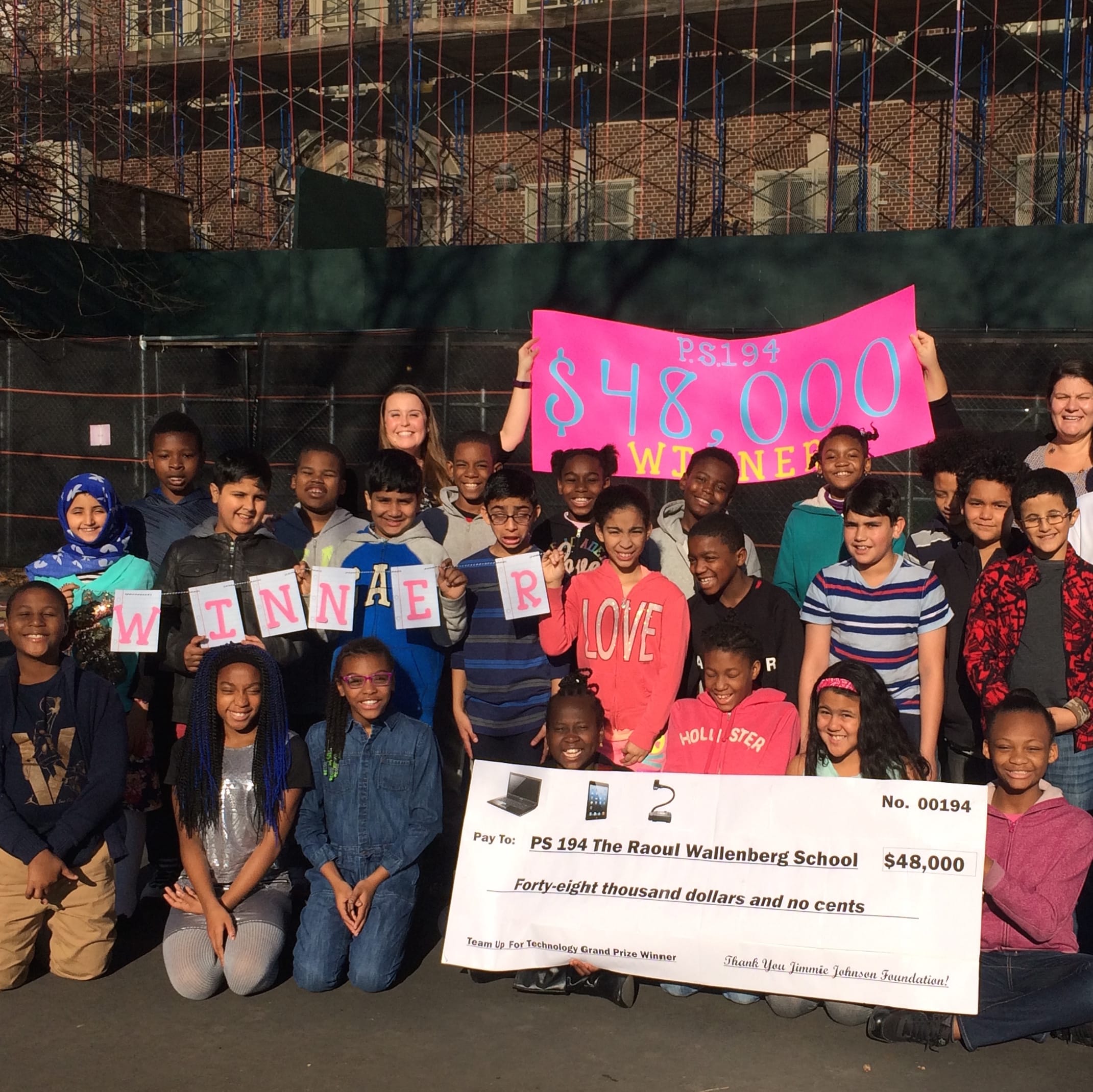 Kathryn Malara (holding the sign, top left), a graduate of Touro's Graduate School of Technology, helped her school win a $48,000 technology grant.
Thanks to the work of an alumna of Touro's Graduate School of Technology and a generous grant from the Jimmy Johnson Foundation, a public school in Brooklyn will be getting a much-needed technological make-over.
Seventy-five percent of the students at P.S. 194 Raoul Wallenberg School in Brooklyn are in public housing and the majority of students live below the poverty line. The class has six older laptops for each grade.
"We wanted to give our students a fighting chance in the 21st century," explained teacher Kathryn Malara, a 2015 graduate of Touro's Graduate School of Technology. "Fifteen minutes on the laptop once a week won't turn our students into effective learners."
With that in mind, Malara spent part of her summer looking into purchasing used computers. But then she stumbled on the website of the Jimmie Johnson Foundation. The foundation, created by NASCAR legend Jimmie Johnson, provides an array of grants for schools in America. One particular grant caught Malara's eye: The Team Up For Technology grant, that gives schools funding for technology upgrades.
"I want to have all of my students delve into a myriad of technology opportunities to find their own answers to their own questions," Malara wrote in her application. "I visualize them becoming innovative, making a difference, changing mindsets, changing hearts… starting conversations and joining them too. I want them to learn to use technology to raise awareness for causes that are important to them."
The entire application, which Malara likens to a large "term paper," included a detailed plan of what equipment the school would buy and how they would incorporate it into their curriculum. Out of 850 applications, Malara's proposal was chosen as a semi-finalist.
For the semi-finalist competition, Malara decided to get the entire school involved and filmed students discussing why their school needed a technology update.
Malara received a call from the foundation last week letting her know that her PS 194 would be receiving $48,000 for new technology.
"It was one of those moments that you can't even believe this is real," she said. "There were a lot of tears of happiness. My principal and I were dancing around the office. This grant is going to change the lives of kids in my school."