Class of 2016 Gets a Rousing Sendoff at Carnegie Hall
NYMC graduates their 157th class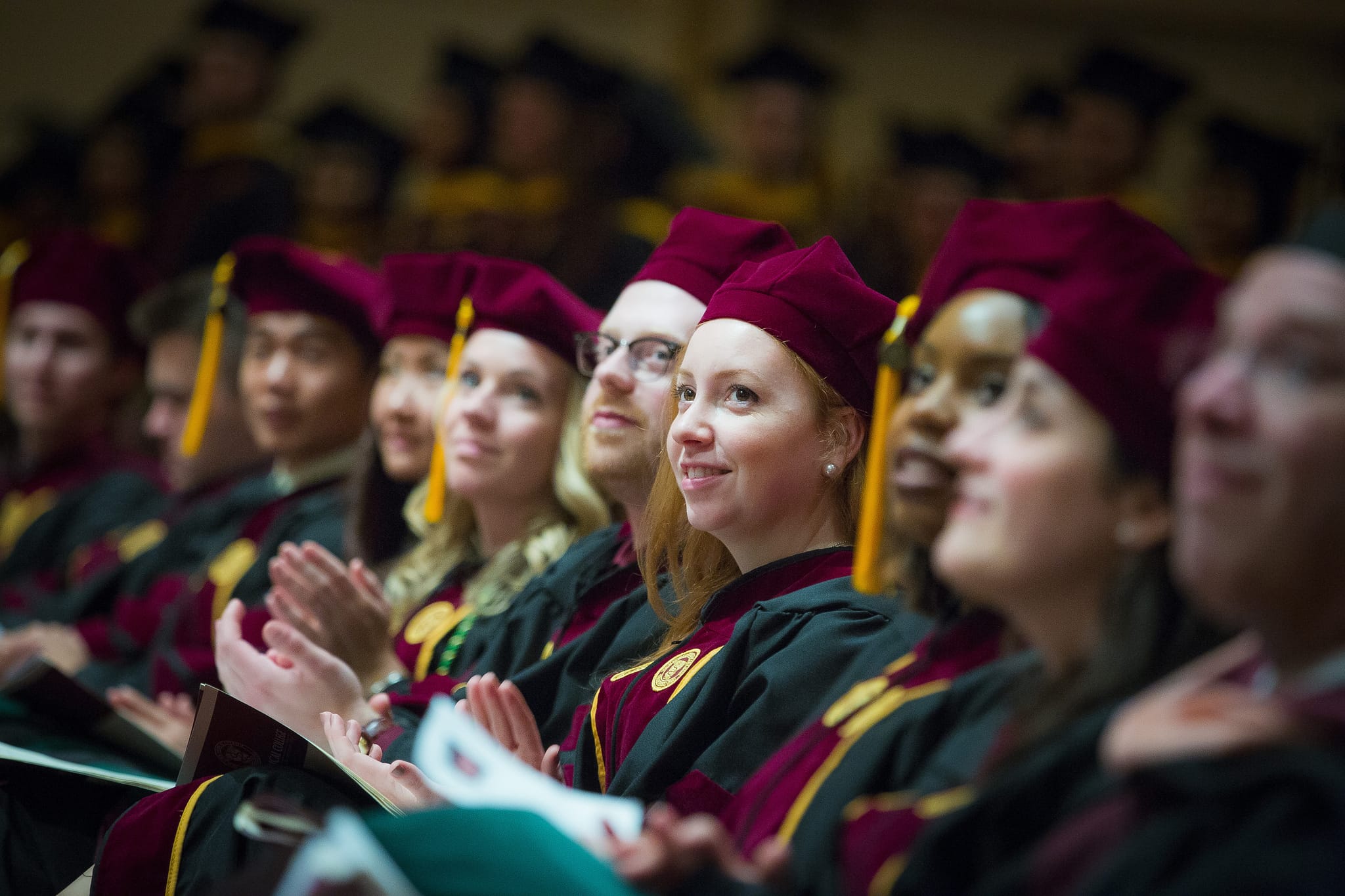 NYMC Commencement 2016
A beautiful spring day and a host of pomp and circumstance graced the Class of 2016 when they bid farewell to New York Medical College at the 157th Commencement exercises on May 23 in Carnegie Hall. The College awarded 193 doctor of medicine (M.D.) degrees, 34 doctor of physical therapy (D.P.T.) degrees, six doctor of philosophy (Ph.D.) degrees, 77 master of science (M.S.) degrees, 76 master of public health (M.P.H.) degrees and three doctor of public health (Dr.P.H.) degrees and sent forth another stellar graduating class of physicians, scientists and public health professionals into the world.
Mace bearer Ira Schwartz, Ph.D., professor and chairman of the Department of Microbiology and Immunology, led the vibrant processional of academic leaders, faculty and distinguished guests into the grand hall and on stage Grand Marshal David E. Asprinio, M.D., professor of clinical orthopaedic surgery and chairman of the Department of Surgery, declared, "The New York Medical College Commencement is now in session."
Before the graduates took center stage to receive their degrees, student greetings were given by Nassau County Health Commissioner Lawrence Eisenstein, M.D., Fifth Pathway '01, who received his M.P.H. in health policy and management from the School of Health Sciences and Practice. Dr. Eisenstein addressed the transformation in health care today. "I think every one of us graduating today has a chance to plant their flag on the future territory of health care. And how do we do that? We go into our new roles, with our new degrees, and we make ourselves indispensable. We advocate for ourselves, we participate on committees and in governance, and we do our work so well that the future system needs us. And whenever possible, we do it together," said Dr. Eisenstein. "Today's graduates of the three schools at New York Medical College have an amazing potential to impact the future of health care in the United States."
An honorary doctor of science degree was bestowed on Steven A. Wartman, M.D., Ph.D., president and chief executive officer of the Association of Academic Health Centers and the Association of Academic Health Centers International, who delivered the Commencement address. Dr. Wartman is a leader in academic medicine and isrecognized internationally for his work in the organization and management of academic health centers, the degree-granting institutions of higher education that educate the next generation of health care professionals, offer comprehensive basic and advanced patient care, and conduct a broad spectrum of biomedical and health services research.
Dr. Wartman described the "Power of the 5th C," and explained the "new physics of patient care" formula, E=mc4th power: C1, care anywhere, C2, care by teams, C3, care by large data sets and C4, care by machines. "My formula, E = mc4 has added a fifth power, the fifth C, perhaps its most powerful component…The fifth C – and the most important one – is compassion," said Dr. Wartman. "…I ask you to be guided by the importance of sympathy and concern for the sufferings and misfortunes of others, and to be steered by the principle that your patients are your best teachers. This will serve you well in your profession and your life. I wish all of you, on the threshold of such a promising future, a world filled by achievement, fulfillment, peace and above all, compassion."
A standing ovation was warranted when six graduates of the School of Medicine were commissioned as medical officers of the U.S. Army and Air Force. They were inducted by Colonel Jeffrey A. Lawson, M.D., deputy commander, Clinical Services of Keller Army Community Hospital in West Point, N.Y.
Edward C. Halperin, M.D., M.A., chancellor and chief executive officer, concluded the ceremony with the "Charge to the Class of 2016." "We confidently send you forth as graduates of New York Medical College, well prepared for the challenges posed by your respective disciplines. While you have been with us, we have strived to impart values and knowledge. As you go forward, I charge you to commit yourselves to the highest professional and ethical standards, to render to each person the dignity that is rightfully theirs, to be compassionate to those in need, and to remember with pride New York Medical College – as we will proudly remember you," Dr. Halperin told the graduates. "Godspeed on your journey, ladies and gentlemen."
A week of celebratory and recognition events preceded Commencement. The Graduate School of Basic Medical Sciences hosted a Commencement Reception and Awards Ceremony that included valedictory remarks by Galadu Subah, who received his M.S. in basic medical sciences and Robert Stobezki, Ph.D., who received his Ph.D. in cell biology. The School of Health Sciences and Practice held a Commencement Awards Dinner. Remarks were given by Nassau County Health Commissioner Lawrence Eisenstein, M.D., Fifth Pathway '01, who received his M.P.H. in health policy and management and Jason Tenzor, M.P.H. '03, welcomed the soon-to be-graduates to the new School of Health Sciences and Practice Alumni Council. The School of Medicine hosted its Senior Convocation featuring student and faculty awards and addresses by members of the Class of 2016, Joshua Sterling, student senate president, and Kelvin Luu.
View photos from the 157th Commencement Week Activities -

Carnegie Hall Recessional
GSBMS & SHSP Hoodings
SOM Hooding
Stage Proceedings
Carnegie Hall Procession
SOM Robing Room
GSBMS Robing Room
SHSP Robing Room