Creating Jewish Synergy
Touro fosters strong bonds with NCSY through students' continued involvement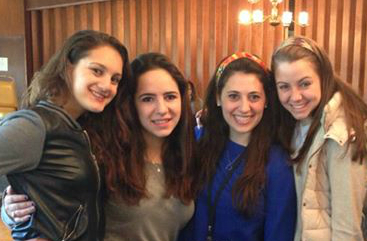 Shira Prero, second from right, is a student at Touro's Lander College for Women, who serves as an advisor to NCSY's Midwest region.
New York, N.Y. – Eli Weinstein attended his first National Conference of Synagogue Youth (NCSY) program when he was in seventh grade. The program made a big impact on his life, "creating a love and excitement about Judaism," according to the Lander College for Men (LCM) senior.
The program made such an impact that he wanted to give back.
Today, he is an advisor to high school students, chaperoning and creating programs at regional Shabbatons. A student at Touro College, he credits the youth program with giving his father a more religious grounding, and hence, changing his family's direction.
"My family wouldn't be religious without NCSY, and I felt I should give back," says the psychology major. "It's important to help the next generation to have an understanding and an excitement about Judaism."
Weinstein is not alone among his fellow Touro students. Hundreds of NCSYers matriculate throughout the university system. And many feel a need to give their time and energy to the organization. Their continued involvement is a natural one in the longstanding relationship between the college and the Orthodox Union's youth program.
The roots of that connection are deep. Dr. Bernard Lander, the founder of Touro College, was a driving force behind NCSY, which was founded in 1954. The organization has been giving scholarships since 1974 to promising NCSY participants to attend the college.
Dr. David Luchins, the chair and founding dean of the political science department at Lander College for Women-The Anna Ruth and Mark Hasten School (LCW), is also a senior national vice-president of the Orthodox Union and annually chairs the NCSY Ben Zakkai Honor Society reception with his wife, Vivian. Rabbi Moshe Krupka, the executive vice president and ombudsman at Touro, served as regional director of NCSY and in other high-level positions with the organization for two decades, including as national executive director of the Orthodox Union ,the parent organization of NCSY.
It's a mutually beneficial relationship that helps put Touro on the radar of prospective students who see the college-age advisors as role models to emulate, according to Luchins, "It makes it more likely a student will apply, and that's a side benefit to Touro."
The main benefit, however, is to the student advisors, who "hone their leadership skills and get a sense of being part of a larger community," says Luchins. "They derive a sense of responsibility to give back by mentoring other NCSYers."
Rabbi Micah Greenland, the interim international director of NCSY, would agree. Students gain powerful leadership experience by serving as advisors, he says, while providing younger students with role models to emulate.
"It's a natural partnership," he said of the bond between Touro and NCSY. "The Lander colleges can be an outstanding destination for our graduates, where the inspiration they feel in NCSY can be actualized through a university environment where they pursue a quality academic program in a Jewishly growth-oriented atmosphere.
"And it goes the other way, as well."
As Luchins points out, NCSYers fill the leadership ranks at the Lander colleges, which include LCM, LCW, and Lander College of Arts and Sciences, where Bari Fuchs, a psychology major attends. A recipient of a Touro scholarship through NCSY's Ben Zakkai Honor Society, Fuchs was president of the organization's New York region when she was in high school. Today she serves as an advisor to NCSY participants in Portland, Ore., where there isn't any yeshiva and most of the students attend the public schools.
"All the teens genuinely want to learn about Judaism, which is pretty cool," says Fuchs. "I love it, honestly."
Fuchs says she draws as much from her experience as an advisor as she gives to it. Seeing students from less observant backgrounds grow more religious is gratifying to her and something she understands from personal experience.
Watching high schools students come into their own Jewishly has been very gratifying for Shira Prero, a senior at LCW from Chicago. Prero did not spend her high school years in NCSY, but she has made up for it since, serving as an advisor on NCSY Give, a summer travel program for girls, and as an assistant director for NCSY's Jolt – Jewish Overseas Leadership Training – program. Now she serves as regional advisor to the Midwest region.
During her stints in the NCSY summer programs, she has seen that if a participant likes his or her advisor, they are usually curious about the advisor's college. The next thing they want to do is come to an open house, she says.
"It's a loving, caring community," she says. "Being a part of it helps me give back to Touro."