Dressed for success at Touro's career fair
With resumes and high hopes, students get their foot in the door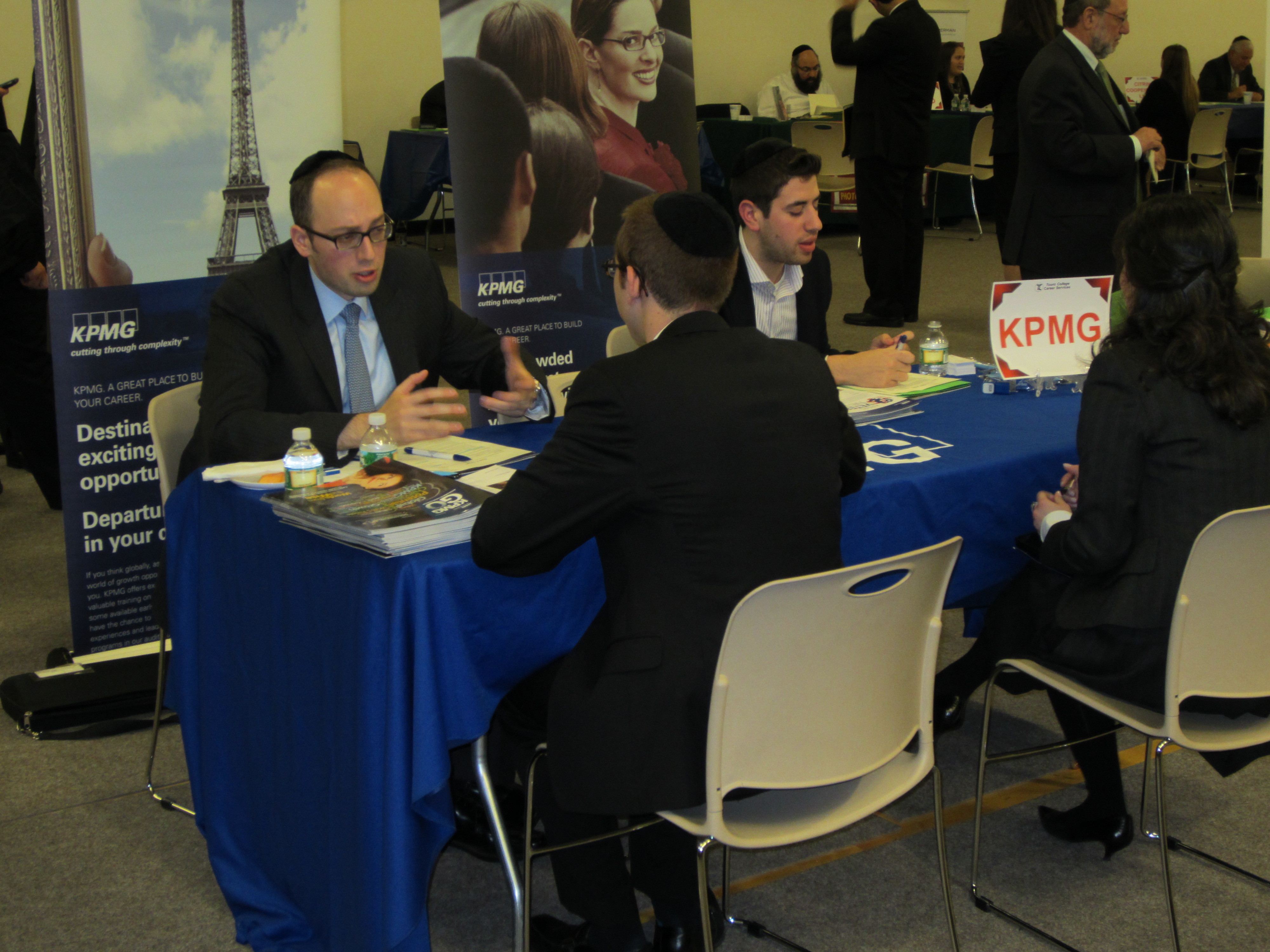 Students interview at KPMG during Touro College's career fair.
Buttoned downed and suited up, they stood in lines. Some came to speak with representatives of the accounting firms, others sought to match their skills to marketing needs.
Whatever they were seeking, as they neared the front of their respective queues, participants in Touro College's semi-annual career fair nervously double checked their resumes. This was their big chance to interview face-to-face, learn about the 32 participating companies and non-profits, and make that all-important first impression without leaving the gymnasium at Lander College for Women-The Anna Ruth and Mark Hasten School (LCW).
"It's a chance to learn about different companies and different opportunities," said Avraham Young, an accounting major in his junior year at Lander College for Men. "I'm looking forward to making connections, meeting people and possibly, hopefully, landing a summer internship."
He wasn't alone in his hopes. Approximately 145 students turned up at the event, which is held twice a year, with similar aspirations.
S. Ronald Ansel, director of career services at Touro, has been overseeing the career fair for the past eight years, has seen it grow, providing a beneficial forum for students. While the event offers actual interviews with representatives of a variety of companies, governmental and non-profit organizations, the lead up to it is just as important he says. His office helps prepare students for what to expect, coaching them on everything from writing a resume to how to dress the part with a 55-minute prep class.
"It forces them to create a professional resume," said Ansel, who runs a tight ship, and requires students to adhere to the college's interviewing standards. "It encourages them to dress right and they experience what it's like to be interviewed."
Although Ansel and his staff primarily serve Lander College for Men (LCM), Lander College for Arts and Sciences (LAS) and LCW, the fair is open to students from all the Touro schools. This year's fair included participants from Machon LParnasa, New York School for Career and Applied Studies, and the School for Lifelong Education.
Many of the interviewers themselves are Touro graduates, staffing the tables at Deloitte, KPMG and EisnerAmper LLP. The event tips somewhat toward accounting because Touro's program is well-respected, and the firms have had success at the career fair, Ansel said. Within two days of the event 28 of the accounting students who interviewed received invitations for follow up interviews, he said.
Nonetheless, other organizations, such as non-profits like the Jewish Community Relations Council and Areyvut; Escalate, a marketing firm; and the New York City Department of Citywide Administrative Services, come seeking young up-and-comers. Even JSpace, an online Jewish portal and Juice Generation, had tables.
Seeing Touro graduates on the other side of the table helps put the interviewing students at ease, according to Shammai Beienenstock, a professor of accounting at the Flatbush campus. For him, it was a chance to "shep nachas," seeing current students interviewing with former students, who have succeeded.
"To see our students sitting there, it's indescribable," he said. "And it's a tremendous benefit to the ones interviewing. They see that they are able to walk the walk and talk the talk."
LCW senior Alana Cohen was hoping her degree in psychology combined with her sales experience would work to her advantage. She credited Sarri Singer, LCW's assistant director of career services with being a "lifesaver."
"I was up until 10, working on my resume last night and she was there, helping. It was very impressive," Cohen said.
Cohen is hoping those last minute touches will pay off when she interviews. The career fair "seems to be a really good thing. People are very forthcoming about what they do and what's available."