Fielding Results
Graduate School of Social Work Fellows and Scholarship Students Take Instructive Trip to Northport VA Medical Center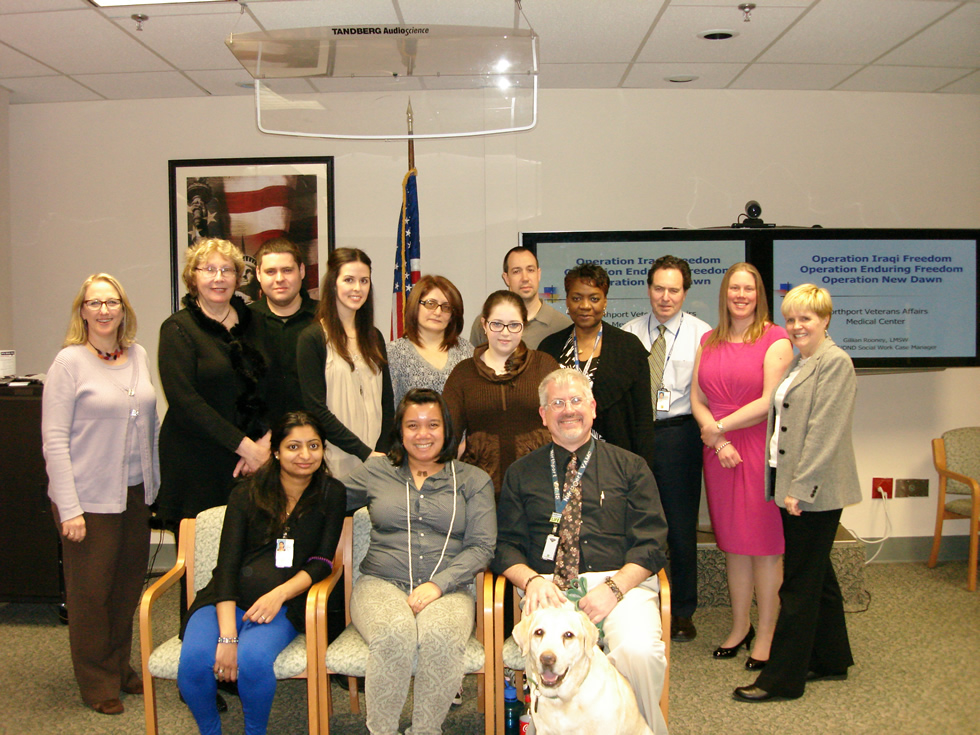 Northport VA Field Day April 2014
Social work, like any field, has its individual areas of study but still benefits from interdisciplinary understanding. That was embraced when select Touro Graduate School of Social Work (GSSW) fellows, scholarship students and educators participated in the first-ever Field Day at the Northport Veterans Affairs Medical Center (NVAMC) in Northport, Long Island on April 4.
A good deal of the day's focus was on traumas endured by, and strategies recommended for, returning military veterans. NVAMC staff and administrators including Extended Care Section Chief Melanie Brodsky and exposure-therapy practitioner Larry Backilman, LCSW, delivered related lectures and presentations. But the insights offered proved relevant to the range of Touro attendees, regardless of their special areas of interest. The six students who made the trip, for example, were focusing their coursework in one of three specializations: veterans' issues, aging populations or the severely mentally ill.
"I had said, it would be really great if we could organize a field trip to an agency that would cover a variety of clinical practice areas and the VA is ripe for all that," recalled Susan Brot, GSSW Associate Director of Field Education and Advisement. Professor Brot brought the idea to NVAMC Assistant Chief of Social Work, Vivian Bugaoan who ran with it and coordinated an in depth day long program for students and faculty including Associate Dean Dr. Melissa Earle and Research Chair, Dr. Rufina Lee. "This was a way to partner with one of our newer field agencies and help train future social workers focused on these critical issues." The Field Education Department has placed a student at the NVAMC for an internship for the upcoming 2014-15 academic year.
"All of [it] feeds back to what's been working within the community," confirms Annalene Antonio, who completed her Touro-assisted Military Social Work Scholarship in June and was one of six students present. "What's different is just who they're serving and what they're specifying. And that's really the cultural competence. These treatments can be used in any population."
One common thread, whether the topic was sexual trauma or geriatric care, was involving the whole family in a patient's rehabilitation. NVAMC's Heather Watson-Mott, LCSW, outlined the approach behind behavioral family therapy, for example. BFT sessions take place over a nine-month span, emphasizing that those close to someone coping with a psychiatric disorder fully understand their condition, have a vocabulary to discuss it and work on skills-training in and outside of a clinician's office.
Another central subject of the seminar was post-traumatic stress disorder, which hits veterans particularly hard, both because of their encounters overseas and the prideful nature of military combatants. But as Field Day attendee Michael Wolf, who recently concluded his Touro College Graduate School Aging Education Fellowship, observes, "PTSD seems to spill over into other areas. PTSD-like symptoms can even be involved in relationships where one partner has cheated and they're always having these thoughts as to whether they can trust them again. Even though it's not an active danger, there are some similarities." The key, he says, and something that was underscored at NVAMC, is "understanding the multiple forms of trauma, physical and mental, and how to deal with people who are living post-trauma."
The main takeaway, the visitors said, was two-fold: the enormous uphill battle that military veterans of all backgrounds confront ("they're a different person," says Antonio), and the myriad, and still evolving, ways social work can better the lives of anyone who's suffering.
Or as Wolf succinctly, optimistically puts it, "It's always an effort to adapt and be current, but I think we're poised to be much better prepared than we ever have."