Graduate School of Technology Faculty, Students and Alumni Step up for Nepalese Earthquake Relief
Her hometown in ruins, her parents forced to flee, Prerana Bhusal rallies Touro students and alums to help rebuild and restore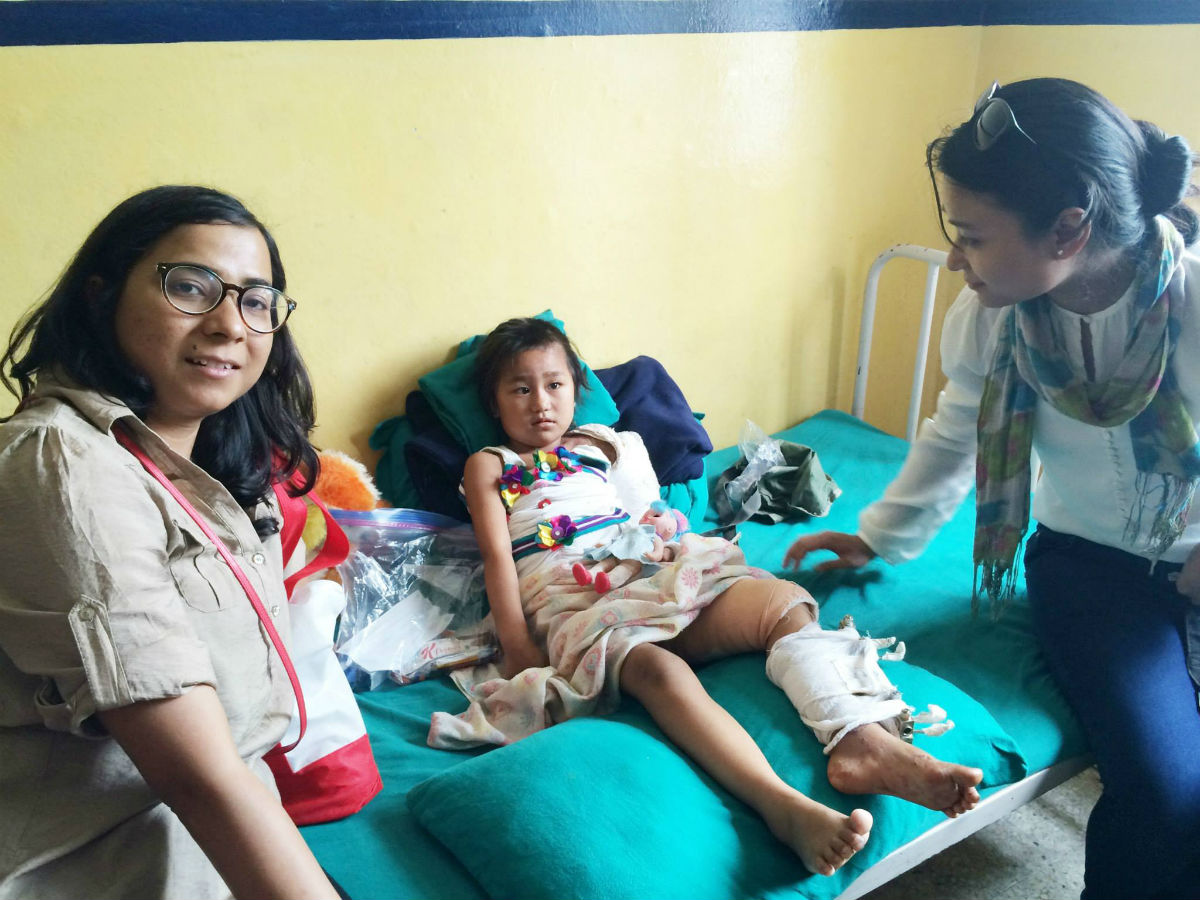 Prerana Bhusal (left) and Namrata Shrestha, of the Graduate School of Technology, lend a helping hand after the earthquake in Nepal.
When Prerana Bhusal, a native of Nepal, learned that a devastating earthquake had ravaged her country, she knew what she had to do.
"My home town of Kathmandu was in ruins, my parents were unable to move back into their house, and many friends were suffering under similar or worse circumstances."
Bhusal, an Assistant Program Director at the Graduate School of Technology – and three Touro colleagues, set out for Kathmandu. For two weeks after the April 24 disaster, they worked tirelessly in remote villages, providing injured and displaced adults and children with everything from antibiotics to mosquito nets. In some cases, motor bikes had to be used to access remote areas because landslides had destroyed roads. Word of medical aid spread quickly, and patients in some cases walked for two hours to reach the outpost.
Armed with two suitcases filled with emergency medical supplies, Touro alumnus Dr. Evan Miller, partnered with health workers from local hospitals treating upwards of 100 patients in one day for multiple wound infections, abscesses, sprains, fractures, and concussions. "They didn't have basic aids or antibiotics other than what we brought," said Dr. Miller.
"The group worked incredibly well together. Some of us ran the pharmacy; others worked nonstop as translators and helped dress wounds," he said.
Touro was among only a few colleges that provided disaster support. "We were the only group to set up camp in the area. There were doctors from Harvard, but most of the delegates primarily represented countries, not colleges," said Dr. Miller. All members of the Touro team paid for their own transportation and meals. Bhusal's family and friends in Nepal provided lodging.
Other members of the Touro group included Dr. Vladimir Fridman −whose wife, Lyubov, is an assistant program director at the GST− and Namrata Shrestha, a student at GST who is also a social worker. The group partnered with Child Reach Nepal, a non-governmental organization (NGO) that provided food, shelter and medical aid to the victims.
Aftershocks
While the team was responding to destruction and injuries from the first quake, a second earthquake struck, causing six deaths, and injuring 30-40 villagers. There were landslides and more destruction of buildings. "I couldn't reach my parents, it was very scary," said Bhusal. Sanitation was also a problem.
That night, there were 23 aftershocks. "Everyone stayed out in open spaces," Dr. Miller said. Building temporary learning centers to help resume education and keep children safe became the primary focus, and the team distributed school supplies that were provided by Touro.
Through its fundraising efforts, the Touro Nepali relief team raised more than $4,000 to aid hospitals, orphanages, shelters, and temporary learning centers, and another $1,000 for school supplies.
Bhusal is grateful for the outpouring of support she received from Touro College and her colleagues. She lived in Nepal until the age of 18 so her journey to help the victims was deeply personal. "I am very much determined to serve my people," she said.
To donate to the victims of the Nepal earthquake, visit gofundme.com/relief-for-Nepal.