Honoring the Graduate School of Technology Class of 2015
At the annual awards ceremony and banquet, GST recognizes top graduates in Web and Multimedia Design, Information Systems, and Information Technology Programs.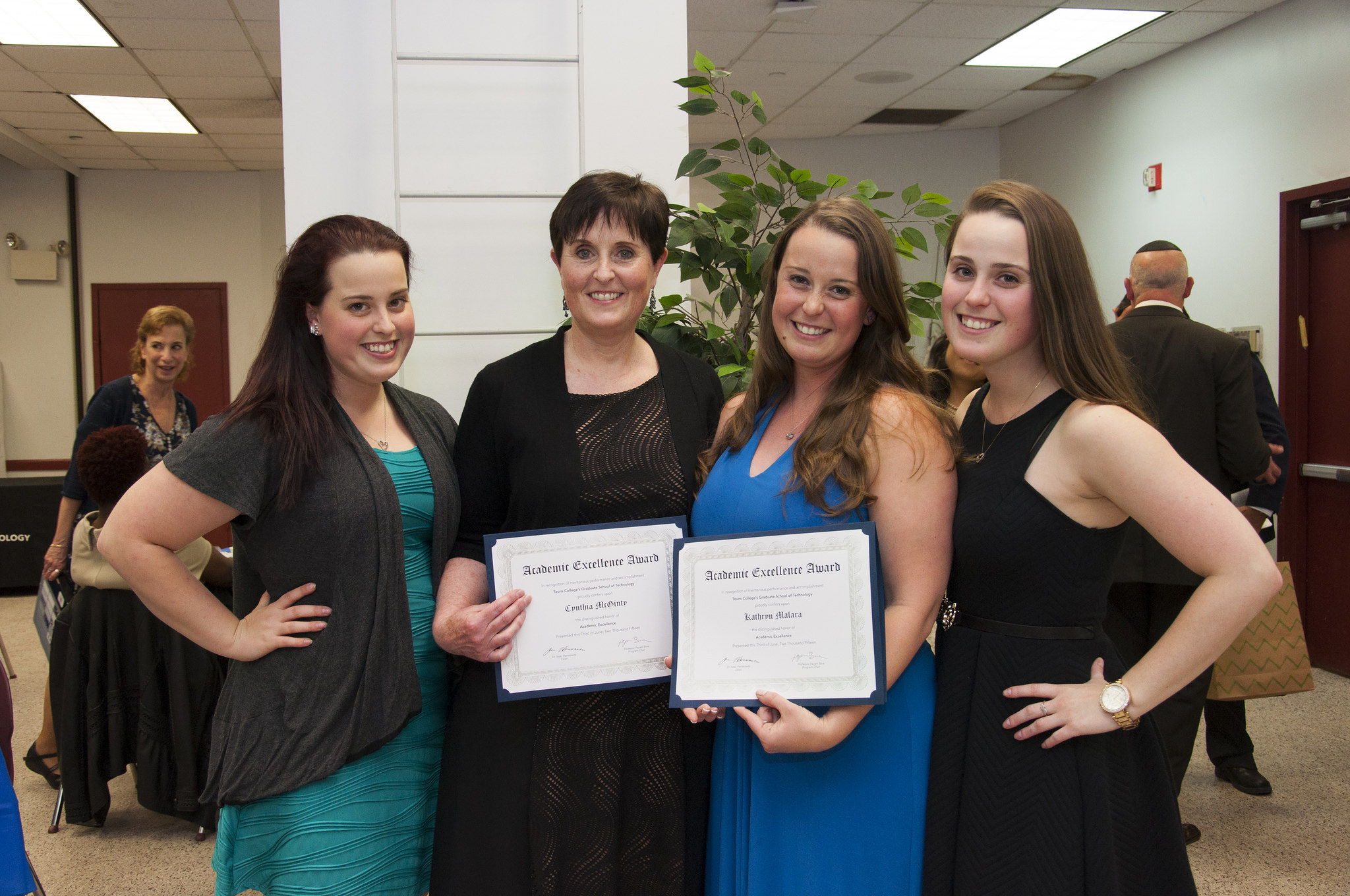 Mother-daughter duo Cynthia McGinty (second from left) and Kathryn Malara (second from right), who both won Information Technology Program Academic Excellence Awards, with Ms. McGinty's other daughters.
On June 2, the Graduate School of Technology (GST) honored the achievements of this year's Masters of Arts and Science candidates in Web and Multimedia Design, Information Systems, and Information Technology Programs with family, faculty, and friends at the annual awards ceremony and dinner celebration.
Emceed by Professor Jesse Epstein, the banquet included welcoming remarks by Dr. Nadja Graff, vice president of the Division of Graduate Studies, and Dr. Isaac Herskowitz, dean of GST.
Canadian-native Cindy Christensen was awarded the honor of class speaker, and will represent the Graduate School of Technology in her address at the Touro College Graduate Division commencement exercises on June 23. Ms. Christensen—who enrolled in Touro after working for companies such as Microsoft, Chanel, Toyota, Samsung, and Guerlain— designed, developed, and maintains a popular blog, "Travel Till Dawn," that chronicles her travels around the world.
This year, the President's Award went to Tatyana Borowski and Marach Treekunprapa, both graduating from the Web and Multimedia Program.
Originally from Thailand, Mr. Treekunprapa developed an edutainment application for children for his thesis project, and was recently hired as a junior front-end developer at TAG in Soho. Ms. Borowski, who has experience in marketing, advertising and front-end web development, redesigned the GST website with Mr. Treekunprapa this year.
In wishing the graduates success, Dean Herskowitz urged the graduates to network, calling it "the one key to success." "As you advance in your career and transition between the dozen or so jobs a tech employee will have in his or her lifetime, hold onto the contacts you've made here at GST. It's only to your advantage to keep in touch with former colleagues, friends, and even acquaintances," he reminded them. Dean Herskowitz also thanked each of the staff individually for the hard work and efforts they invested over the past year, and presented Distinguished Service Awards to Professor Joseph Herbst, Professor Miriam Plonczak, and Dr. Shmuel Fink.
Included in this year's awardees was mother-and-daughter duo Cynthia McGinty and Kathryn Malara, who both won Information Technology Program Academic Excellence Awards. Cynthia, an elementary school science teacher working for the Department of Education, was inspired to pursue her master's degree after her daughter, Kathryn, also a teacher, decided to transfer to Touro from her former master's program (which "mandated that I quit my job to participate in an internship," she remembers).
"When I heard about the Information Technology program at GST, and its flexible class schedule, I knew it was the perfect program for me. I remember thinking: 'Yes, this is it.'"
Both mother and daughter were motivated to pursue their Master's degrees in hopes of securing technology jobs within the elementary schools they currently teach at.
"Because once you have your foot in technology, you're in," said McGinty.
Congratulations to the graduates and awardees!
WMM (Master of Arts in Web and Multimedia Program) Service Award
Tatyana Borowski
Galuge Mario Shanil Randimal Fernando
Jing Qian
Oksana Saulneko
Namrata Shrestha
Marach Treekunprapa
MSIS (Master of Science in Information Systems Program) Service Award
Melvin Marcus
ITP (Master of Science in Instructional Technology Program) Service Award
Chaya Klugmann
WMM Academic Excellence Award
Tatyana Borowski*
Cindy Christensen
Galuge Mario Shanil Randimal Fernando
Alisha Mondesir
Nora Paskaleva
Jing Qian*
Namrata Shrestha
Marach Treekunprapa*
MSIS Academic Excellence Award
Shreeja Dangol
Yutak Kwok
Michael Lall
Amit Patel
ITP Academic Excellence Award
Juliana Herrera
Nechoma Kendall*
Kathryn Malara*
Cynthia McGinty
Marsha Williams
Inka Zimmer*
WMM Career Advancement Award
Joseph Cardenas
MSIS Career Advancement Award
Cesar Almanza
GST Class Speaker
Cindy Christensen
President's Award
Marach Treekunprapa
Tatyana Borowski*
*Asterik represents GPA of 4.0