In It to Fix It
Congresswoman Rice Focuses on Solutions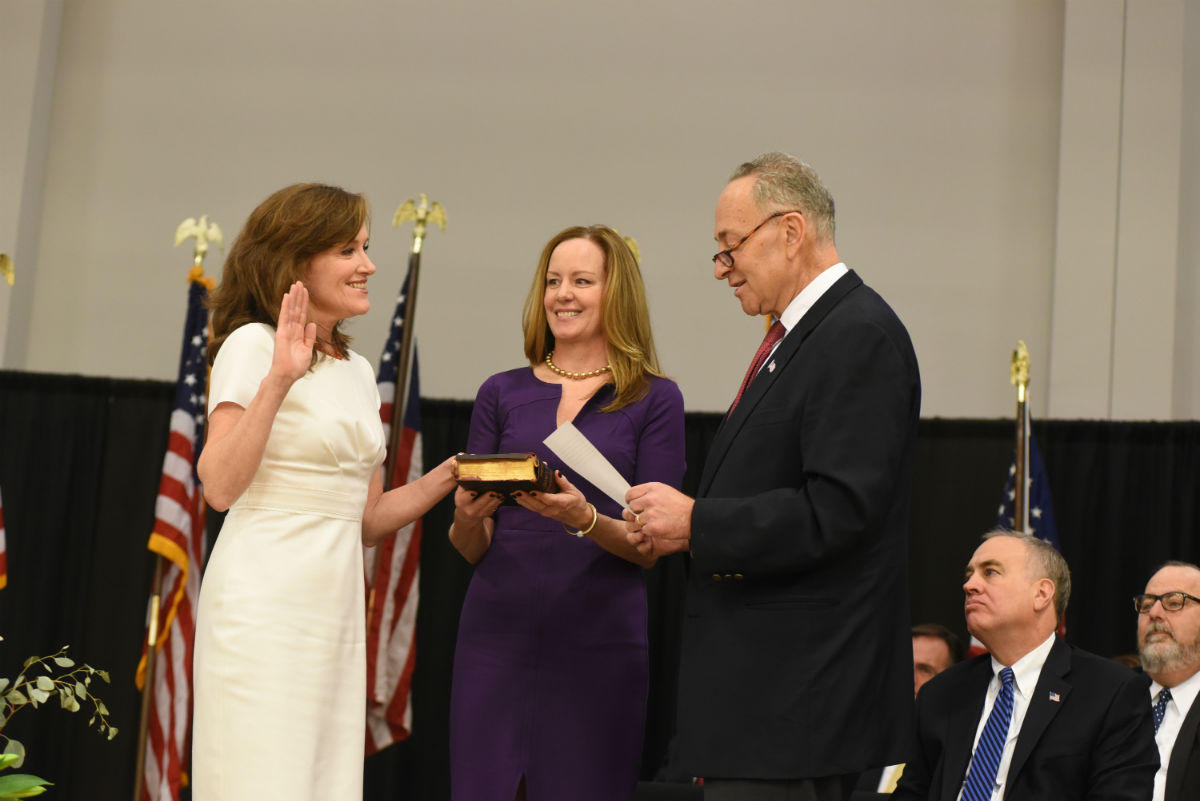 Congresswoman and Touro Law Center graduate Kathleen Rice (left) being sworn in by New York Senator Chuck Schumer
When Congresswoman Kathleen Rice considered her career path following graduation from college, her father's words came to mind. "He used to tell me, you like to argue so much, why don't you get a law degree?" says Rice, who in January 2015, was sworn into office to represent New York's Fourth Congressional District, Nassau County.
Back then, however, Rice could not have imagined that this love of arguing would carry her through three years of law school at the Touro Law Center, an impressive career as a prosecutor in Brooklyn and Philadelphia, as district attorney for Nassau County and most recently, help her win a seat in the United States Congress. Since earning her law degree, Rice has made a name for herself as an advocate and a problem solver. While serving as D.A., she earned a reputation for cracking down on drunk drivers, combating public corruption, closing the pay gap between men and women in her office, developing reforms to reduce cheating on college standardized tests, and creating education programs for teens focused on minimizing bullying and drug use. A gun control advocate, she also supported gun buy-back programs.
One of 10 children, Congresswoman Rice learned early on how to speak up for herself and to compromise. "I think this was a factor in my pursuing a career as a prosecutor and ultimately entering politics," she says. Rice's ability to find common ground, along with her respect for differences of opinion, are qualities that have served her well throughout her career, and these too, were learned at home. "I was raised in a Republican household. My father was a Republican and my uncle founded New York State's Conservative Party," explains Rice. "There were always issues we didn't agree on and those we didn't discuss, but we never lost respect for each other, or the important things we did agree on."
Rice's father, who passed away recently, didn't let politics get in the way of his support for his daughter. He switched parties and registered as a Democrat when Rice ran in the primary race for Nassau County D.A.
Congresswoman Rice's work has always focused on helping others. "Service is something my parents always stressed," she explains. While in law school at Touro, Rice appreciated how the concept of service was incorporated into a legal education. "I went to law school knowing I wanted to use my skills and the knowledge I gained there to advocate for others," says Rice. "And this was part of the message I received at Touro, too."
Always up for a challenge, Rice describes herself as "naturally optimistic." These qualities will come in handy in Washington as she focuses her energies on keeping the country safe, through her work on the U.S. House of Representatives' Homeland Security Committee, and as she works to help maintain and build the middle class.
"I try to keep myself focused on how things can be and what I can do to be part of the solution," she says. For Rice, building relationships on both sides of the aisle is a priority. "I genuinely believe there are good, reasonable men and women in Congress who feel the same way and I'll work with anyone from any party who wants to get things done for the people we serve."