Judge Rachel Freier Inspired Attendees at Touro's Presidential Lecture
First Hasidic woman judge finds success without compromise
Judge Ruchie Freier
"This was amazing. She has shown me that it is entirely possible to have a career in law while being an Orthodox woman. She changed the way I think about my future."
This was just one comment from a student at Touro's Lander College for Women—The Anna Ruth and Mark Hasten School, who heard from the Honorable Rachel Freier, the first Hasidic woman judge—and a Touro graduate. It was an eye-opening experience.
Judge Freier—Ruchie to her friends and family—shared her remarkable journey from Hasidic Borough Park to the multicultural hallways of Brooklyn's Criminal Court. She emphasized a message that Touro students were eager to absorb: you can succeed without compromising your standards. "In fact, it's the opposite," she said. "When you show that you are committed and you don't compromise your beliefs, you will earn the trust of your employers and your colleagues."
The petite Judge Freier commands a room. She started her college education at Touro's Lander College of Arts and Sciences in Flatbush Brooklyn. She was thirty years old and the mother of three young children. She spent six years completing her Bachelors Degree in Political Science, graduating summa cum laude. "If it wasn't for Touro, I couldn't have done it," she said. She went on to Brooklyn Law School, finishing in 2005 to become one of the first Hasidic woman lawyers in New York. Along the way, she had three more children.
"Ruchie was an honors student with outstanding leadership skills and lots of extracurricular activities, and with all of this, she always put family first," said Robert Goldschmidt, dean of Lander College of Arts and Sciences.
Blending, Rather Than Balancing Work and Family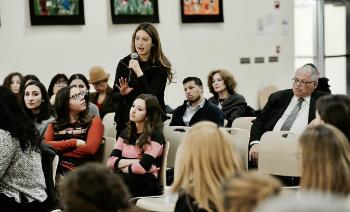 Rather than looking for ways to balance work and family, Judge Freier blended them, bringing her young children to school and to work so they could "see where mommy goes." Her family became her biggest boosters. When she ran for judge, her sons translated her marketing materials into Yiddish and collected petition signatures and endorsements for her at synagogues throughout Borough Park while her daughters collected them on street corners. "
Judge Freier's husband, David, was her first ally. People give me all the credit as a trailblazer, but my husband deserves a round of applause. He is the first Hasid to allow his wife to run for public office," she said.
The journey wasn't always easy. "I made my deal with G-d to help me make it through law school and when His children come to me for help, I will help them," she said. After graduating law school, she held up her end of that deal.
Judge Freier founded Chasdei Devorah, Inc. a non-profit charity, that helps low income Jewish families. She also formed B'Derech, an organization the supports adolescents at risk in the Hasidic community. When a group of Chassidic female Emergency Medical Technicians (EMTs) in Borough Park asked her to assist them in their desire to serve other women during emergencies, she became an EMT and helped them build an al-women's volunteer agency known as Ezras Nashim.
"We are delighted to count Ruchie among our graduates. A trailblazer for Hasidic women, she has given voice to underprivileged youth and kids with disabilities and is a vocal supporter of educational opportunities for Hasidim," said Touro President Dr. Alan Kadish.
These days, Judge Freier hears cases on the bench in Brooklyn, using all of her experiences to guide her decision-making. And she brings in rugalech on Fridays to share the joy of Shabbat with her colleagues before she leaves early to observe Shabbat.
Lander College for Women Dean Marian Stoltz-Loike, who hosted the event, summed up the evening. "We help students reach their dreams and integrate that with their values. Judge Freier is a wonderful example of how to make it work."