Meet GST Grad Joseph Cardenas, Production Artist at AmEx
A conversation with the Graduate School of Technology graduate of 2014.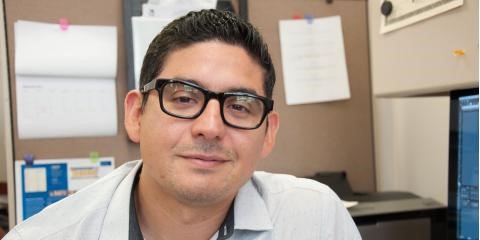 Joseph Cardenas, GST '14, is now a production artist for OnBrand, American Express' internal creative agency.
At the Graduate School of Technology (GST), we pride ourselves on the competitive positions our alumni are able to attain after graduation. Joseph Cardenas, GST '15, is a prime example: After graduating this past year from GST's Web and Multimedia Design Program. Joseph was offered a position at American Express, where he currently works as a Production Artist for OnBrand, AmEx's internal creative agency. Joseph sat down to talk with us at GST for a few minutes about his daily responsibilities, background in design, and personal visions for the future.
What brought you to GST?
"As a print production designer, I knew that I was going to be left behind unless I started educating myself in the digital realm. SVA, Parsons and FIT were amazing options to continue my education, but Professor [Jesse] Epstein told me about the inception of the Masters of Web & Multimedia Program in 2011. I was always drawn to the start of anything new, because it's raw and looking for ways to improve. The program gave me the courage to continue my education and learn new skills to implement into my career. There were hurdles to overcome, but I learned to adapt quickly and collaborate so that I could succeed on my personal and school projects."
What was your background in design before coming to GST?
"I'd worked on a vast array of design projects such as brand identities, photo montage posters, illustrations, catalogs, digital banners, stationary, icons, and photography. Other projects I started—and am still working on—are new brand identity logos for a cigar and lighting company. Now, though, some of the projects I'd really love to finish are the ones I was working on at Touro, such as a creative mobile app called "dConstruct" that explores art through collage. It's one of the first ideas I came up with at Touro, and one I hold close to my heart."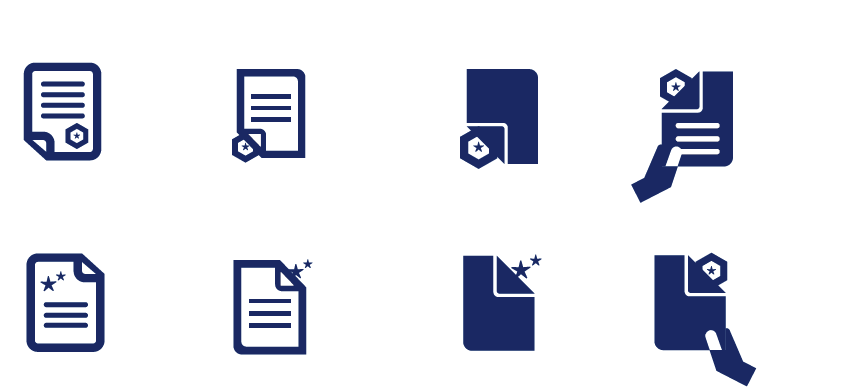 Membership Rewards Concepts for American Express
Pricing Icon, designed by Joseph Cardenas
How did you get the job at American Express?
"I honestly don't remember applying to any positions at AmEx…you send out so many resumes that you forget where you applied! I received a call from the recruiter when I was home taking care of my son one day, and within a couple of months of interviewing I'd received an offer."
So exciting! What do you do at AmEx?
"I'm part of the startup team for OnBrand, their first internal creative agency. It's really exciting—we're competing with outside agencies to take on projects that Amex works on with its external clients. I'm a graphic designer/production artist for the team and am responsible for making sure all assets designed by our team follows the global brand standards of the American Express Blue Box identity. I also make sure that all assets are created perfectly for print and digital release. In laymen terms, you can say I make sure all the graphics look beautiful and work right before being put out into the world."
A photo still of Cardenas' mobile app protoype, Praevian, which focuses on camping skills. (copyright: Joseph Cardenas)
We heard you designed a sophisticated mobile application that focused on teaching skills for camping in the outdoors. Can you tell us more about this? Can this be purchased on the app store yet?
"I wouldn't call it sophisticated, still just a first iteration of the mobile application. The mobile app concentrates on teaching a person how to survive in all types of scenarios. The name I used for the mobile application is called Praevian, which is Latin for guide. The application still is in prototype phase and not ready for any release yet. Haven't had the opportunity to finish the application, but that's why there are goals!"
Very true! How do you envision your professional career in the future?
"I would love to have my own design studio which concentrates on brand identity work, motion graphics and illustration. I would love to be recognized for my stellar design work through all the major organizations (HOW, AIGA, etc.) But's that all ego—I just want to put out amazing work that inspires, challenges and changes the perception of how people look at the world. I hope I have the opportunity to show that type of work in the future."