NYMC and Touro Launch Shark Tank-Inspired Forum to Invest in Israeli Biotechnology
Cutting-edge Israeli biomedical startups present to entrepreneurs and prospective investors at TruMada event.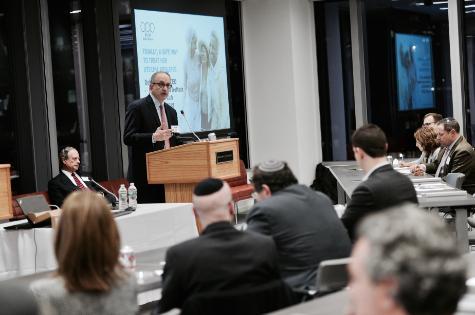 Dr. Kadish, welcoming everyone to TruMada's Shark Tank like event.
In a unique forum loosely based on the hit television show, Shark Tank, executives from three Israeli biotech companies pitched their medical products to an exclusive group of entrepreneurs interested in helping the companies develop and market their products in the U.S. The presentations were sponsored by TruMada, a Touro College initiative that supports Israeli biomedical start-ups by providing business mentoring, regulatory council, and executive consulting, while partnering with BioInc@NYMC, the biotechnology incubator at New York Medical College that offers development services for startups, from laboratory research space to finance.
The TruMada companies seeking investors were:
POP Medical Solutions: An improved surgical system, which received FDA approval that corrects pelvic organ prolapse, a common and painful condition experienced by women.
Magenta Medical: A catheter-based treatment for acute heart failure. Currently in clinical studies, the product is entering a market which, to date, has been dominated by only one other company.
ViruCure Therapeutics: Currently in clinical trials, ViruCure is a pharmaceutical approach that harnesses the cancer-fighting properties of specific viruses.
Israel has experienced exponential growth in medical innovation, but some companies there lack the knowledge and experience to successfully expand in the U.S., according to Deborah Novick, director of BioInc@NYMC and the TruMada Initiative. "That's the gap we are trying to bridge with the TruMada Iniative. With a home, with business-development services and access to capital."
Alan Kadish, M.D., at podium, president of the Touro College and University System, agreed. "With access to business development services, scientists with FDA experience, and lab space, we think there is tremendous synergy between services available at New York Medical College and what biotechnology startups require," he said.
David Raab, executive vice president of Touro College and University System hosted the event and introduced the presentations. He said collaborating with the Israeli-based biomedical startups benefits Touro and NYMC as well. "We want to enhance our reputation as an innovative, prominent healthcare research institution. Attracting state-of-the-art, Israeli biotech companies to its NYMC campus is one part of a plan to do that," said Mr. Raab. "As those companies succeed, we hope that their reputational and financial success will accrue in part to Touro, NYCM and BioInc."
"We had significant interest expressed in the three companies by the potential investors who attended the shark tank. We are following up with them and believe that at least one financing deal will be forthcoming," said Lawrence Krule, CEO of TruMada Management Company, LLC. "This event was the first in an ongoing series and we will continue to host and provide additional opportunities for investors to meet with leading companies coming out of Israeli's startup community."
"The three companies that presented reflect some of the great innovations happening in the Israeli healthcare space," said Salomon Amar, D.D.S., Ph.D., provost for biomedical research and chief biomedical research officer, Touro College and University System. "With the TruMada Initiative, we will help bring these pioneering ideas to a global audience."
The event was the first in an ongoing quarterly shark tank-like series that will provide additional opportunities for investors to meet with leading companies coming out of Israeli's startup community.