Q&A with Ari Zoldan, CEO of Quantum Networks
The media personality shares the secrets of his success and why he comes back to Touro again and again to recruit new talent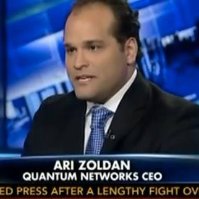 Ari Zoldan
What made you start Quantum Networks?
We identified a need in the e-commerce marketplace for a company that could provide a much better user experience than what was already available. We knew that e-commerce was going to hit and we got in front of the curve.
What inspired you to go into this field?
I have always had a passion for technology. But more so, my experience in the start-up field and building companies came first and foremost. The product and concept was almost secondary.
What has been the high point of your career so far?
Whenever we identify top talent, that is always a high point for our company. Our high points come when we go into a new market or opportunity and we build a stellar team of talent.
What do you think is the secret to your success?
Success is different for everyone. First you must ask yourself: "how do I define success?" It's a very personal question with complex answers. For me, it's about finding something that I love to do and doing it well.
What do you find most rewarding about your career?
Getting up in the morning and looking forward to starting the day. In this business, no two days are alike, and there are challenges at every corner. Overcoming that with a sense of mindfulness is rewarding for me.
What is the best business advice you ever received?
Surround yourself with smarter people than yourself and take risks.
You attend the Touro Career Fair twice each year. What attracts you to Touro students and how many have you hired?
I don't know the exact count. But over the past 10 years, we have hired many students from Touro, part time, full time and summer interns. We have done very well with Touro. The combination of professionalism and dedication is what we have picked up on with the students attending Touro.
What do you look for in a potential candidate? How can a candidate make themselves stand out?
I don't care as much about past work experiences or GPA. Although these criteria are important, my main objective is finding people that are dedicated, passionate and with solid character.
What are the skills necessary to make it in today's competitive world? How can employees make sure they are staying current?
This is a very non-academic answer, but I would say great energy. People want to work with people that emit good, positive energy. An energetic work culture is so important, and very few people get that.