Remembering Anthony Polemeni
Former Touro colleagues, family, and friends gather together to remember Dr. Polemeni and inaugurate the Anthony Polemeni Scholarship Fund.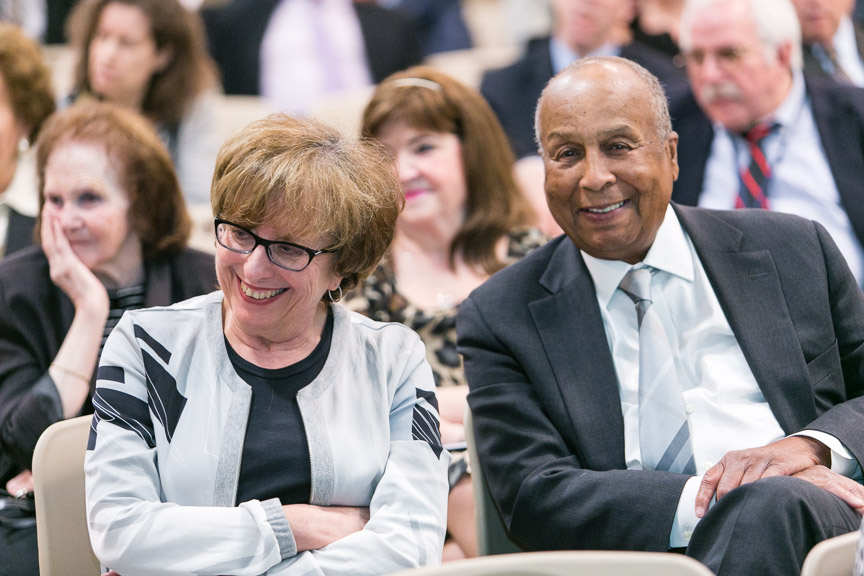 Dr. Nadja Graff (left) succeeded Dr. Polemeni as vice president of the Touro College Division of Graduate Studies. Dr. LeMar Miller (right) is dean of Touro's Graduate School of Education.
On May 12, 2015, Touro College held a memorial event to celebrate the career of the late Dr. Anthony J. Polemeni, of blessed memory, former vice president and dean of the Touro College Division of Graduate Studies.
Rabbi Moshe Krupka, executive vice president of Touro College, served as master of ceremonies of the event, which was held at Lander College for Women—The Anna Ruth and Mark Hasten School (LCW). In his opening remarks, he extolled the virtues of the Polemeni family and shared his fond recollections of Dr. Polemeni, noting his illustrious and extensive career in higher education and his deep impact on Touro College.
Remarks were also given by Rabbi Doniel Lander; Dr. LaMar Miller, dean emeritus of the Touro Graduate School of Education; Dr. Louis Primavera, dean of the Touro College School of Health Sciences; and Dr. Charlotte Frank, senior vice president of research and development for McGraw-Hill Education, a close friend and colleague of Dr. Polemeni.
Madeleine Polemeni, Dr. Polemeni's daughter; Nicole Hegarty, Dr. Polemeni's granddaughter; and Fred Etergino, one of Dr. Polemeni's closest friends, also offered their tributes.
Dr. Polemeni joined Touro in 2001 after working for the New York State Education Department for nearly four decades. During his administrative tenure as dean of the Graduate School of Education and Psychology, the student population swelled from 500 to more than 5,000, making Touro thelargest graduate school of education in the state of New York. In 2008 he was appointed as vice president of the graduate division, and began heading Touro's Graduate School of Education, Graduate School of Psychology, Graduate School of Business, Graduate School of Technology, Graduate School of Jewish Studies, Graduate School of Social Work, and The School of Health Sciences.
"You must believe me when I tell you that the happiest years of Dad's career were the fourteen years that he spent with all of you," said Madeleine Polemeni during her speech. "While tonight may be a tribute to all that Dad gave to those at Touro, he would want me to tell you that what you gave him was a blessing of a hundred fold. He loved the intellectual stimulation of his daily work, he cherished the relationships he had here, and his spirit thrived in the knowledge that he was helping countless students create lives that would provide them with a future."
Dr. Primavera spoke about Dr. Polemeni's kindness, remembering how "generous he was with his time, resources, and spirit."
"He cared about all of those he worked with and inspired us all to go beyond what we thought were our limits," said Dr. Primavera. "Although I only knew him for six years, we had so many points of connection and shared the same views of family that I felt I knew him for my whole life."
At the event, the Anthony J. Polemeni Scholarship Fund for the Division of Graduate Studies was officially inaugurated. "This scholarship," noted Ms. Polemeni, "provides the neediest at Touro with a launchpad from which they can reach their dreams, and then enter a profession where they can launch countless others to grab theirs."
At the evening, guests had the chance to write their thoughts on Dr. Polemeni in a memorial remembrance book, which was then presented to the Polemeni family.