Touro College Gathers to Celebrate Staff and Faculty
Eleven Staff Members Honored for Service to Institution and Students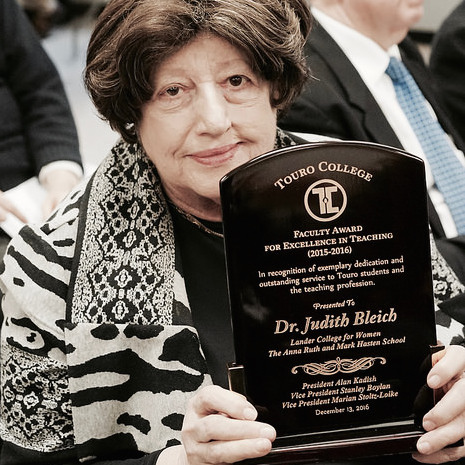 Dr. Judith Bleich, of the Lander College for Women—The Anna Ruth and Mark Hasten School, holds her award for teaching excellence during the December award ceremony.
Touro staff gathered together on December 13 to recognize the accomplishments of the diverse members of Touro's undergraduate faculty. Eleven members from Touro College's undergrad schools across New York were given awards for teaching excellence or for their service to Touro and its student body. Touro College President Dr. Alan Kadish, along with senior members of Touro's leadership, delivered the awards along with remarks about each awardee.
"Touro College prides itself on the accomplishments of its faculty and their service to the college community as scholars and as teachers," stated Dr. Stanley Boylan, vice president of undergraduate education and dean of faculties. "An occasion at which we recognize the excellence of our faculty as teachers and personal mentors of our students is a most meaningful one, not only for the faculty members chosen, but the recognition it bestowed on the important role played by dedicated faculty members in the life of the college and its mission."
Other participants in the Awards Ceremony were, Dean Marion Stoltz-Loike, Vice-President Dr. Robert Goldschmidt, Dean Henry Abramson, Dean Leon Perkal, Vice-President Eva Spinelli, Dean Lenin Ortega, Dean Elvira Tsirulnik, Dean Briendy Stern, Mrs. Shoshana Grun (SLE), and Mrs. Esther Braun (Machon L'Parnassa) .
Faculty Award for Excellence in Teaching
Dr. Judith Bleich (Lander College for Women—The Anna Ruth and Mark Hasten School)
Dr. Mohammed Chowdhury (New York School of Career and Applied Sciences)
Gary Gruber (School for Lifelong Education)
Chayim Herskowitz (Lander College for Men)
Dr. Anna Krauthammer (Machon L'Parnasa/Institute for Professional Studies)
Riratou Lamarre (New York School of Career and Applied Studies)
William Merdian (Lander College of Arts and Sciences—Flatbush Campus)
Miriam Plonczak (Lander College of Arts and Sciences—Flatbush Campus)
Faculty Award for Service
Atara Grenadir (Lander College of Arts and Sciences—Flatbush Campus)
Frada Harel (New York School of Career and Applied Sciences)
Hal Wicke (New York School of Career and Applied Sciences)