Touro College in Russia Essential to Jewish Continuity
Touro Representatives Visit Moscow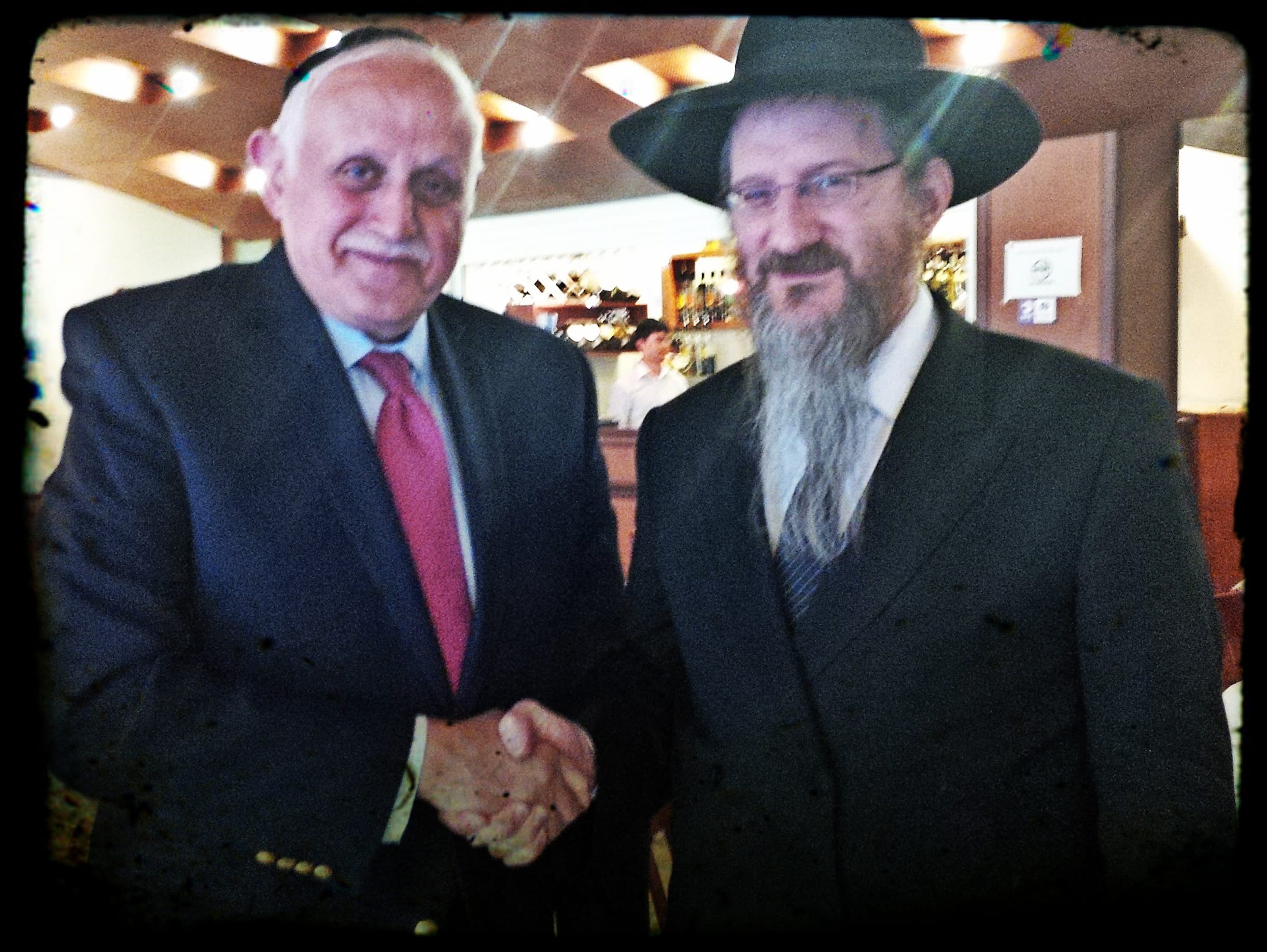 Dean Robert Goldschmidt, Vice President for Planning and Assessment, with Rabbi Berel Lazar, Chief Rabbi of Russia, at a dinner meeting.
Touro College is a global network of institutions of higher education, and on June 9, 2014, Dr. Robert Goldschmidt, vice president for planning and assessment, and Rabbi Dr. Simcha Fishbane, executive assistant to the president, touched down in Moscow to visit the local Touro campuses. While brief, their two-day trip to the Russian capital included many important meetings at Touro's Lander Institute of Jewish Studies and Moscow University Touro, an independent institution. During the visit, they assessed the schools' compliance with the accreditation standards of the Middle States Commission on Higher Education and they met Rabbi Berel Lazar, the Chief Rabbi of Russia. While the primary focus was academic oversight, the most gratifying aspect of the visit was hearing about the great impact Touro has within the Russian Jewish community.
Rabbi Lazar, during an official dinner meeting, confirmed the wide-ranging impact of Touro's programs. He expressed his strong support for the mission of Touro College, which he considers essential and central to Jewish continuity in the Russian Federation. "Touro's presence helps advance Jewish education in the former Soviet Union, which, in effect, fosters awareness of the Jewish heritage to many unaffiliated Jews," said the Chief Rabbi.
Dean Goldschmidt, in his role as Middle States accreditation liaison, and Dr. Fishbane, as liaison to Moscow, went to assist the leadership, faculty, staff and students in Moscow. "We went," said Dr. Fishbane, "to review and improve the standards required of Touro College and offer guidance on reaching those goals."
Touro has had a presence in Russia, then the Soviet Union, since the early 1990s. "We were, I believe," said Dean Goldschmidt, "the first and only American institution to give students in Moscow the opportunity to pursue and earn a U.S. accredited college degree, credentials which empower students in the local job market."
The Lander Institute of Jewish Studies offers a bachelor degree with a major in Jewish Studies, as well as many courses in business and computer science, and Moscow University Touro (MUT) offers a bachelor in business management and an MBA.
Of all the meetings, Dean Goldschmidt found those held with the students were the most rewarding. They spoke of their dreams and goals, which included positions in Jewish education and communal service, as well as establishing their own businesses or working for foreign companies with branches in Moscow. With American degrees, they believe that they can present themselves as the best candidates. The students were extremely enthusiastic about their programs of study, and praised their educational experience.
One young lady's dedication to her education at the Lander Institute of Jewish Studies made a particular impression. Returning home for break entails a 27-hour train ride. "I marveled at the fact that she was seeking out the education that we offer," said Dean Goldschmidt, "and that she's traveling this long distance of 27 hours by train. To me it's an indication that Touro is doing something of value in Russia."
"The contribution we are making is a very significant one to the continued survival and, hopefully, the blooming of the Jewish community," said Dean Goldschmidt.