Touro Law Center Celebrates 33rd Commencement Exercises
Congratulations, class of 2015!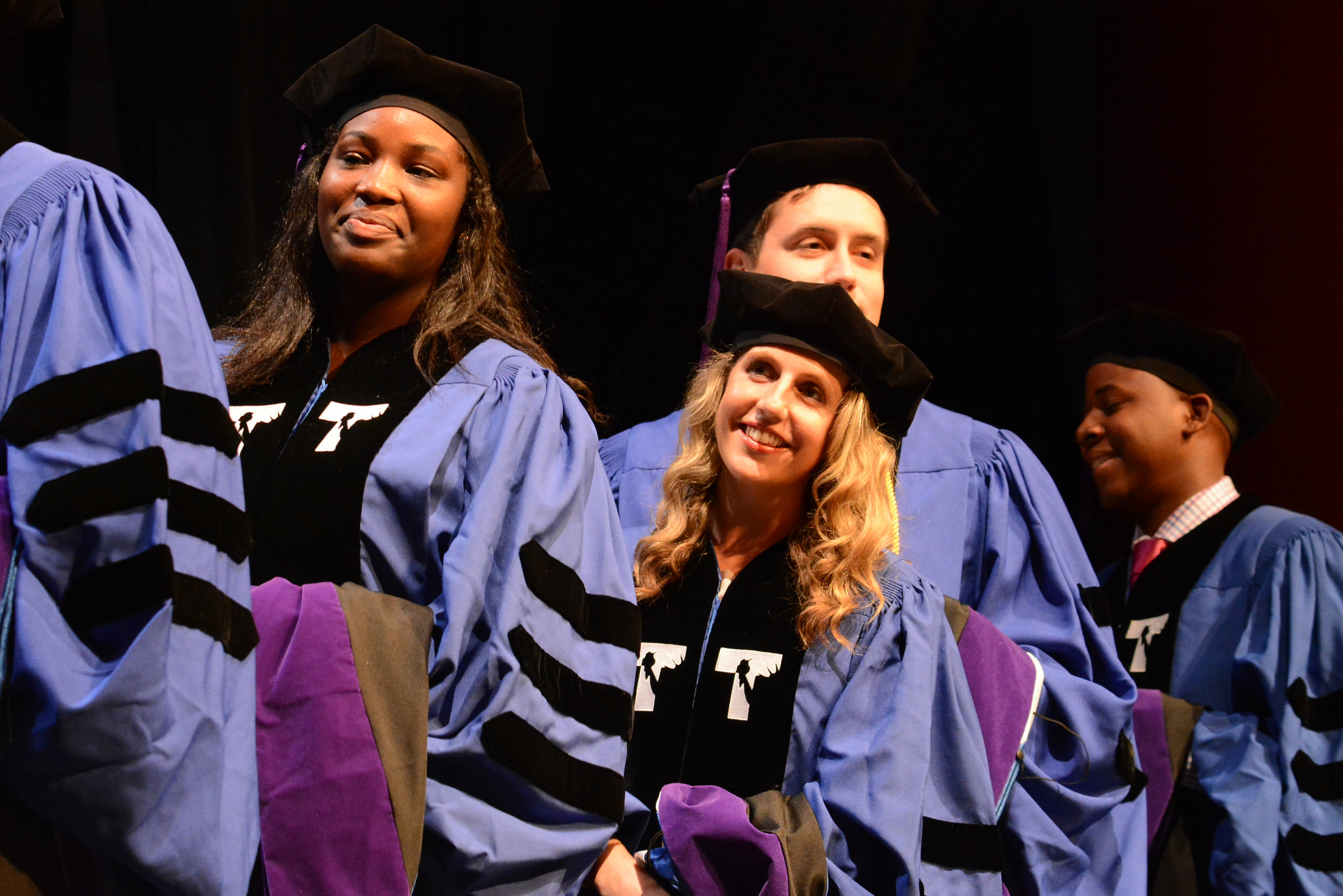 Touro Law Center celebrated its 33rd annual Commencement exercises on the evening of Sunday, May 17 at the Tilles Center for Performing Arts in Brookville, New York, awarding 194 juris doctor degrees, 11 Master of Laws in U.S. Legal Studies degrees, and 2 Master of Laws degrees to graduates.
Rena Seplowitz, voted best professor by this year's graduating class, described the varied interests and experiences of the class of 2015 that made them such an exceptional group, and praised their initiative in being the inaugurating class to participate in the New York State Pro Bono Scholars program.
Touro College President Dr. Alan Kadish conferred honorary degrees upon Richard D. Parsons and Hon. Peter King, U.S. Representative for New York's 2nd congressional district. Dean Patricia E. Salkin, J.D., presented eight students and faculty members with awards‌ onstage, among those being the Paul Marks Public Service Award, presented to Professor Leif Rubinstein; the Milton Handler Scholarship Award, presented to Professor Sara Adams-Schoen; and the Excellence in Teaching Award, presented to Professor Fabio Arcila.
Daniela Giordano and Matthew Landon Zafrin were named this year's valedictorians, of the full-time and part-time programs, respectively, while Darren Stakey and Jeffrey Gautsche were named salutatorians. Jason W. Prince, who received the 2015 Ronni D. Cohen Class Orator Award, delivered an entertaining student address that earned him a standing ovation from the class. Other students and faculty were honored at an awards ceremony and dessert reception earlier in April.
In the 2015 commencement address, Richard Parsons, former chairman of Time Warner and Citigroup and former advisor to Presidents George W. Bush and Barack Obama, spoke about networking and interdependence as being key factors of success.
"[Before I left for the University of Hawaii] my grandmother…said: 'Just be the person everyone else roots for.' If I were to tell you the biggest single factor in the limited success I've had, it would be [that advice]: being the person other people wanted to see succeed."
"We live in a world now that's enormously complex, highly interconnected, totally global…and almost no one gets anything done in this world by himself or herself. The reality is, the more people you can get who are prepared to lend a shoulder for you to stand on, the more success you're going to have in life."
In her valedictory remarks, Ms. Giordano reminded her peers that while "law school taught us to think like lawyers, I hope we don't forget to think like human beings. I hope we continue to fight for what we believe in, always appreciate those who stand beside us, and grow to be lawyers with honor and integrity."
Congratulations, graduates and awardees!
Dean Emeritus Howard A. Glickstein Award for Outstanding Leadership and Overall Academic Excellence
David D. Pelaez
Alumni Association Academic Achievement Award
Daniela Giordano – Full-time; Matthew Landon Zafrin – Part-time
American Law Institute Continuing Legal Education - ALI - CLE Scholarship & Leadership Award
Christopher M. Bergold; Daniel Gustav Olsen; Jamie Lee Ruiz
Daniel and Rose Subotnik Distinguished Writing Award for the Best Published or Non-Published Article by a Graduating Student
Alyssa R. Wanser
Suffolk County Bar Association Award for Academic Excellence
Darren Stakey
Clinical Legal Education Association Award
Nicole Antoinette Berkman
LL.M. Outstanding Academic Achievement Award
Beatrice Koncz
Bessie RayGeffner Memorial Award
Michele Schlereth
National Association of Women Lawyers Award
Sidney E. Goldstein
The Shirley & Murray Rubinstein Clinician of the Year Award
Jamie Lee Ruiz
Peter Davis Award for Excellence in the Study of Criminal Justice
Jonathan Francis Murray
ABA/BNA Award for Excellence in Employment Law
Reginald Bien-Aime, Joseph F. Chapman, Adam Scott Eisen, Matthew F. Hromadka, Jeffrey Alexander Kaufman
ABA/BNA Award for Excellence in Health Law
Dana Aronow
ABA/BNA Award for Excellence in Intellectual Property
Edward H. Grimmett, James Louis Lyons, Christopher Miner, Alyssa R. Wanser
American Bankruptcy Institute Medal of Excellence
Jamie Lee Ruiz
Cornelius W. Wickersham, Jr. Award for Excellence in the Study of Constitutional Law
Joseph Angelo Iemma
Brian Lord Award for Public Interest Law
Nicole Antoinette Berkman
Michael Aaron Silver Award
Antwaun Elliott Gavins
New York State Bar Association Law Student Bar Association Achievement Award
Matthew Albert Gray
Elizabeth Gonzalez Book Award
Jeannéa L. Baptiste
White Rose Social Justice Award
Andrew Wentworth Wilson
Martin Schwartz Award for Excellence in Civil Rights
Melissa Kristina Rodriguez
Special Service to the Public & Community
Tricia S. Lindsay, Joseph Anthony Phillipo, Aidan B. Slevin
Exemplary Contributions to the Growth of the Law Center
Antwaun Elliott Gavins, Sidney E. Goldstein, Matthew Albert Gray, Michael L. Henry, David D. Pelaez, Jason W. Prince, Jamie Lee Ruiz
Exemplary Contributions to the Quality of Student Life
Elias Arroyo, Nicole Antoinette Berkman, Katie Betik, Frances L. Bowdre, Christopher M. Bergold, Angela M. Calia, India Dawn Campbell, Saul Carbajal, Jr., Jestina Danielle Collins, Barry Scott Crane, Alyse M. DelleFave, Gina Marie Delustro, Christopher Dor, Melissa Ann Eisenberg, Adam Scott Eisen, Lauren Rose Gallo, Jeffrey C. Gautsche, Jerel Tristan Greenidge, Annmarie J. Hwang, Matthew J.Ingber, Cybele S. Louis, James Louis Lyons, Brandon Maharajh, Alanna Eileen McGovern, Erin McTiernan, Jonathan Francis Murray, Naché Chanell Patoir, Veronica Phillips, Catherine Elizabeth Romano, Krista E. Siederman, Darren Stakey, Jay Sterman, Ashleigh C. Televandos-Ballis, Alyssa R. Wanser, Andrew Wentworth Wilson, Matthew Landon Zafrin
Service to the Bar Award
Paige Danielle Bartholomew, Robert P. Manetta
Adjunct Professor of the Year
Anne Oh
In Recognition of Devoted Service to the Ideals and Purpose of Legal Education
Professor Rena Seplowitz