Touro School of Health Sciences "Fit" Cars
Students Prepare Seniors' Cars for Safe Driving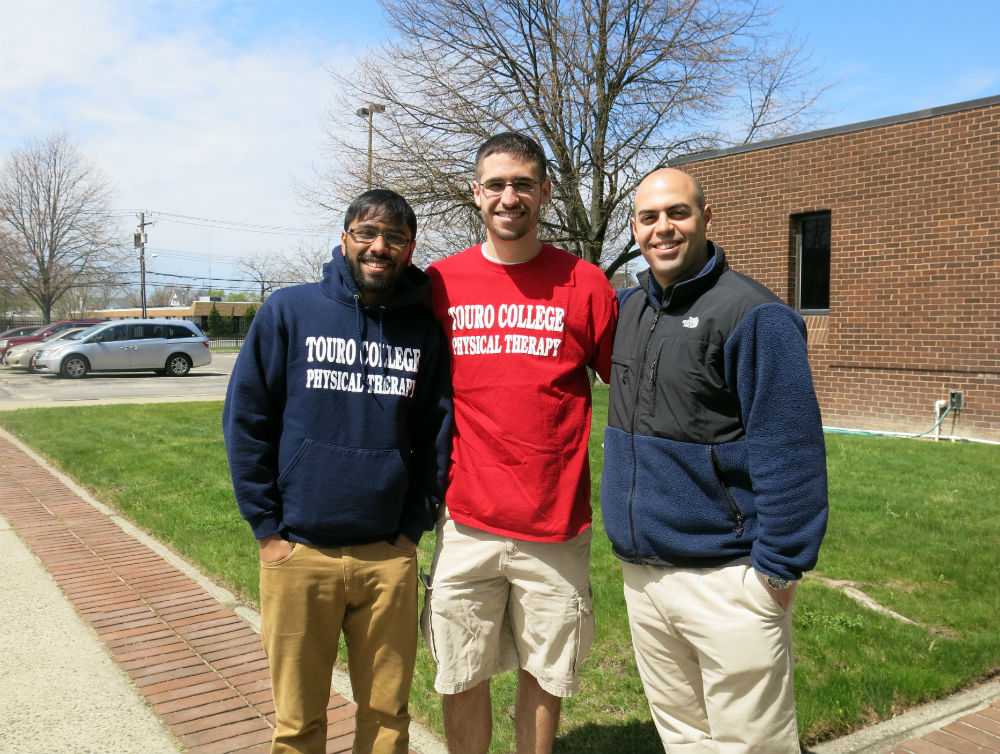 Touro College School of Health Sciences Bay Shore physical therapy students Roshen Stephan, Sean Marek and Vin Adducci helped senior citizens during a day of car "fitting" and fun.
The Touro College School of Health Sciences in Bay Shore brought together senior citizens and student volunteers recently for a day of car "fitting" and fun. The annual Occupational Therapy "CarFit" event attracted senior citizens from the Bay Shore community interested in having their cars professionally "fitted" --- making sure that when they are inside them, they are seated properly with all their mirrors aligned for optimal safety.
CarFits are held nationwide in partnership with the American Automobile Association, which had staff on hand at the event, and American AARP, which also co-sponsored the event with Touro's Occupational Therapy Department.
This year, the OT department decided to take the three-year-old event to the next level by adding services for the seniors via an inter-professional approach that brought together the entire School of Health Sciences. The main focus of the services provided was on preventing falls and on health screenings, services that Touro students themselves could perform under faculty supervision.
"This achieved a secondary goal of service learning. In addition to the students providing a valuable community service, they were practicing and learning their skills." said Dr. Robert Troiano from the SHS Department of Physical Therapy.
Volunteers from the Elder Law Clinic of Touro's Jacob D. Fuchsberg Law Center were also on hand to promote their array of free services to seniors. It was the SHS' true honor to work with their sister school. Additional vendors included Bay Shore's YMCA and Response Crisis Hotline, a valuable resource to seniors and students alike.
The student volunteer students were rewarded with lunch from Kosher Emporium and said they truly enjoyed some "downtime" on a beautiful Sunday in Bay Shore. Approximately 40 students participated in all.