Tribute to Vice President Anthony J. Polemeni
February 1, 1935 - May 22, 2014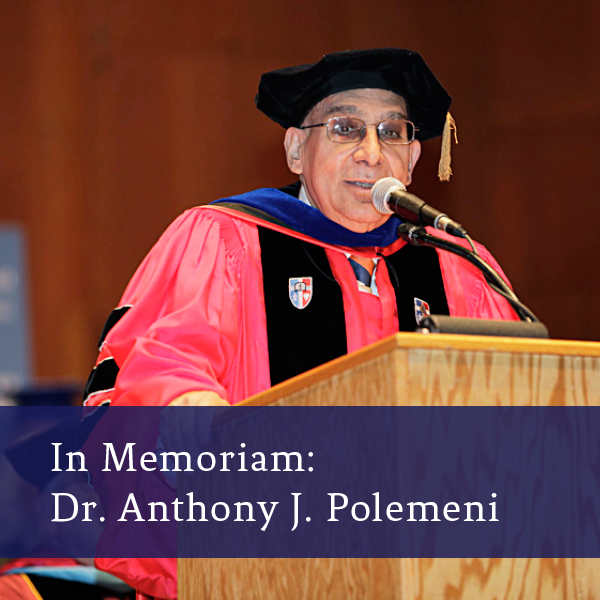 In the movie classic, "It's a Wonderful Life," George Bailey learns how his life touched so many others. Such was true of Dr. Anthony J. Polemeni, former vice-president of the Touro College Division of Graduate Studies, who regrettably passed away on May 22, 2014.
Dr. Polemeni led by example. His love of people was demonstrated by his open door policy. He welcomed any and all students, faculty, and staff and generously offered his advice and guidance.
"Dr. Polemeni was an outstanding educator, leader, colleague and friend. His legacy, in addition to his wonderful family whom he cherished, will be the exceptional academic programs, which he built and nurtured during his distinguished career…especially at Touro," said Touro President and CEO Dr. Alan Kadish.
Dr. Polemeni's story began in Brooklyn as a son of Italian immigrants. He received his baccalaureate degree (Summa Cum Laude) from St. Francis College, and a master's degree from Columbia University. He earned his Ph.D. from St. John's University.
Over the years, Dr. Polemeni held many positions within the world of education, from teacher of French to director of research evaluation for the New York City Board of Education. Under his leadership, New York City developed the first secure standardized test and the Language Assessment Battery (LAB), which is still being used in schools today.
After leaving public education in the late 1970s, Dr. Polemeni embarked on a successful career in international business. His travels would take him around the world and back again. In 1997, he returned to education as the director of the Graduate School of Education at Mercy College's Bronx campus. In 2001, Dr. Polemeni joined the Touro College family as dean of the Graduate School of Education & Psychology. When he assumed this position, the school had an enrollment of approximately 500 students. During his administrative tenure, the student population swelled to more than 5,000, making Touro the largest graduate school of education in New York State.
In 2008, in recognition of his outstanding leadership and many accomplishments Touro's Founding President Dr. Bernard Lander selected Dr. Polemeni to be the inaugural vice president of the newly-formed Division of Graduate Studies, which includes all seven of Touro's graduate schools. It is only fitting that the words used by Dr. Polemeni of his mentor, Dr. Bernard Lander, can be said of him: "We applaud his willingness to allow new ideas and programs to develop in order to provide Touro students with high quality instruction and a variety of experiences that can be translated into the best teaching and administrative practices in the schools."
Dr. Polemeni was awarded the prestigious "Educator of the Year" award in 2007 from Columbia University Teacher's College, Phi Delta Kappa Chapter. The event was held at Columbia, where Dr. Lander remarked, "Dr. Polemeni is a very special person at Touro, one for whom I have utmost admiration."
In 2010, Dr. Polemeni was honored by the Association of Orthodox Jewish Teachers and received its Higher Education Distinguished Leadership Award. In the New York State Legislative Resolution of April 25, 2010, the legislation described Dr. Polemeni as one whose life has been "committed to the pursuit of excellence in the education of the youth of the Empire State."
Dr. Polemeni is survived by his devoted wife of 49 years, Martha, and their four successful children and 10 grandchildren.
Indeed, Dr. Polemeni touched the lives of thousands and gave them the opportunity to have "a wonderful life."