Robert Baker, D.O.
Assistant Professor, Osteopathic Medicine
Touro University Nevada College of Osteopathic Medicine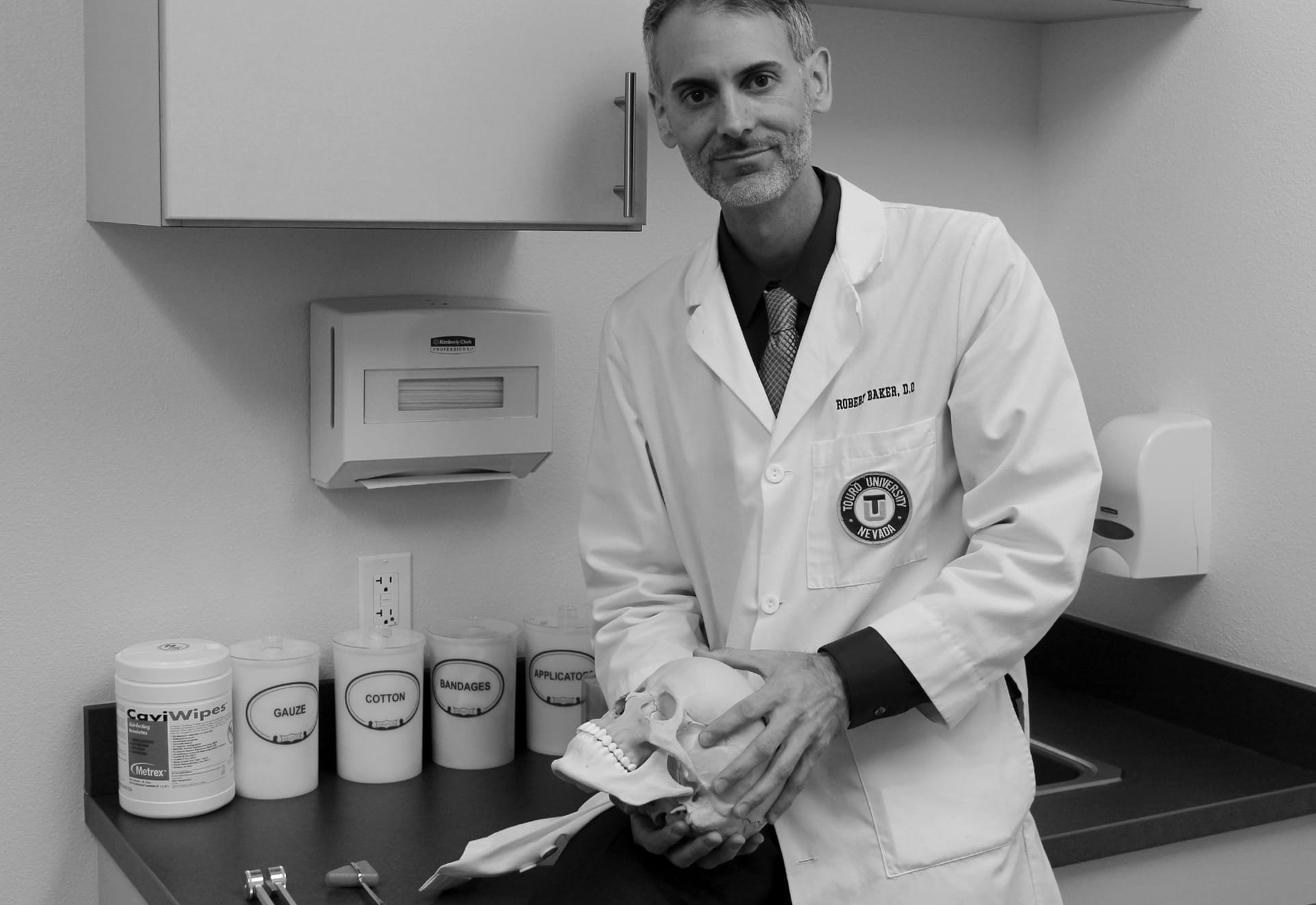 WHAT HIS STUDENTS SAY
"Dr. Baker goes above and beyond to help us in areas that have nothing to do with his areas of expertise. He takes personal time to stay late and meet with students for a variety of reasons. He helps make us better physicians and better people."
— Ryan Doucette
Dr. Robert Baker grew up on his grandfather's farm in a small rural town near Dayton, Ohio.
"Pretty much all that was out there were corn and soybean fields," he said. Growing up in the Rust Belt near the larger-than-life car factories helped steer Dr. Baker toward a career in the automotive industry. At the University of Toledo, he studied mechanical engineering and later spent five years working for Chrysler and Ford in Detroit.
It was during that time that Dr. Baker began suffering from chronic neck and back pain.
"After two years, I became frustrated that no doctor could solve my pain," he said. "Around that time, I was looking for a more purposeful career, and a neurologist told me to look into taking the chiropractic route."
Dr. Baker later worked with two separate chiropractors, though his pain remained. Through his own independent research, he discovered the book Spontaneous Healing, which included a chapter about a famous osteopathic physician named Bob Fulford.
"Once I read that chapter, I knew osteopathic medicine was going to be my life's purpose," he said. "I've since found out that many of my colleagues have gone into osteopathic medicine, specifically osteopathic manipulation, because of that book."
After finishing medical school at Ohio University, Dr. Baker completed his residency in neuromusculoskeletal medicine and osteopathic manipulative medicine at Saint Barnabas Hospital in the Bronx, N.Y.
Having a penchant for medicine and a desire to teach, Dr. Baker began searching for medical schools to help train the next generation of osteopathic physicians. "When I found out that Touro University Nevada had this incredible teaching environment with some clinical work as well, I knew this was where I wanted to be," he said.
The art of using one's hands to heal is one of the aspects Dr. Baker loves most about medicine. He tries his best to instill that same passion in his students.
"Our main tools are our hands, and using them is a very authentic way to heal the body."
ROBERT BAKER
"I love being able to help effectively without needing a lot of barriers," he said. "Our main tools are our hands, and using them is a very authentic way to heal the body."
When it comes to his students, Dr. Baker emphasizes the importance of time management in medical school. He recommends they read the book The Miracle Morning to help maximize their time and stay organized.
"I've always said that medical school would be twice as easy if I were twice as smart," he said. "But now, I'm starting to realize that when things are balanced and your sleep, diet, and stress levels are under control, medical school actually becomes twice as easy."
INTERESTING FACT
Dr. Baker was the axel vibration engineer for the team that helped launch the 2002 Ford Thunderbird.