Stephen Jones, Ph.D.
Assistant Preclinical Dean at TouroCOM Middletown, Assistant Professor
Touro College of Osteopathic Medicine, Middletown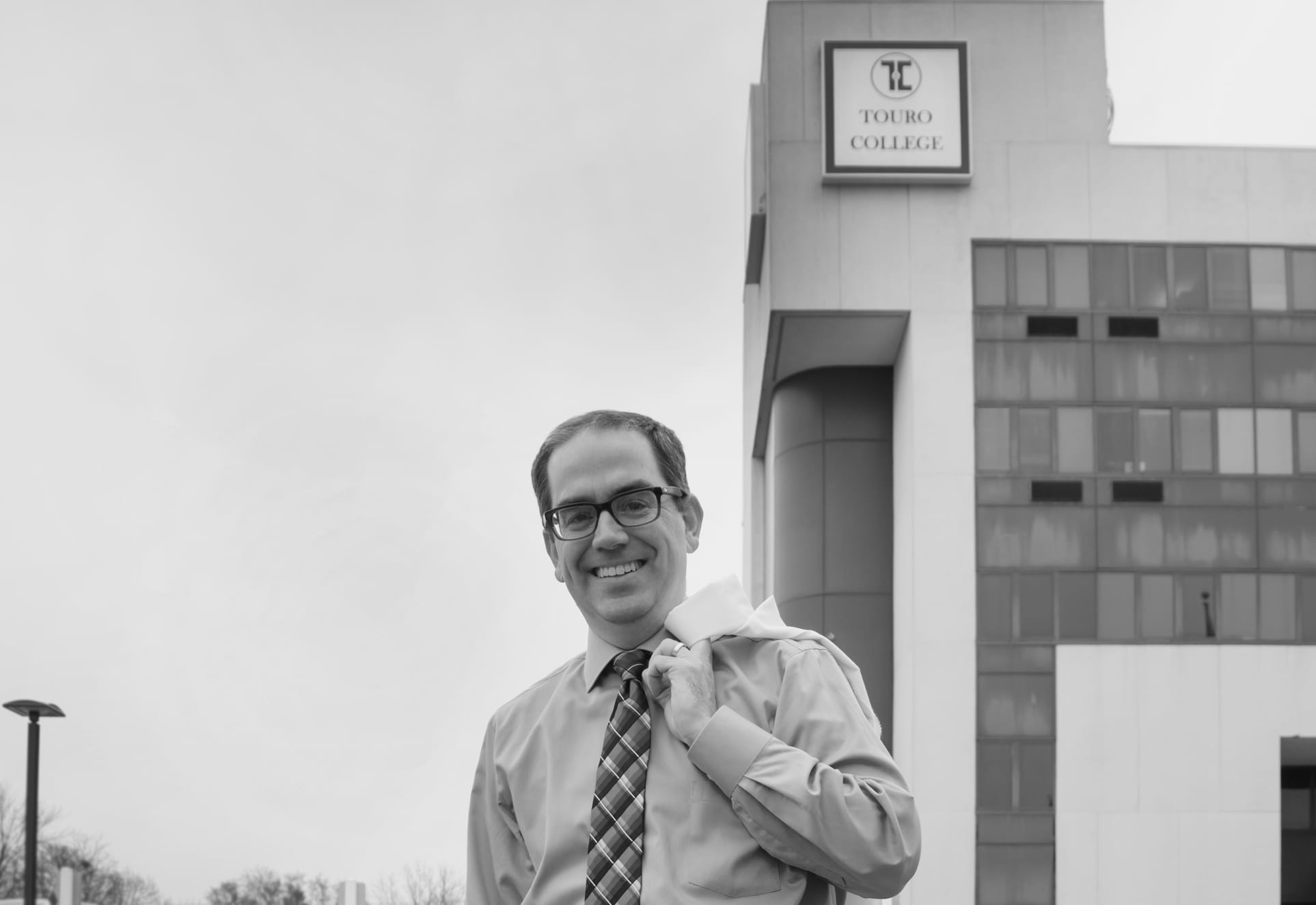 What His Students Say
"Dr. Jones is an excellent lecturer and professor. His lectures were always organized and well-prepared. He was always available after-hours for extra help. After exams, he personally reached out to students that were struggling. I have never seen a professor so dedicated to helping students outside of his lecture hours. This is all in addition to his commitment and responsibilities as an assistant pre-clinical dean. He is always pleasant and personable to work with. Without him, many of us would not have made it through our pre-clinical years as healthy as we did."
— Jacklyn Lee
For Dr. Stephen Jones, immunology isn't only a science, it's a story.
"The story begins when the host recognizes a pathogen, which activates a response that leads to the recruitment of white blood cells to the site of infection," said Dr. Jones, assistant preclinical dean at TouroCOM Middletown and TouroCOM Middletown's resident immunologist. "It's a story with a beginning, middle, and end, and that's how I teach it. I try to get my students to learn the process instead of memorizing the different components in isolation. I want my students to understand the story of what is the immune response."
Like many of the best professors, Dr. Jones' path to a Ph.D. in immunology began with an inspiring professor who gave the young Jones the confidence to pursue his passion.
"Growing up I thought I would be a forest ranger," recalled Dr. Jones. "I was the kid who roamed through the forest and looked for opportunities to rescue birds or tape together broken tree limbs. I wasn't a kid that took the tough science courses because I didn't feel that I was smart enough to excel in those ways."
"Then, towards the end of my first year of college, when I was still an undeclared major, I decided that the best direction for me was the one that I had a real interest in: science. Even though I doubted my ability to do well in it. I even prepared my parents for some low grades. But I had outstanding college professors who taught courses like cell biology and immunology and I was just fascinated."
It turned out to be a wise choice and Dr. Jones was wrong about his earlier belief in his own limitations.
"Pretty soon that interest in science turned into a passion. I learned that even if something is really challenging, if you've got a passion for it, you can do it. The learning and grades will come if you're passionate about it."
Dr. Jones did his Ph.D. in immunology at Thomas Jefferson and then a postdoc fellowship at the Trudeau Institute in Saranac Lake, New York. While there, Dr. Jones authored many well-received papers ranging from vaccine development to compromised immune systems in the elderly. But perhaps more importantly for the future Dr. Jones, he started teaching at a local community college.
"I had an idea that teaching might be my end-point and that a purely research career might not be quite for me," said Dr. Jones. "After four semesters of teaching an evening course in biology, I was confident that teaching science was going to play a dominant role in my academic career."
In 2008, when Touro launched their first osteopathic medical school on the East Coast, Dr. Jones signed up to teach immunology and loved it.
"What drew me to Touro was that the main component of my job was the teaching itself. Research was important, but the most important thing was being an excellent teacher. Touro puts teaching first."
Stephen Jones
"It isn't easy to find a medical school that puts such an emphasis on strong teaching," said Dr. Jones about TouroCOM. "At most medical schools, teachers are there to write grants and do research and teaching is a small component of their overall job. What drew me to Touro was that the main component of my job was the teaching itself. Research was important, but the most important thing was being an excellent teacher. That aligned with what I wanted to be. Touro puts teaching first."
"When a student has that look of recognition when they understand something that you are teaching, it's priceless," said Dr. Jones. "When you are able to present information in a way that is relevant to the students and connects with the students, that is one of the best experiences you can have as a teacher. You're giving them something they can use as they move forward in their career."
He moved to TouroCOM Middletown when the sister campus opened in 2014.
"Contributing to the TouroCOM mission as the assistant preclinical dean in Middletown has been a thrill. Every day I am thankful for the opportunity to serve in that role and to work with such wonderful faculty and students."
Aside from his role as assistant preclinical dean and teaching immunology to first and second-year students, Dr. Jones is also the program director of the TouroCOM Middletown Master of Science program.
"I feel a special connection with the master's students," said Dr. Jones. "They're taking that intermediate step between their undergraduate career and medical school. They work so darn hard and, for many of them, this is their opportunity to get into medical school that they might not of otherwise had. They work at 150 percent and I know what that's like."
In 2011, Dr. Jones received a Touro College Faculty Research Award grant to pursue his research in immune system suppression in patients with multiple myeloma. The following year, Dr. Jones received the TouroCOM Teacher of the Year Award.
Despite having taught the same course for several years, Dr. Jones said that there is always a novelty to the material and the students. "It's always a different group of students and they never cease to amaze me by the way they approach the material," said Dr. Jones. "They always have a different set of questions and different weaknesses and strengths. You are always adjusting to help your students succeed. What they need changes from year to year. And immunology is an advancing field; there's always another breakthrough and it's great to be able to talk to students about new materials and new techniques."
Interesting Facts
Dr. Jones is a big fan of authors Douglas Preston and Lincoln Child. He is also a bit of a heavy metal fan, a byproduct of growing up in the 1980s.
Rule of Life
"You've got to have a passion for what you do. You don't want to look at every day as a chore. If you're interested in what you do, it's not work anymore."