Steven Blaustein, Ph.D., MS, CCC-SLP, BCS-CL
Associate Professor, Graduate Program in Speech-Language Pathology
Touro College School of Health Sciences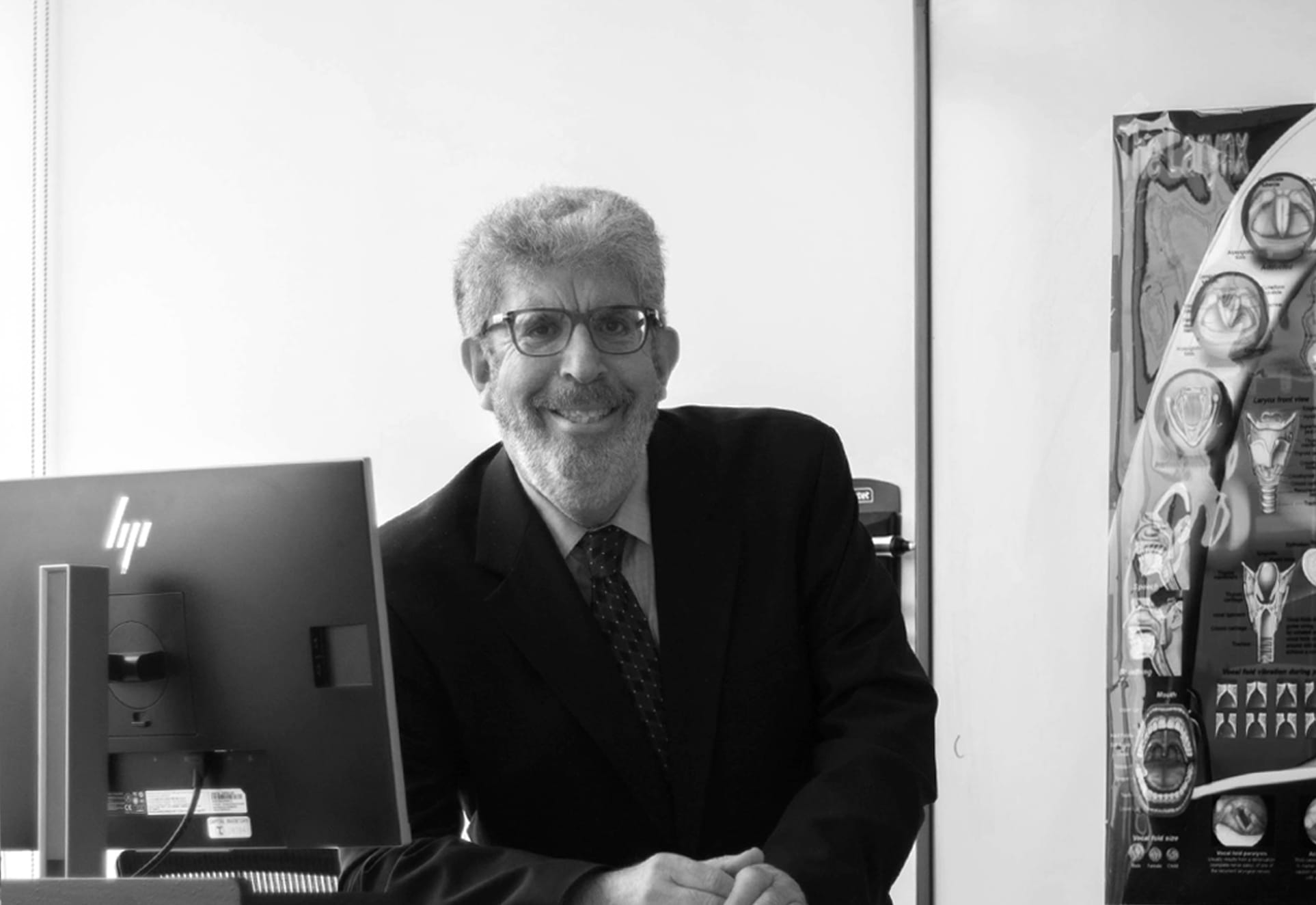 Dr. Blaustein is the epitome of what every professor should be. He is respectful, enthusiastic, funny, genuine, and most importantly, caring. Dr. Blaustein always has time for his students. No matter what the situation, if you walk into his office, he is always ready and willing to help. He prepares for his lectures and makes sure they are fun and interactive. He incorporates personal stories in his lectures to help us learn from his experiences. He asks for feedback from his students throughout the course to make sure he is teaching in ways that make learning easiest for us. I truly love Dr. Blaustein and I wish he was able to teach every class."
— Marisa Taormin
For Dr. Steven Blaustein, speech therapy has a clear mission.
"Communication is one of the key elements that makes us human," explained Dr. Blaustein, a professor at Touro's School of Health Sciences' Master's in Speech-Language Pathology. "Being able to turn thought into a symbol and being able to share that symbol—I stress symbol rather than language, since we communicate in many forms—enables us to share our ideas with another and let that person know that you understand them."
Despite his more than 40 years in the field, a plethora of high-ranking positions and experience with nearly every major speech disorder, Dr. Blaustein regards his career as a speech language pathologist with some surprise. His initial career aim, as a music major in SUNY New Paltz, was to be a heavy metal drummer. Then he took a single speech class.
"My professor was inspiring," Dr. Blaustein recalled. "He asked me to take a few other courses and I ended up becoming interested in the field of communication disorders."
"I figured I wasn't that good of a drummer anyway and a career path as a speech pathologist made more sense than becoming a rock musician," he laughed.
Dr. Blaustein graduated in 1972 and enrolled on a Veterans Administration scholarship in Penn State for a master's in speech-language pathology. After completing an internship at the Manhattan VA Hospital, Dr. Blaustein officially began his career as a speech therapist at Mt. Sinai Medical Center. That experience, which could be likened to a trial by fire, heralded the wide path his career eventually took.
"There were 1200 beds and our department served both in-patients and out-patients," recalled Dr. Blaustein. "We were responsible for seeing patients with a variety of communication disorders: from cases of post-neurological surgery to pediatric psychiatry to laryngectomy. It was a remarkable learning experience."
The position also put him at the forefront of state-of-the-art research into speech disorders, including medication trials for ALS and some of the first cochlear implants. "They were miraculous," Dr. Blaustein said about his first experience with the implants. In addition to his regular duties, Dr. Blaustein also became the coordinator for the hospital's cranial facial center. Fluent in Spanish, he also served as the Speech and Language Center's community liaison to visit and work at HeadStart locations and daycare centers in East Harlem where he conducted screenings, workshops and programs for parents.
Dr. Blaustein finished his doctorate in 1980 at the Graduate Center of the City University of New York, writing his dissertation on Spasmodic Dysphonia patients at Mt. Sinai who were undergoing a new procedure to alleviate the condition by crushing the laryngeal nerve. "It was innovative work treating a very difficult debilitating disorder."
"Speech and language pathology is a blend of science and the uniqueness of human communication," explained Dr. Blaustein. "The challenge of diagnosing and analyzing various communication disorders and then being able to determine interventions, compensatory techniques, and strategies to help individuals communicate is personally very rewarding. The net result is to enable adults and children to communicate, one of the most central elements of being alive."
After fifteen years, Dr. Blaustein left Mt. Sinai to start a speech language pathology department at St. Barnabas Hospital in the Bronx. After the department became successful, he left to pursue his own private practice, where he also consulted and provided evaluation services to a number of agencies and programs serving the New York City Board of Education and the New York State Early Intervention Program.
While he managed his own practice, Dr. Blaustein began teaching as an adjunct clinical professor at NYU.
"When I stand in front of a classroom, I remember what it was like to be in that seat, but now I have the ability to help and guide my students in the same way that my professors guided and helped me."
STEVEN BLAUSTEIN
"I learned that I loved being in the classroom with students," Dr. Blaustein said. "I loved sharing the knowledge and experiences I had. It kept me current. It allowed me to give back to young speech therapists embarking on a career that I was passionate about. It gave me a bit of nostalgia; teaching reminded me of the knowledgeable and motivated professors I had. When I stand in front of a classroom, I remember what it was like to be in that seat, but now I have the ability to help and guide my students in the same way that my professors guided and helped me."
Dr. Blaustein joined Touro as a full-time faculty member in the speech-language pathology program in 2015.
One piece of advice he gives to his students is to be aware of and appreciate how broad the possibilities are in a speech language pathology career. "It's very flexible," he said. "I've worked in schools, hospitals, and nursing homes. I've had a private practice and served as an expert witness in court. I'm on the board of a therapeutic school in Manhattan. A career in speech-language pathology can be tailored to what makes you the happiest."
Despite his full-course load, Dr. Blaustein still maintains his private practice and frequently invites his students to watch his interventions and get a taste for the realities of the field.
"I still see cases where there are rare disorders that I haven't seen before," said Dr. Blaustein. "That's what keeps me going. It never gets old."
Still in Touch
The work of a speech therapist has long-ranging impacts. Dr. Blaustein received a letter from the mother of one of his former patients recently. It read: "You might not remember me, but you saw my child when he was two-years-old and diagnosed with autism. I was devastated and we spoke about interventions and not giving up hope. I'm writing this letter on the day of his graduation. He is already accepted into college. Thank you for your support." In another case, a parent in Florida brought her son who was considered severely autistic to meet with Dr. Blaustein. Dr. Blaustein realized that there was a misdiagnosis and that the child was suffering from childhood apraxia of speech, a motor programming disorder that results in children being unable to make the sounds of speech, despite adequate intelligence and comprehension. "He was demonstrating the frustrations of not being able to communicate," said Dr. Blaustein about the child's behavior. "I worked with him for quite a while. I attended his high school graduation and he finished college and is now in a master's program."
Interesting Fact
Dr. Blaustein's band name was The Centurions.