Tipsuda Bahri, M.D.
Assistant Professor & Course Director of Pathology; Chair, Department of Basic Biomedical Sciences
Touro College of Osteopathic Medicine, Harlem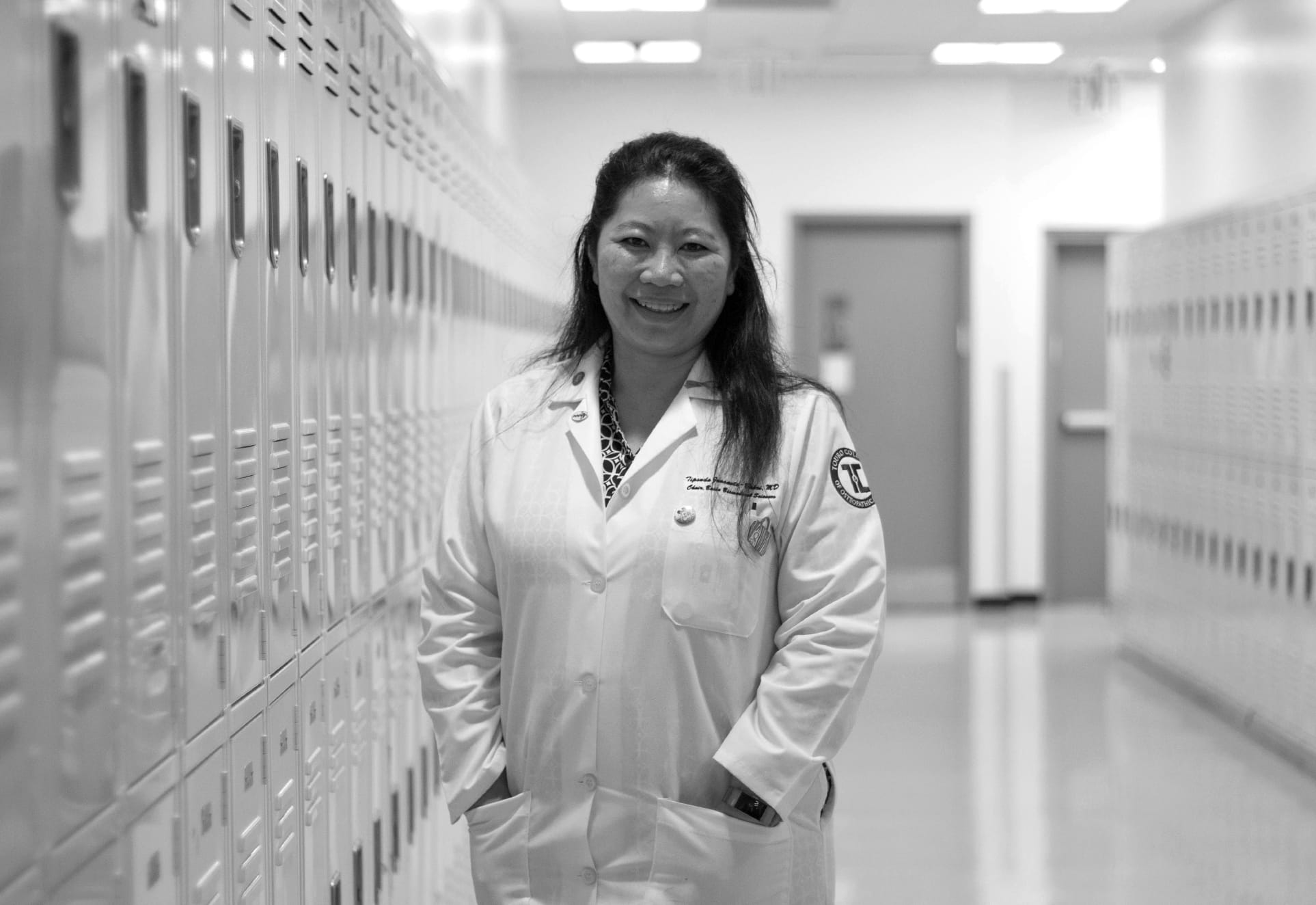 WHAT HER STUDENTS SAY
"Dr. Bahri is the most involved, dedicated, hard-working, and selfless professor I have ever had. When I had a tough time with my pathology class, she sat me down—even when it was long past dismissal time—and helped me through everything. She is incredibly knowledgeable and makes learning enjoyable. She is just an amazing person, inside and out. I ended up getting an A + in my pathology class and more than that, I gained a mentor for life. Thank you for everything that you do, Dr. Bahri. You are a true role model!"
— Praveena Tathinen
Dr. Tipsuda Bahri's father was a lab technologist and she joked that she spent much of her childhood in the laboratory. "My parents didn't believe in babysitters," laughed Dr. Bahri, course director of pathology and chair of the Department of Basic Biomedical Sciences at TouroCOM Harlem. "I sat in a lab during my summer vacation watching my father test things and that piqued my interest. My grandfather and uncle were physicians so healthcare was an obvious choice."
Dr. Bahri, who was born in Thailand and moved to the US with her parents when she was three, also had a strong artistic streak.
"I was interested in painting and photography, but in Asian families, we're encouraged to pursue something more stable and keep our art as a hobby," she said.
It was her interest in art that factored into her decision to specialize in pathology. "Pathology is a very visual field," said Dr. Bahri who studied at The University of Illinois College of Medicine in Rockford. "You look at cells in microscopes and see them in two and three dimensions and you need to mentally put them together."
Dr. Bahri did a five-year pathology residency at the University of Chicago and followed it up with two fellowships: one year in blood banking/transfusion medicine and then a year in a surgical pathology.
"Pathology is a huge umbrella category," said Dr. Bahri. "When people think of pathology they think of forensic pathology like CSI. But the bread and butter of pathology are two things: anatomical pathology and clinical pathology. Anatomical pathology consists of analyzing any tissue or organ that goes through surgery or a clinic: a skin biopsy, a lesion, a tumor. All these things need to be analyzed and documented, whether they're benign or malignant. Clinical pathologists typically work or run laboratories that analyze various results. In essence, a pathologist is a doctor's doctor."
After finishing her residency in 2001, Dr. Bahri practiced for several years in the Chicago area. In 2008, she and her husband decided to move to the tristate area and Dr. Bahri began teaching pathology at TouroCOM Harlem.
"There was a big learning curve," admitted Dr. Bahri. "You never quite know where the class will go. You have to be able to shoot from the hip and recalibrate. You can have a guided plan when you start a session, but you also have to be ready if the lesson goes in another direction."
Dr. Bahri said her teaching was made easier by the late Dr. Robert Stern, who co-taught the pathology course with her. "We were like momma and poppa to the students," recalled Dr. Bahri. "I miss him. He imparted a lot of teaching skills to me over the years. One of the lessons he told me is you're not going to know everything. If a student asks you a question, it's fine to say you don't know. Medicine is always changing. Be humble in the face of what you don't know."
Dr. Bahri became chair of the Department of Basic Biomedical Sciences in 2013.
"I'm a tiger mom for my students. I want the best for them."
TIPSUDA BAHRI
"I'm a tiger mom for my students," said Dr. Bahri. "I want the best for them. When a student tells me 'I heard your voice while I was taking the boards,' I know I did my job."
Her students describe her as a rare mix: a challenging and demanding professor with an encyclopedic mind for rare diseases and disorders, but also a warm maternal figure whose office hours extend far beyond the school day.
"I'm at TouroCOM until eight most nights," said Dr. Bahri. "If I'm advising a student, they need to meet with me on a regular basis. If I know that they're having a rough day and need to talk to me, I'm here. I don't want to lose touch with my students after their second year. I need to make sure they're doing what they need to be doing and that they're happy."
Her relationships with her students typically extend far beyond their academic experience. "I've been invited to Jewish weddings, Vietnamese weddings and Muslim weddings," recounted Dr. Bahri. "I meet my students' kids. It's nice that my students see me as someone whom they can reach out to. I'm honored. I see them being happy as practicing physicians and that's all I wanted for them."
"This is my family here and these are my kids," concluded Dr. Bahri. "I don't only want them to do well on their exams; I want them to do well in life. I want my students to remember me as a gentle tiger mom who always had their back."
Favorite Quote
Instead of a quote, Dr. Bahri said she thinks often of the song "Déjà vu" from singer Teena Marie:
I'm young and I'm old
I'm rich and I'm poor
I feel like I've been on this earth many times before
Once I was a white gazelle
On horseback riding free
Searching in the darkness for a piece of me
I can feel this for sure
I've been here before
I can feel this for sure for sure
I've been here before
I used to be a queen you know
In an island by the sea
With rainbow coloured people
Happy as can be
Never had a problem
There never was a care
And love was ever flowing and it's feeling shared
Interesting Fact
Dr. Bahri's husband Najib Bahri is a North African percussionist and an inheritor of the Andalusian style of music.