John Sullivan, MD, Ph.D.
Assistant Professor, Physician Assistant Program
School of Health Sciences, Touro College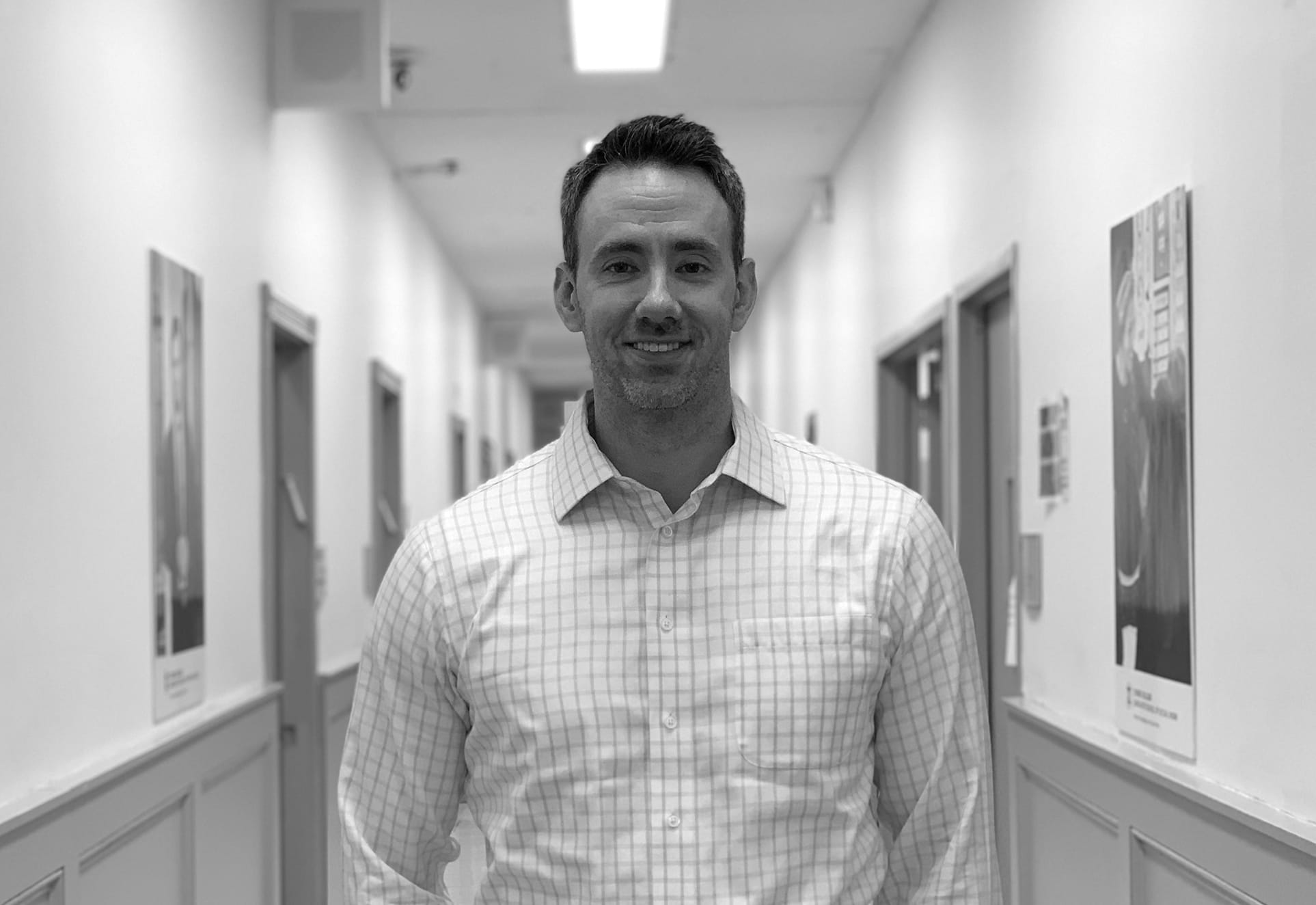 What His Students Say
Dr. Sullivan is an extremely intelligent professor who is so knowledgeable in everything he teaches. His passion for medicine is evident in the classroom, and he drives us all to do our best. He has taught me the foundation of everything I know during my first semester in physiology. I felt challenged but Dr. Sullivan always made sure that the class really understood and grasped the subject material.
— Eden Bessaleli
As a student in Mercy College, John Sullivan had an unusual problem: he was interested in too many things.
"I've always loved math and the logic behind it," recalled Sullivan. "But I wanted to be more well-rounded, so I took some English literature courses. I became fascinated by literature and then fell into theater."
"A lot of my friends were doing hard sciences and it seemed fascinating as well, so I decided to take one class," continued Sullivan. "It was physiology and I was hooked."
After attaining his baccalaureate (and receiving the school's Renaissance Man Award), Sullivan began medical school at New York Medical College. While he thrived at medical school, a single course in neuroscience caught him off-guard. "The professor taught the class really well," laughed Sullivan, who likened learning neuroscience to understanding how characters are created in literature. "I became especially interested in the notion of neural connectivity and how that relates into who we are." Before beginning his third year of medical school, Sullivan asked for a two-year leave to pursue a Ph.D. in neuroscience. Due to the large scope of his research, the two years eventually became four-and-a-half.
"I looked at the zinc ion and how it acts in a person's hippocampus," said Sullivan. "It's involved in human memory formation and in patients who have Alzheimer's zinc is deregulated. I performed experiments on mice to see the effects of zinc on memory development and how memories are formed."
He returned to medical school after completing his Ph.D. in neurophysiology.
"I had to reset my mind," said Sullivan. "Part of me was so invested in research, but I also loved working with patients. Ultimately, I fell right back into it."
After he finished medical school, Sullivan wasn't sure whether to continue to residency or pursue research. "I decided after some thought that I should try out residency to get a feel if it's something I'm more passionate about."
Sullivan completed his first two years of residency in neurology at Stony Brook Hospital. During that time, he married his girlfriend, a pathology fellow at Memorial Sloan Kettering.
"Part of my love for teaching is that you get to learn twice. I really love learning and by teaching I get to dive into the things I'm interested in and relearn the material to be able to express it clearly to my students."
JOHN SULLIVAN
"I loved and hated being a resident at the same time," Sullivan elaborated. "I was able to use all the things I learned clinically, but I realized that I was more passionate about academic life. I thought to myself, I could wait out the residency or I could start what I wanted to do now."
He left residency. He reached out to a faculty member he worked with at New York Medical College and began working on several research projects along with teaching courses in the school. Sullivan also began teaching near his home in Long Island and eventually began lecturing at the undergraduate program at Touro's School of Health Sciences. Shortly after, Sullivan was recruited to teach in the school's physical therapy and physician assistant programs and was offered a full-time position at the school two years ago.
"Part of my love for teaching is that you get to learn twice," explained Sullivan. "I really love learning and by teaching I get to dive into the things I'm interested in and relearn the material to be able to express it clearly to my students."
Sullivan primarily teaches physiology and cardiology to students in the physician assistant programs at the Manhattan and Bay Shore campuses.
"The PA students are just as bright as medical students and, in some ways, they're even more motivated," said Sullivan. "PA students are under an incredible amount of pressure and they handle it brilliantly. They're clever and I always look forward to seeing what they do with the material.
In addition to his teaching duties, Sullivan also lends his skills as a researcher. His last publication was with students at New York Medical College in a neuroscience journal in December 2018. Currently, he's investigating the educational experiences of students at TouroCOM who use the flipped-classroom technique as well as several other education-related research projects. Sullivan said his research in pedagogy has personal relevance to him. "I want to make sure I'm giving my best to my students so that means I need to keep up-to-date with the latest research on teaching," he said.
Sullivan believes that the success he has with students is derived from his own interest in the material. "I think that if you really like the material it comes across," he said. "In my experience, anytime someone is passionate about something, the enthusiasm becomes contagious."
Asked about his favorite interaction with a student, Sullivan recalled this instance.
"There was an undergraduate who was struggling and falling behind in class, but he was very passionate about becoming a physical therapist," said Sullivan. "He was getting down on himself and his exam scores were dropping. I remember sitting down with him just to find out where he was having trouble—all my good teachers looked out for me and I wanted to do the same. I wanted to see if there was something we could fix. We sat down together and discussed strategies. It ended up being a lot of work–meetings, emailing, strategizing–but finally one method clicked. On the final exam, that student had one of the best scores. It was a cool moment for me since it reinforced to me how not all students learn the same way."
Favorite Poem
Robert Frost's Birches. "It's gotten me through hard times," said Sullivan. "I've always really loved that poem. Frost creates such imagery and it appeals to me especially since I grew up in a rural area. In the poem, the narrator looks at a birch tree and wonders if the trees are bent because someone was swinging on the branches or they're weathered and worn because of time. It shows a lot about cognition and how we process experiences." Below are several lines from the poem.
I'd like to go by climbing a birch tree,
And climb black branches up a snow-white trunk
Toward heaven, till the tree could bear no more,
But dipped its top and set me down again.
That would be good both going and coming back.
One could do worse than be a swinger of birches.
Six of Seven
Sullivan is the sixth of seven children and is very close with his siblings. They are all teachers. "We all have a tendency to get really involved in what we are teaching," he said.
Science Fiction Fan
Sullivan is a big reader and enjoys the work of legendary sci-fi author, Isaac Asimov. But Asimov is not the author of his favorite book. That distinction goes to Orson Scott Card's Ender's Game. "Every time I reread it, I get something new out of it," he said.