Product Thinking: What It Means to Be a Top Product Designer
November 4, 2020 6:00pm – 8:00pm ET
Add to Calendar
11/4/20 6:00 PM
11/4/20 8:00 PM
Product Thinking: What It Means to Be a Top Product Designer
Online via Zoom
Product Thinking: What It Means to Be a Top Product Designer
Join the Touro College Graduate School of Technology (GST) and presenter Mark Jones, for a free, GST online workshop on product design.
At GST's Workshop, Mark will provide you with a multi-layered presentation on:
How the basics of Agile ecosystems have embraced UX Designers and led them to become more product-centered
How a UX designer sees projects more holistically and less as features
How being a Product Designer allows you to be a user advocate and have UX ownership of a product from not just inception but right through the development cycle too
…and much more!
Presenter: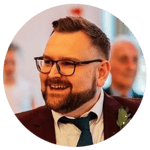 Mark Jones is a Contract User Experience Consultant for a Tier 1 Banks Corporate and Investment team across the full product development life-cycle. He is responsible for employing a user-centered design approach that focuses on taskonomy and activity centered design and delivering products on market-leading platforms that are changing the way the banking world works and communicates. He presents regularly at schools like Flatiron.
Mark Jones is a people person, he is a natural empath who strives to bring out the full potential of every person he has the pleasure to work with. Creating invincible teams is what he does. He treats designers like humans first and foremost. By focusing on team dynamics and by helping his teams reach their personal and professional goals they excel together.
He leads projects by utilizing design and product thinking disciplines and principles. His projects largely consist of cross-disciplined teams of user experience designers, user researchers and visual designers. He works across multiple platforms and technologies.
His roles have included; intergrading UX into scrum ceremonies, sprint planning, facilitating remote and on-site design sprints, wireframing, journey mapping, visual design, rapid prototyping and user testing. He also focused on 'below the iceberg' activities such as developing value proposition canvases and defining the unintended and intended consequences of a feature or product.
He has extensive experience in the service industry in particular with challenger banks and post-trade investment banking. He has also worked with startups, SAAS platforms, public sector websites, e-commerce and insurance - all over a 14-year period.
He has been actively hacking growth by promoting UX Design and Agile Development.
NOTE: All you need is a device with an internet connection to stream it live online from home.
Not available on November 4th? Sign up and we'll send you the recording afterward.
To register for the Product Thinking: What it Means to be a Top Product Designer Workshop RSVP NOW! We will send you a Zoom link and password with your registration.
Looking forward to seeing you there!