Touro University's Cross River Campus Official Opening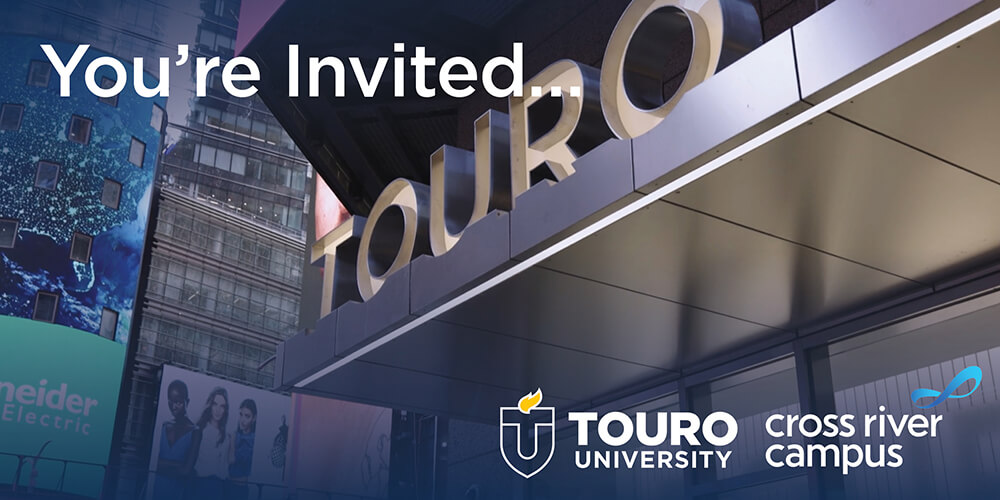 With great pleasure we invite you to join us as we celebrate the official opening of Touro University's Cross River Campus at 3 Times Square.
Details:
Formal Ribbon Cutting at 11:00 am
Reception to follow at Cross River Campus
Kindly RSVP by April 3
Register
About Touro University
As a preeminent nonprofit institution of higher and professional education, Touro University strongly believes in the value of in-person learning and meeting students where they are. Our newest campus, at the crossroads of the world, in the richly diverse Times Square, gives us more opportunity than ever to empower individuals from all walks of life, help them achieve their career goals and, working together, serve the communities in New York City and beyond.
When fully occupied by Summer 2023, our new campus will encompass 300,000 square feet of this iconic Midtown tower. The modern, state-of-the-art campus features newly renovated labs, classrooms, lounges, libraries, event spaces, cafes and other amenities. The campus is home to Touro's New York School of Career and Applied Studies (NYSCAS) undergraduate program as well as five graduate schools and the Touro College of Pharmacy. As a leader in interdisciplinary education, Touro will now offer students even greater opportunities to take advantage of pathway programs, from undergraduate to graduate and professional schools, as well as collaborative learning and research. This is made possible thanks to the visionary gift of Cross River, whose support will ensure that Touro's groundbreaking programs and educational offerings in so many exciting fields continue well into the future.
About Cross River
Cross River provides technology infrastructure powering the future of financial services. Leveraging its proprietary real-time banking core, Cross River delivers innovative and scalable embedded payments, cards, lending and crypto solutions to millions of consumers and businesses. Cross River is backed by leading investors and serves the world's most essential fintech and technology companies. Together with its partners, Cross River is reshaping global finance and financial inclusion.