Women's Leadership Council - Women Warriors: Over Two Centuries of Service in the U.S. Military
March 8, 2023 12:00pm – 1:00pm ET
Add to Calendar
03/8/23 12:00 PM
03/8/23 1:00 PM
Women's Leadership Council - Women Warriors: Over Two Centuries of Service in the U.S. Military
Zoom
Women's Leadership Council - Women Warriors: Over Two Centuries of Service in the U.S. Military
To celebrate Women's History Month, the Women's Leadership Council (WLC) invites you to a presentation by guest speaker Colonel Natalie Nevins.
From the Battle of Bunker Hill to the deserts of Iraq, women have found ways to serve in the U.S. Armed Forces, albeit not always allowed to enlist officially. Since the passing of Women Suffrage in 1919, the role of women in the U.S. Military has changed dramatically. Today, WLC is delighted to welcome Dr. Natalie A. Nevins to speak about her background and experiences as a member of our country's military.
Keynote: Leading with Tenacity, Compassion and Kindness: Leave No Woman Behind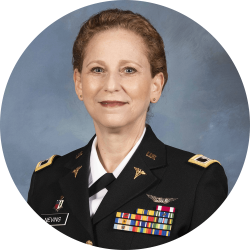 Natalie A. Nevins, DO, MSHPE, FS, COL USAR
Dr. Natalie Nevins is Associate Dean of Graduate Medical Education and Program Development, and Professor of Family Medicine and Neuromusculoskeletal Medicine at Touro University California College of Osteopathic Medicine, and a Senior Fellow at the Center for Disaster Medicine at New York Medical College. She is a Colonel in a U.S. Army Reserve, currently serving as faculty in the Family Medicine Department at the Uniformed Services University of Health Sciences, and will be taking Command of the 2nd Medical Training Brigade in September 2023.