COVID-19 Research Spotlight: Dr. Salomon Amar
Touro Biomedical Research Provost Sets up Clinical Trial To Test Drug for COVID-19 in Record Time
April 02, 2020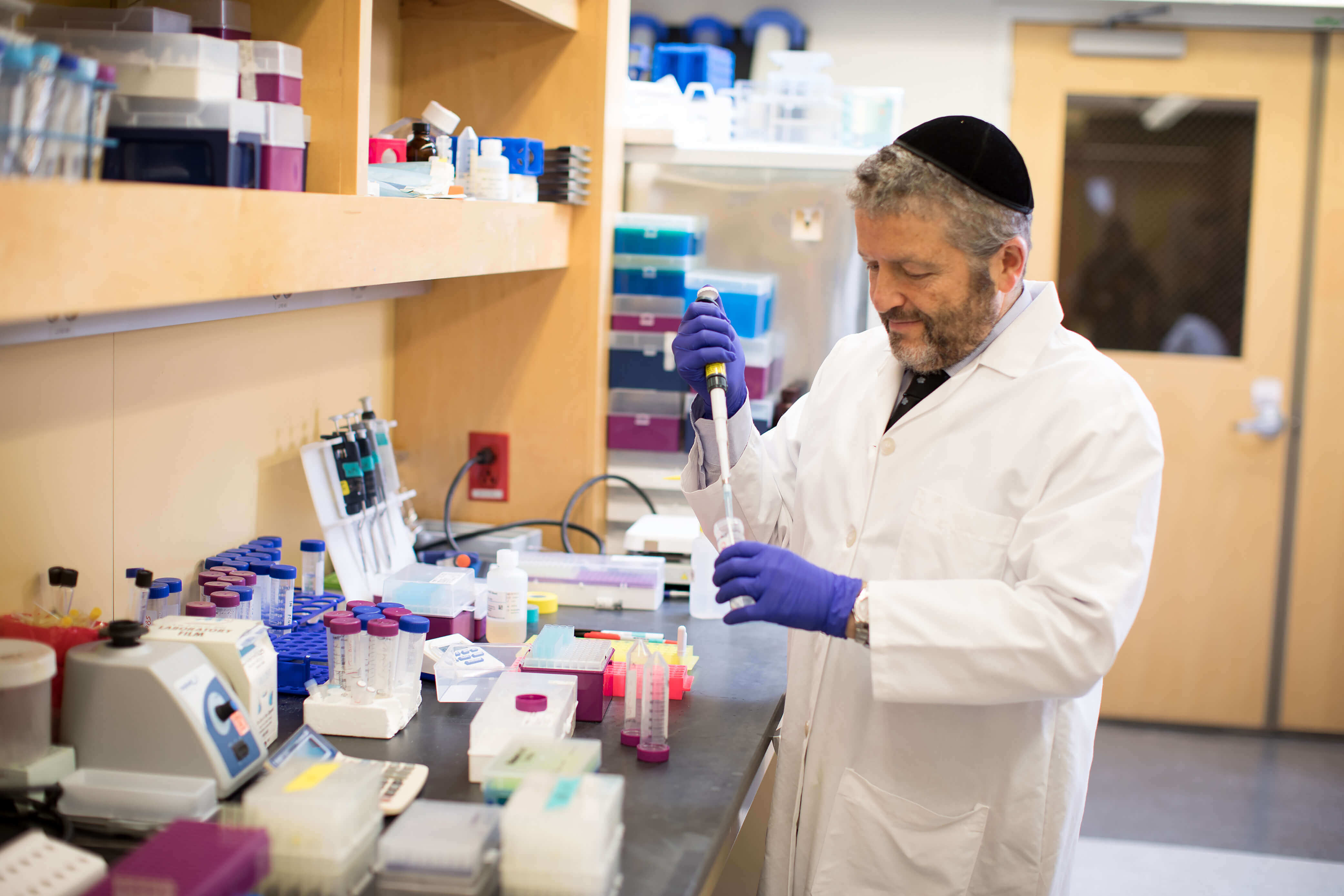 Dr. Salomon Amar, Provost for Biomedical Research at Touro College & University System, is working on a clinical trial to test the efficacy of a drug to treat COVID-19. Touro/New York Medical College (NYMC) was selected as one of the trial sites in the U.S.
How did you and Touro/New York Medical College get involved?
The CEO of Regeneron, the company that makes this drug, reached out to Touro President Dr. Kadish a very short while ago to see if we would be interested in running this trial in the U.S., along with another company, Sanofi. Without hesitation, we agreed and because of the way COVID-19 is affecting and upending the lives of everyone on the planet right now, all the players in our University System stood in line to make it happen.
It was literally only eight days from the time we received the call to the time we got the trial up and running. This process involves paperwork, regulations and compliance that usually takes months to get approved, so eight days is in fact a record. I'm extremely proud of our team at Touro, NYMC and Westchester Medical Center, the hospital that is partnering with us as the clinical trial site. Throughout this process, no one closed their door or said, "no I can't do this." We told people that we were looking to assemble an organization of YES people.
This Clinical Trial is testing the drug Sarilumab, usually used for rheumatoid arthritis, in the fight against COVID-19. Why do you think it might be effective?
Before I address why I think this drug deserves testing in the treatment of COVID-19 patients, let me tell you how it works in rheumatoid arthritis (RA). Patients with RA exhibit unnecessary inflammation in their joints and this drugs acts to reduce the excess inflammation. The consequence of over-inflammation is cell destruction, so we use this drug to capture the excess and reduce it.
This concept was extended to other conditions affected by over-inflammation. If this drug reduces inflammation in joints for RA, then it could potentially work on any area in the body where there is over-inflammation. In a way, the drug works by partially vacuum cleaning the excess inflammation.
With the outbreak of COVID-19, a Chinese group reported a massive over-inflammation into and around the lungs during COVID-19 infection, in a small, uncontrolled study conducted in February. Treatment of COVID patients with a drug that has similar action to Sarilumab showed significant improvement of COVID patient's disease parameters. In light of this study, Regeneron decided to run a controlled clinical trial to evaluate Sarilumab to reduce excess inflammation in the lungs in a larger sample size.
Can you describe a day in your life in this trial?
My team and I interface with the clinical trial sponsor daily and we work to ensure that doctors are provided with the drugs and materials they need and that they are entering the data properly. The data is live so sponsors can see what is being done on a moment to moment basis. It's really lots and lots of logistics. We need to make sure that everything is under control at the hospital—that there is enough of the drug, tubes and all logistics associated with the trial are progressing properly. We can't see how patients are reacting to the drug because this is a blinded study and we don't know who is in which group yet.
When do you think you will have results?
We are working as quickly as we can and hoping to have results as soon as possible.
How does it feel to work on a research project that has the potential to improve or save millions of lives?
All of us physicians and researchers enter this profession specifically to improve the human condition and healthcare. It is the essence of who we are, and it is our job every day to come up with novel treatments to help those who are suffering. For me, this project is very humbling. I have spent 30 years working on inflammation so one would think I would have a handle on it, but we do not have the answers to how coronavirus operates… not yet. As a deeply religious person, I pray every morning that G-d will help us provide successful therapies to heal our patients.