New Touro Medical School in Montana Opens Application Cycle for Fall 2023
Construction on State-of-the-Art Campus Near Completion, Plans Moving Forward to Enroll 125 Students in First Class
September 20, 2022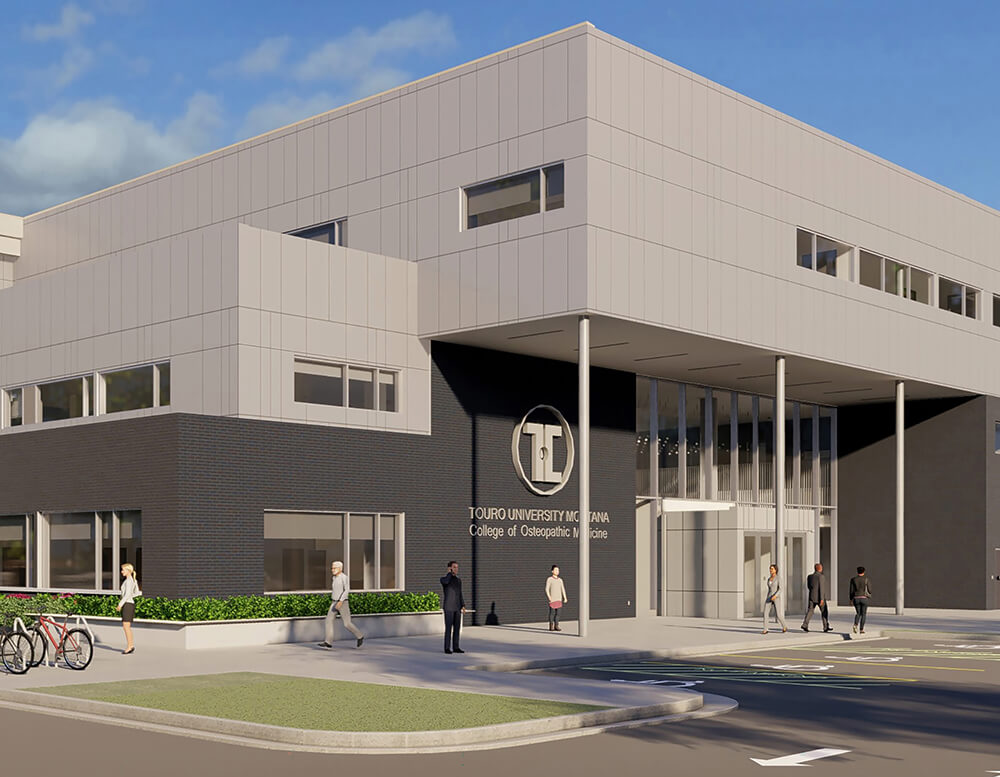 Rendering of Touro Montana campus
(New York, NY) – Touro College of Osteopathic Medicine's (TouroCOM) new site campus in Great Falls, Montana has received pre-accreditation status to recruit students and begin operations, Touro President Dr. Alan Kadish announced today. Touro is completing a 100,000-square-foot state-of-the-art medical school campus which will house multiple classrooms, an anatomy lab and simulation center. 125 students are anticipated to enroll in the first class, which is scheduled to start in July 2023.
"We are thrilled to bring Touro University's educational programming to Great Falls. With the dedication of our TouroCOM Montana Dean Elizabeth Palmarozzi and her colleagues in New York, and the support of local leaders, we look forward to training excellent healthcare providers and offering much-needed medical care to this community," said Dr. Kadish.
TouroCOM currently operates similar medical school campuses in Harlem, New York and Middletown, New York, which each graduate approximately 135 new physicians each year.
There are 55 Osteopathic Medical Schools in the United States and osteopathic students represent 25% of all medical students in the country. Doctors of Osteopathic Medicine (DOs) are fully-licensed physicians and enter all medical specialties, with a majority entering primary care and many working in underserved communities.
"I am extremely excited about our new additional site campus in Great Falls Montana. This project has been in the works for several years, and will help meet a need in Montana to train primary care physicians who will practice locally with a special focus on underrepresented groups, especially Native Americans.," said Kenneth J. Steier, DO, MBA, MPH, Executive Dean of TouroCOM.
Founding Dean Elizabeth Palmarozzi DO, FACOFP said, "I am eager to begin recruiting, interviewing and accepting students into our inaugural class. This marks the beginning of our contribution to the healthcare in Montana and surrounding regions. We would like to thank the Great Falls community, the Benefis Health Systems and all of our clinical partners, along with everyone whose support and efforts helped to make this a reality."