NYMC Students Step Up to Care for the Community
On the Front Lines and Behind the Scenes During this Coronavirus Outbreak
March 25, 2020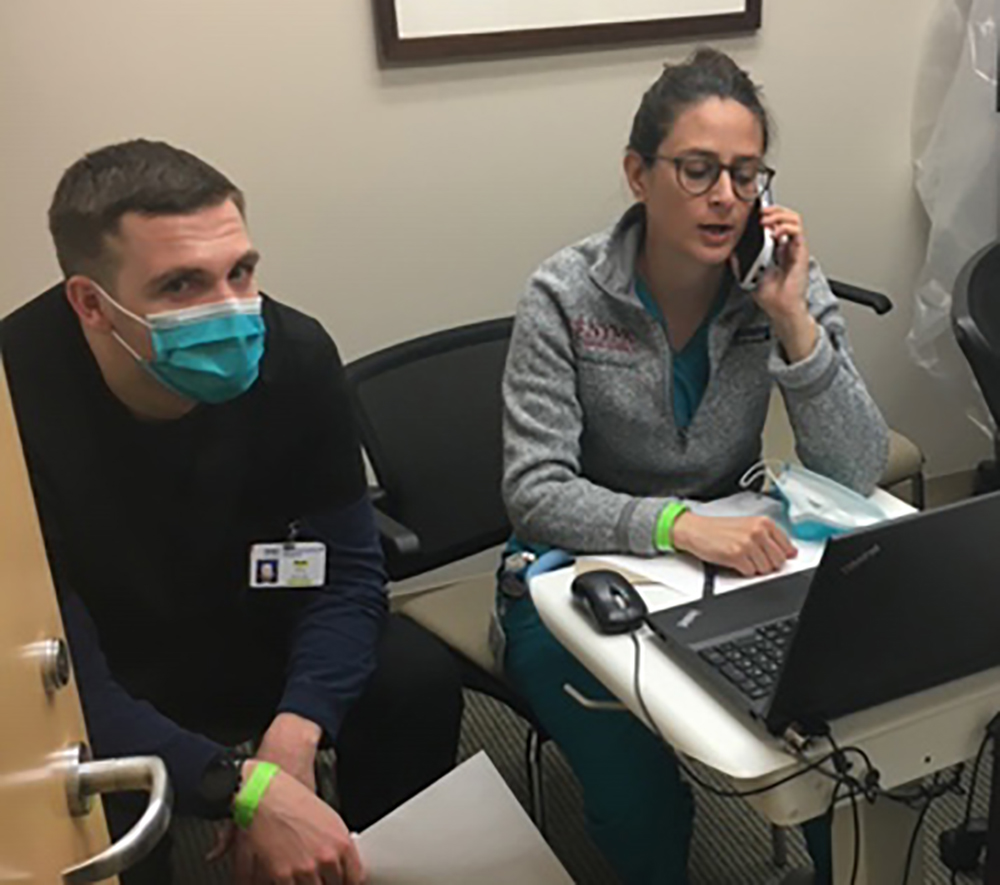 Two weeks into the COVID-19 pandemic, a virtual roomful of New York Medical College medical students momentarily shed their white coats to become project managers—organizing nearly 200 of their peers volunteering across three major metropolitan hospitals at the center of our nation's pandemic. From providing assistance at affiliate hospitals, to delivering food and setting up childcare and dog-walking services for faculty at the front line, the students stepped up to do their parts in small and large ways.
"A growing swell of medical students across all four classes are working together to fill the unmet needs at NYMC's affiliate hospitals and within our own College community," explains Jennifer Koestler, M.D., senior associate dean for medical education. "Our students have stepped into the role of project managers, organizing volunteers to work at our major clinical sites. They are also finding ways to take care of our own community—dropping off care packages to their peers who have been quarantined, sending letters to their mentors to say thank you, and sharing inspirational poems and wellness tips to keep our community together during these challenging times."
As advisors of the volunteer initiative, Dr. Koestler, Mill Etienne, M.D. '02, M.P.H., associate dean for student affairs, associate professor of neurology and School of Medicine house advisory dean, and Anthony S. Sozzo, M.A., M.S., E.D., associate dean for student affairs and director of student financial planning and student activities say they were not surprised when the volunteer initiative emerged. "A hallmark of our student body is that they are tremendously humanistic and whole-hearted," says Dr. Koestler.
"Beyond what you learn from our formal curriculum, humanism and compassion is what makes a true healer," said Jerry Nadler, M.D., MACP, FAHA, FACE, dean of the School of Medicine and professor of medicine and pharmacology. "These two traits are hallmarks of our dedicated students at NYMC, and the tremendous effort they are putting forth in support of the community in this time of great need is a wonderful illustration of that."
According to Sozzo, the non-clinical volunteer work is equally important, with students organizing to support healthcare workers who are on the front lines, arranging tutoring or childcare for healthcare providers whose kids who are home from school indefinitely and delivering groceries to the elderly.
Amidst an unprecedented health crisis, "Our students are putting their best selves forward," says Dr. Koestler. "Their actions show that they also understand that physicians cannot be compassionate caregivers to patients if they do not learn how to also take care of themselves."