Touro College & University System Announces Plan to Add New York College of Podiatric Medicine
Podiatry School to Join Existing Touro Network of Medical and Health Science Programs Currently Educating 7,700 Students
August 06, 2020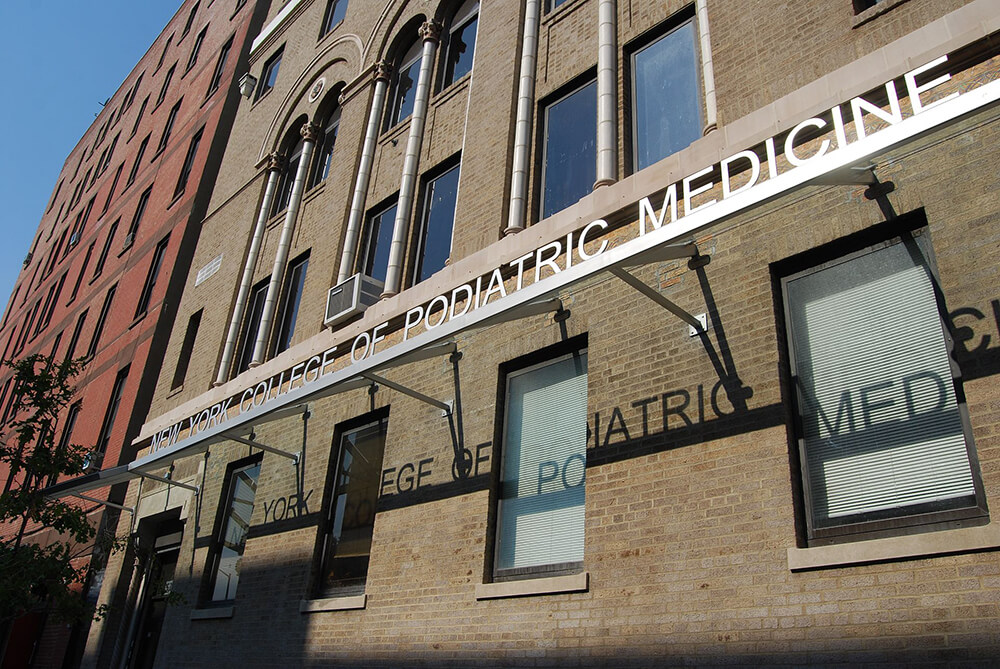 New York College of Podiatric Medicine (NYCPM) will join the Touro College & University System and New York Medical College, the institutions announced today. Touro president Dr. Alan Kadish and NYCPM president Mr. Louis Levine signed a Membership Agreement in an online ceremony to mark the occasion.
Founded in 1911, the New York College of Podiatric Medicine (NYCPM) was the nation's first medical college devoted to educating and training doctors of podiatric medicine. It combines outstanding classroom instruction with clinical training in one of the world's largest foot care clinics. Mr. Levine said, "This bodes well for both institutions. I believe that with Touro's help we can bring New York College of Podiatric Medicine to even greater heights."
Dr. Kadish said, "As healthcare moves towards a team approach, podiatrists will become increasingly important. Touro healthcare educational systems and our clinical healthcare delivery systems can integrate New York College of Podiatric Medicine in a way that improves patient care and transforms the experience for students and faculty."
Touro serves over 18,000 students across 35 schools. Touro's highly regarded health sciences, dental, pharmacy as well as osteopathic and allopathic medical schools make it a national leader in comprehensive health education and care.
"Touro is known for its ability and willingness to innovate rapidly and we are adept at finding the best educational techniques and solutions to meet the needs we identify. Some of the best job opportunities currently exist in the healthcare field, and our goal is to offer an array of choices and prime our students for success. Educating approximately 7,700 students annually in the health sciences, Touro is fast becoming one of the largest healthcare educational systems in the U.S. Adding podiatric medicine to our existing network of medical and health science schools and programs will serve to augment and strengthen our academic offerings," said Dr. Kadish.
The transaction is expected to close on July 1, 2021, once it is approved by the U.S. Department of Education, the New York State Department of Education, other regulators and relevant accreditors.
The Touro College & University System
Touro is a system of non-profit institutions of higher and professional education. Touro College was chartered in 1970 primarily to enrich the Jewish heritage, and to serve the larger American and global community. Approximately 18,000 students are currently enrolled in its various schools and divisions. Touro has 35 campuses and locations in New York, California, Nevada, Illinois, Berlin, Jerusalem and Moscow. New York Medical College; Touro University California and Touro University Nevada; Touro University Worldwide and its Touro College Los Angeles division; as well as Hebrew Theological College in Skokie, Illinois are separately accredited institutions within the Touro College and University System.
The New York College of Podiatric Medicine
The New York College of Podiatric Medicine (NYCPM), founded in 1911, is the oldest podiatric medical school in the United States. As the nation's preeminent podiatric medical school, NYCPM has graduated more than 25% of all active podiatrists in the nation. NYCPM has established affiliations with many world-class hospital and health providers, including Mt. Sinai Hospital, Columbia Presbyterian Hospital and the New York City Health and Hospitals Corporation. NYCPM, though its Foot Center of New York (Foot Center) clinical affiliate, operates the largest clinic of its kind in the United States and treating nearly 25,000 patient visits a year. NYCPM is located just blocks from Touro's Harlem campus.