Touro College Academy of Leadership and Management Graduates First Cohort
Innovative Program Fosters Management Talent in Faculty and Administrators
January 02, 2019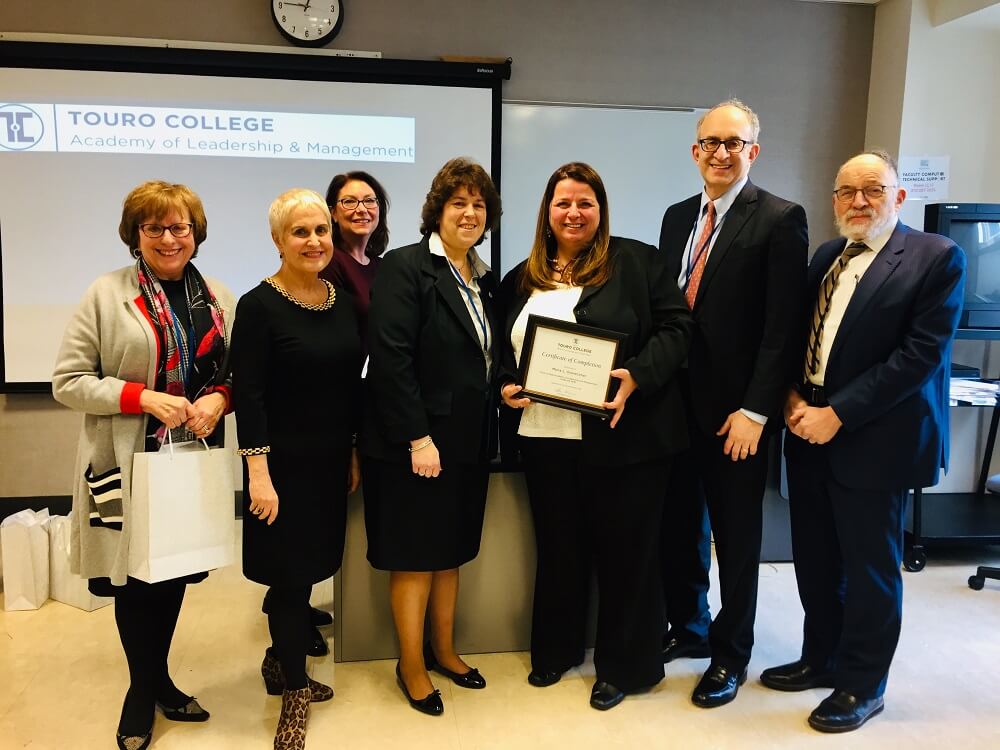 Touro College Academy of Leadership and Management (TCALM) graduated its inaugural cohort on Dec. 6 in a ceremony at Lander College for Women—The Anna Ruth and Mark Hasten School. Over a nine-month period, the select cohort assembled from across Touro's New York schools met monthly to learn about Touro and general management practice from Touro's senior leaders and several outside lecturers.
"The goal of the leadership academy is to provide an internal training program for faculty and academic administrators who would like to improve their management and leadership skills for their own professional development," stated Touro Provost Patricia Salkin, whose office ran the program.
"We learned leadership skills," explained cohort member Dr. Joyce Brown of TouroCOM Middletown. "It was didactive leadership training with the opportunity to learn about Touro as an institution."
In addition, the cohort was divided into three groups and asked to identify a need in the Touro College system and propose programmatic solutions. Each proposal was presented to Touro College President Dr. Alan Kadish during the final session of the program. The completion ceremony was attended by Dr. Nadja Graff, vice president of Touro's Division of Graduate Studies, and Dr. Stanley Boylan, vice president of Touro's undergraduate education and Dean of Faculties.
"One of the highlights of the program was the ability to watch participants pitch innovative program ideas to Touro President Alan Kadish that would make a difference for faculty development and student learning," explained Provost Salkin. "This was a culmination of learning together and learning more about the Touro College & University System and exploring what was possible and what was needed."
The program was developed over several years by Drs. Laurie Bobley and Dr. Alan Sebel of Touro's Graduate School of Education. "We wanted to identify faculty and other staff members who could be put into a pipeline program for leadership positions," said Dr. Bobley. "We also wanted Touro employees to become more aware of how vast the Touro system is. In academia, there's always a danger of becoming trapped in your educational silos and this was an attempt to combat that."
"We wanted to provide members of the staff with the ability to develop their own leadership abilities," added Dr. Sebel.
Dr. Bobley, Dr. Sebel and Dr. Sabra Brock of Touro Graduate School of Business acted as facilitators for the program.
Events included:
A session on ethical leadership by Rabbi Moshe Krupka, executive vice president of Touro College and the university's ombudsman.
A joint presentation by Deans Louis Primavera (SHS), Judah Weinberger (NYSCAS) and Jacob Easley II (GSE) about different stages in the career of a dean.
A lecture on conducting effective research by Dr. Salomon Amar, Provost for Biomedical Research and Chief Biomedical Research Officer at Touro College.
The program also offered the cohort the chance to learn more about their employer.
"Touro is an amazing place to work and we were able to learn a lot about what the school's mission is," said cohort member Dr. Aaron Yancoskie of Touro College of Dental Medicine. "The system is so vast and broad and the benefits it brings to society are quite impressive. We are serving the global community. Part of our mission is providing opportunities for people who are on the fringes of society and we're number one at it."
"We had a lot of interesting perspectives and we met with a number of Touro officials that was beneficial in terms of understanding how the university is structured," said Thomas Rozinski, a political science professor at Touro College Lander College of Arts and Sciences.
The three proposals developed by the cohort included a single center for teacher development across Touro schools, an online interprofessional education program for students, and a faculty mentoring program.