Touro College and Orthodox Union Announce 2020 Joint Scholarship Winners
Sarah Rivkah and Dr. Bernard Lander Scholarships Awarded to Outstanding NCSY Graduates
June 25, 2020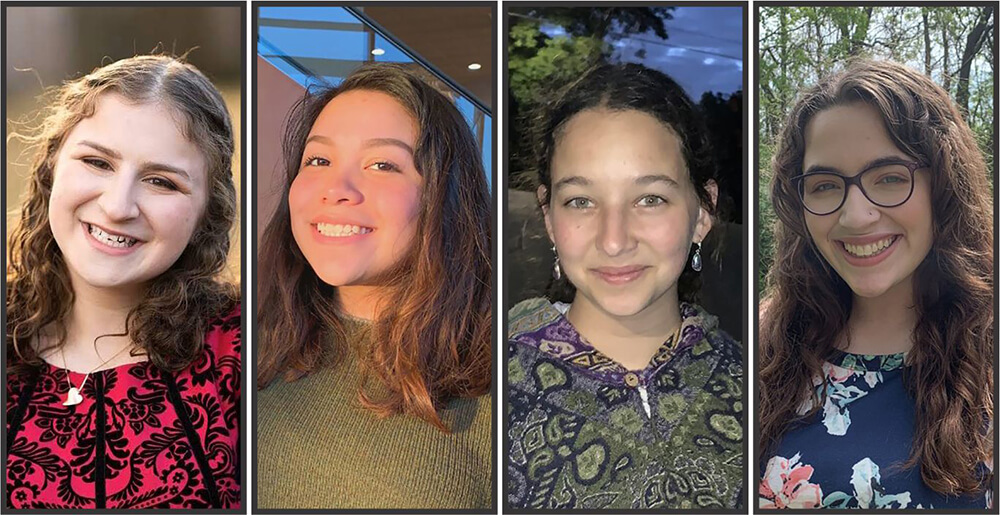 (Left to right:) Shifra Dimbert, Yael Gonzalez, Indigo (Nishama) Paris and Hannah Thiede
NEW YORK – Touro College, the nation's largest institution of higher education under Jewish auspices, and the Orthodox Union (OU), the nation's oldest and largest umbrella organization for the North American Orthodox Jewish community, have awarded the 2020 prestigious Sarah Rivkah and Dr. Bernard Lander zt"l Scholarships.
This year's scholarship recipients are: Shifra Dimbert; Yael Gonzalez; Indigo (Nishama) Paris; and Hannah Thiede. All were active NCSY members during high school and have plans to attend seminary in Israel this coming year before enrolling in college.
The scholarships are awarded annually by Touro College and the Orthodox Union to outstanding NCSY graduates, the OU's international youth movement, who choose to attend one of Touro's Lander Colleges in New York City: Lander College for Men in Queens (LCM), Lander College for Women/The Anna Ruth and Mark Hasten School in Manhattan (LCW) and Lander College of Arts & Sciences (LAS) in Brooklyn.
The scholarships, in memory of Touro's Founding President Dr. Bernard Lander, zt"l and his wife Sarah Rivkah, a"h, were announced by Touro President Dr. Alan Kadish and Orthodox Union President Moishe Bane, a Lawrence resident.
"Dr. Lander always supported Touro's offer of scholarship opportunities to outstanding NCSY leaders," Dr. Kadish said. "We have presented over $3 million dollars in such scholarships over the years, and it is only appropriate that these scholarships bear Dr. Lander's name and the name of his beloved wife, Sarah Rivkah. We look forward to our continued partnership with the Orthodox Union and NCSY in helping to create a vibrant and committed Jewish tomorrow."
"These young adults represent the future leaders of the Jewish community," said Moishe Bane. "Throughout their experience in NCSY, they have exemplified leadership and we are proud to help invest in their futures."
Bernard Lander served as president of Touro for almost 40 years, until his passing on February 8, 2010, at the age of 94. He built Touro from a fledgling institution with only 35 students in 1971 to an educational powerhouse with more than 18,000 undergraduate and graduate students across the United States and in Israel, Germany and Russia, making Touro the largest not-for-profit independent institution of higher and professional education under Jewish auspices. Dr. Lander also was a major figure in Jewish communal life, serving on the Board of the Orthodox Union for almost 70 years.

About the Touro College and University System
Touro is a system of non-profit institutions of higher and professional education. Touro College was chartered in 1970 primarily to enrich the Jewish heritage, and to serve the larger American and global community. Touro College has 34 campuses and locations in New York, California, Nevada, Berlin, Jerusalem and Moscow. New York Medical College; Touro University California and Touro University Nevada; Touro University Worldwide and its Touro College Los Angeles division; as well as Hebrew Theological College in Skokie, Ill. are separately accredited institutions within the Touro College and University System. For further information on Touro College, visit: www.touro.edu.

About the Orthodox Union
Founded in 1898, the Orthodox Union, (OU), serves as the voice of American Orthodox Jewry, with over 400 congregations in its synagogue network. As the umbrella organization for American Orthodox Jewry, the OU is at the forefront of advocacy work on both state and federal levels, outreach to Jewish teens and young professionals through NCSY, Israel Free Spirit Birthright, Yachad and OU Press, among many other divisions and programs. For more information, visit www.ou.org.