Touro Graduate Division Commencement 2020
Over 1,000 Diplomas Awarded to Students at Six Touro Graduate Schools
June 18, 2020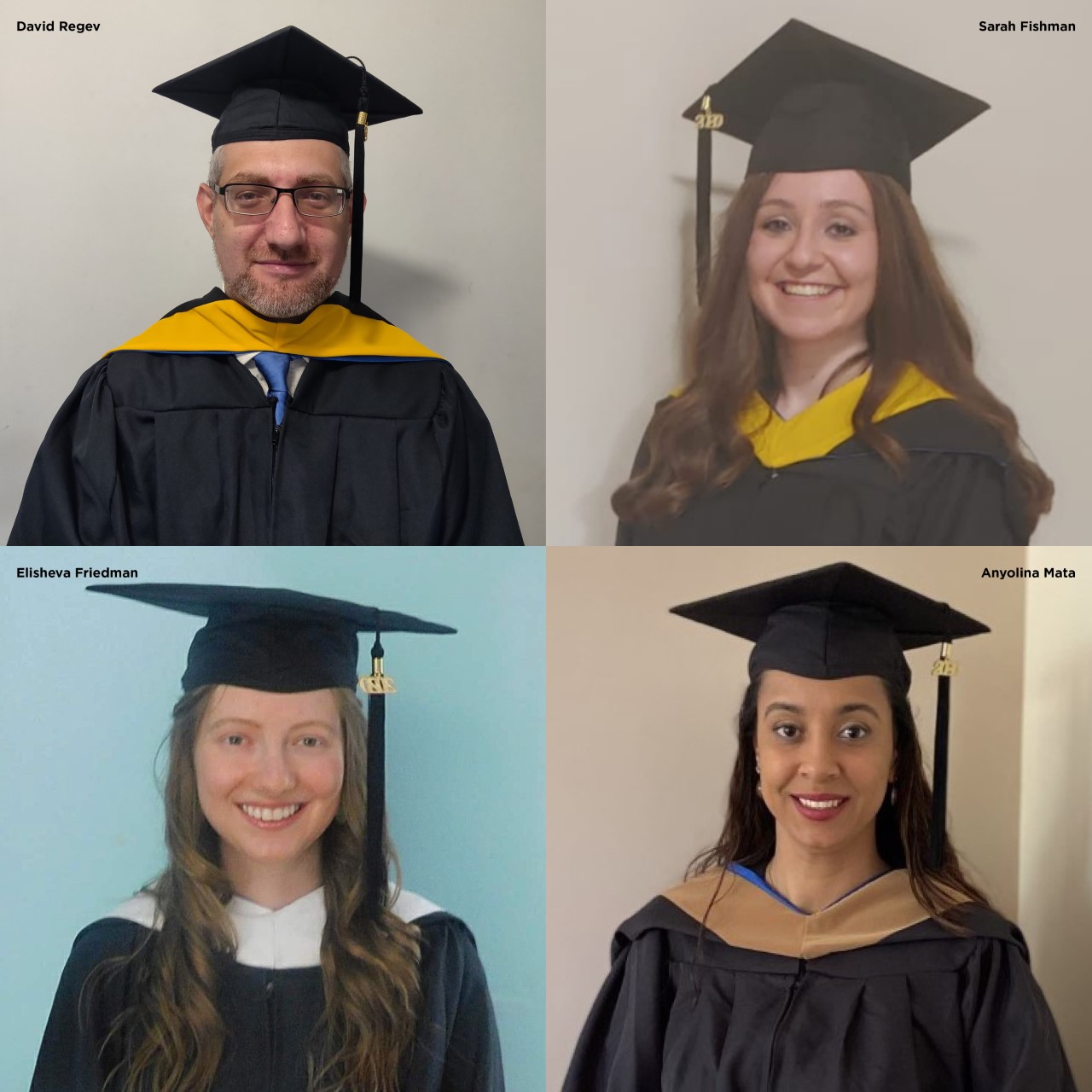 Valedictorians at Division of Graduate Studies Commencement 2020
Graduates from six Touro graduate schools participated in a virtual commencement ceremony yesterday, where they were invited to close their eyes and imagine themselves at Lincoln Center's David Geffen Hall. The majestic hall, home to the New York Philharmonic, is where their academic degrees are normally conferred - surrounded by family, friends, faculty and administration.
Still, the event held fast to many of Touro's traditions: the National Anthem opened the ceremonies, Touro College and University System (TCUS) Vice President Rabbi Moshe Krupka provided an inspiring invocation, and congratulatory remarks and advice were generously offered by President Dr. Alan Kadish and other senior administrators, deans and faculty.
"This is a day of dreams come true," said Dr. Nadja Graff, vice president of the Division of Graduate Studies in opening remarks to the Class of 2020. "Today more than ever, our city, our state and our nation need dedicated, well-prepared, courageous and caring leaders. As you join the ranks of practitioners and policymakers, accept the challenges ahead and be confident in the knowledge that you have the skills, dedication and determination to make a positive impact on our global society."
After reflections from six class speakers, over 1,000 graduates from the Touro College graduate schools of business, education, Jewish studies, social work, technology and health sciences were congratulated by Patricia Salkin, provost of the Graduate and Professional Divisions, who then awarded their degrees along with instructions to turn the tassels on their caps from right to left. The ceremonies concluded with the familiar Pomp and Circumstance, as each graduate was recognized for their achievement.
Commitment to Serve Humanity
TCUS President Dr. Alan Kadish expressed delight at celebrating the graduates' accomplishments, which he said reflected the culmination of their hard work and commitment to fulfilling their dreams. He is confident, he said, they will continue on that path, and is hopeful Touro has prepared them both to succeed and to model compassion, concern and social justice. "I am confident we have instilled in you a commitment to serve humanity," the president said.
Noting the particularly challenging times, Dr. Kadish called on the graduates to join Touro in finding a solution to end racism. "We have come face to face with persistent racism. The George Floyd murder has reminded us that racism remains a major problem in our country. It is intolerable," he said. "We must work together united. We must find a way, without endangering others, to make equality and social justice the cornerstones of what we do."
Associate Dean of Faculties, Dr. Donne Kampel introduced the deans from each school, who in turn introduced their student speakers:
Anyolina Mata, valedictorian and student speaker for the Graduate School of Business, urged her classmates to "be better professionals, business leaders, entrepreneurs, educators and motivators to the next generation of leaders." At school she gave a presentation on leading by example and role modeling for youth. Admired for her resilience, dedication and ambition, Mata worked as an engineer and launched two businesses before coming to Touro to earn her MBA, graduating with a 4.0 GPA. "Little do we know the impact we can make on young people's lives just by sharing our experiences and providing resources to support their career ambitions," she said.
Lenora McArthur, M.S.in Childhood Education and Special Education (Grades 1-6) at the Graduate School of Education shared her childhood passion for teaching. She recalled playing school with other children in her neighborhood and always role-playing the teacher. "Teaching is not easy, but anything valuable takes hard work," said McArthur. "We have had the chance to see the important roles educators play in emergency situations. We need to stay supportive of the students, families and communities we serve, the way our families and friends have supported all of us through this amazing journey."
"We Will Be Tested, and Overcome"
Elisheva Friedman, Graduate School of Jewish Studies valedictorian and student speaker, began at Touro in the Judaic Studies Honors Program at Lander College for Women. This year she completed her M.A. in Jewish Studies. Friedman recounted for classmates a meaningful lesson she learned from studying Jewish history, "The struggles and challenges that we face do not have the power to determine our happiness and success." She said Touro has equipped them to achieve great things but that is not enough. "We need to make the conscious decision every day to use the skills we've been given. We will be tested, but we are also capable of overcoming every obstacle in our way," she said.
Sarah Fishman, MSW, was chosen student speaker by classmates at the Graduate School of Social Work. She displayed a passion for helping others – including peers - and excelled academically, graduating with a 4.0 GPA. Before coming to Touro for social work, Fishman explored a business career and taught American History at two all-girls schools in Brooklyn. "As a teacher, I saw the need for better mental health care for my students and decided I wanted to improve the lives of children and teenagers in that way," she said. While earning her master's, Fishman counseled kids and teens at mental health agencies as a social work intern. She knew she had found her calling. "Social work is about being compassionate, giving of oneself to others. The greatest form of self a person can achieve is expanding their love of self to others," she told her class.
David Regev also finished with a 4.0, and an M.A. in Web and Multimedia Design from the Graduate School of Technology. He shared his love for UX (user experience) design – creating a digital product so it works to help people achieve their goals. He also shared that he lost his mother to COVID-19, though he and his grandmother survived. Regev used the example of the coronavirus and the host of institutions involved with it - hospitals, medical schools, insurers, government, and their websites and apps - to illustrate his point. "Together they form one very large system. Anyone can research and find opportunities for improvement. The potential to help people and save lives is enormous," he said.
Rivky Goldman was a wife, mother and pillar of her Chassidic community when she realized a need for mental health support in her community and went back to school. She began at Touro's School for Lifelong Education and then went on to earn her M.S. in Clinical Mental Health Counseling at the School of Health Sciences. While in school, she organized support groups for women whose husbands or teens were diagnosed with disorders, and directed a parent mentoring program. Goldman said at Touro she learned that to be a counselor means to be a special "human being" – human meaning to "keep our own weaknesses and struggles in mind" and being meaning "being present with the client in the moment and connecting, while maintaining awareness of your own experience and emotions." So, she concluded, she spent three years in the graduate program "to learn how to be a human being."