Touro Holds First School-Wide Research Day at Times Square Campus
Day Celebrates Collaboration Between Schools and New Partnership with Lovelace Biomedical Research Institute
May 17, 2023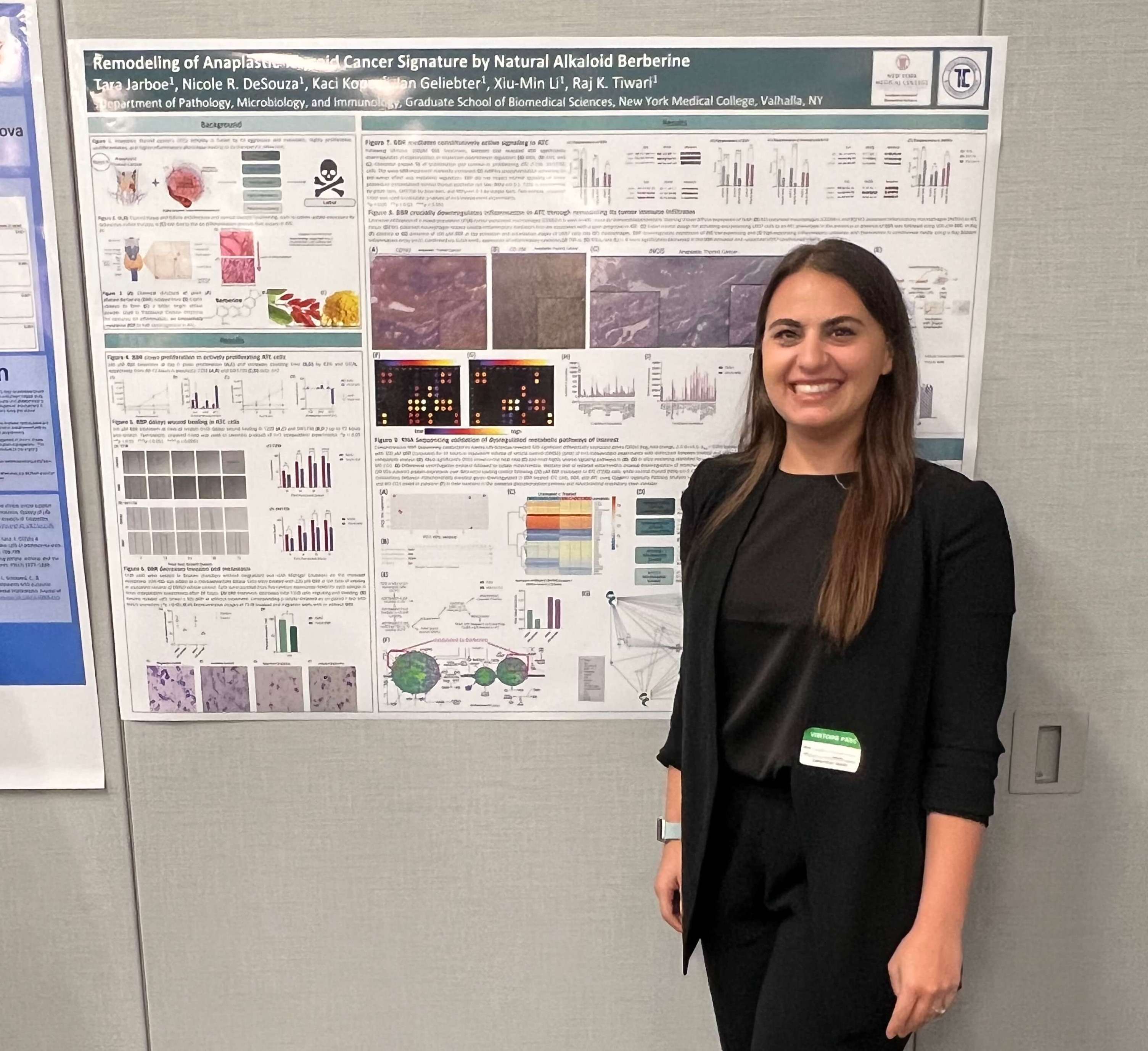 Touro University's school-wide research day featured lectures and more than 70 poster presentations by students and faculty members.
Touro University held the school's annual Research Day on May 2. It was the first Research Day to take place in the school's new flagship campus at 3 Times Square Cross River Campus as well as the first day devoted to research since Touro University partnered with the prestigious Lovelace Biomedical Research Institute in New Mexico.
Touro President Dr. Alan Kadish opened the event by noting that this year marked the school's 50th anniversary and the great strides the school has taken since its opening. "We began with 35 liberal arts students in midtown Manhattan," said Dr. Kadish. "Today, we're a system in 10 cities with close to 20,000 students."
During his speech, Dr. Kadish discussed the double-helix structure of DNA and how history collectively ignored scientist Roslyn Frank whose x-ray of the structure set the stage for the discovery.
"What are the lessons of that story?" explained Dr. Kadish. "To some extent it's a lesson about sexism and antisemitism, but hopefully we've eliminated that in science these days. But [the lesson] is that scientists in different fields sometimes have different ways of looking at the same data and different ways of producing scientific advances… When collaboration is done in the right way it can bring together people from different disciplines who can produce major advances."
Dr. Kadish spoke of the grants that Touro offers to students and faculty members as well as the spirit of cross-collaboration that permeates the university.
The program's visiting keynote address was delivered by Irving Weissman, MD, Director of Stem Cell Biology and Regenerative Medicine at Stanford University, entitled, "Normal and Neoplastic Stemcells." Andrea Taylor, Ph.D., of Touro University's College of Osteopathic Medicine in California, delivered the Touro Keynote address with her presentation entitled, "The Science of Collaboration & the Collaboration in Science: Keeping it Original and Impactful in the Realm of Biomechanics."
Faculty and student research awards were also given out to the following papers:
Social, Behavior and Arts: "Covid-19 Mental Health, and Religious Coping Among American Orthodox Jews," Journal of Religion and Health 2020—Steven Pirutinsky, Touro University Graduate School of Social Work
Biomedical, Health & Natural Sciences: "Activated Microglia Cause Metabolic Disruptions in Developmental Cortical Interneurons that Persis in Interneurons from Individuals with Schizophrenia," Nature Neuroscience, 23: November 2020, Sangmi Chung, New York Medical College (NYMC), School of Medicine
Student Poster Awards 2023
Applied, Clinical & Translational Research: Evaluating the Influence of the Covid-19 Pandemic on adverse Birth Outcomes— Mikaela Glass, Touro University
Basic Sciences and Natural Sciences: Remodeling of Anaplastic Thyroid Cancer Sginature by Natural Alkaloid Berberine, Tara Jarboe, NYMC
The event also featured more than 70 poster presentations by faculty members and students.
"We celebrate most importantly the next generation," said Touro Provost for Biomedical Research for the Touro University System, Dr. Soloman Amar. "Touro has been central in training students, undergrad grad, post, grad, and professional schools. Our mission is to make sure that the we ensure that the next generation will be well prepared."