When Hard Work, Smarts, and Luck Come Together
Touro Alum Todd Kahn Leads Coach's Empire
July 26, 2022
[MUSIC PLAYING] Winston Churchill has a fabulous quote. He said, "Success is not final. Failure is not fatal. It's the will to continue that matters." I think regardless of where you come from, what school you went to, you can achieve anything. You can be the CEO of Coach, where you don't just have to be from an Ivy League school. You don't have to be the third generation in the accessory or apparel business.
Looking at my career, and I mentor a lot of people and I often tell them careers aren't linear, and that's absolutely the case in my case. I started in a family business. I was the first generation in my family to attend college. My name is Todd Kahn. I graduated from Touro College in 1985 with a BS in business management. I am the CEO and president of Coach.
I grew up in a religious traditional household. I went to high school at Ida Crown Jewish Academy in Chicago, so Touro was appealing in that regard. And I think the combination of it was small, I got to live in New York at the time, and the transition was relatively easy. I was a terrible student in high school. I was very bored. But I was very interested in business.
And I remember trading stocks. I started at 13 with bar mitzvah money and was successful enough to buy my own car when I was 16 through my stock transactions. But I didn't lean in on academics. My first two years at Touro, I really became a voracious reader. And I think that set out becoming a lifelong learner, that curiosity. That focus on learning and testing has served me well, whether I was a law student, a practicing lawyer, or, of course, a business person.
People often ask me, oh, what's your business secret? I've been at Coach now 14 and 1/2 years. You get here through hard work, through being smart, and through luck. And it is a combination of all three. When I was 30, I thought I was the smartest person in the room. In my 50s, I know definitively I'm not the smartest person in the room, and pretty much any room.
My style is one of real collaboration. I try very hard not to be the first voice in a conversation. My job is to create an environment where our creatives, our designers, our merchants, our marketing people can thrive.
I try very hard to build consensus. And I try to have a light touch. And in return, I want just great product that is very saleable. Our goal is to be the most loved fashion brand in the world. That is our goal.
It is interesting to think about Touro at 50. Touro looks at opportunities in the community throughout our country, where can we serve a need for education? We've really leaned in on education for the Coach Foundation. We're doing scholarship programs across the world.
I think successful people have an obligation to give back. No one, nobody, no matter how bright they are, how talented they are, no one gets to where they get successfully without help from others. I think through the lens of Jewish values that were really at the core of Touro, Touro has helped change the lives of thousands of people with that simple premise of, how do I heal the world?

[MUSIC PLAYING]
As the CEO of Coach, Todd Kahn manages one of the world's most popular luxury fashion houses with almost 5 billion dollars in sales each year. Kahn credits the education he received at Touro with helping him launch his career.
After attending high school at Chicago's Ida Crown Jewish Academy, he chose to attend Touro because of the school's Jewish outlook as well as the location in New York City.
"Going to Touro allowed me to work part-time representing my family's business in New York," recalled Kahn. "Making a few hundred dollars extra a week was really liberating."
Becoming a Lifelong Learner in Touro
While Kahn chose Touro for the convenience and familiarity, when he still believed he would work in his family's business, his education in Touro changed his outlook.
"I was really inspired by some of the grounding that I got at Touro, particularly in the humanitarian areas," said Kahn who graduated with a degree in business management in 1985. "Touro allowed me to focus on reading the classics and improving my writing ability. As we got close to graduation, I thought about two directions: law school or business school. I wasn't really clear what business school would allow me to do, but in law school, I figured, the worst-case scenario, I could be a lawyer."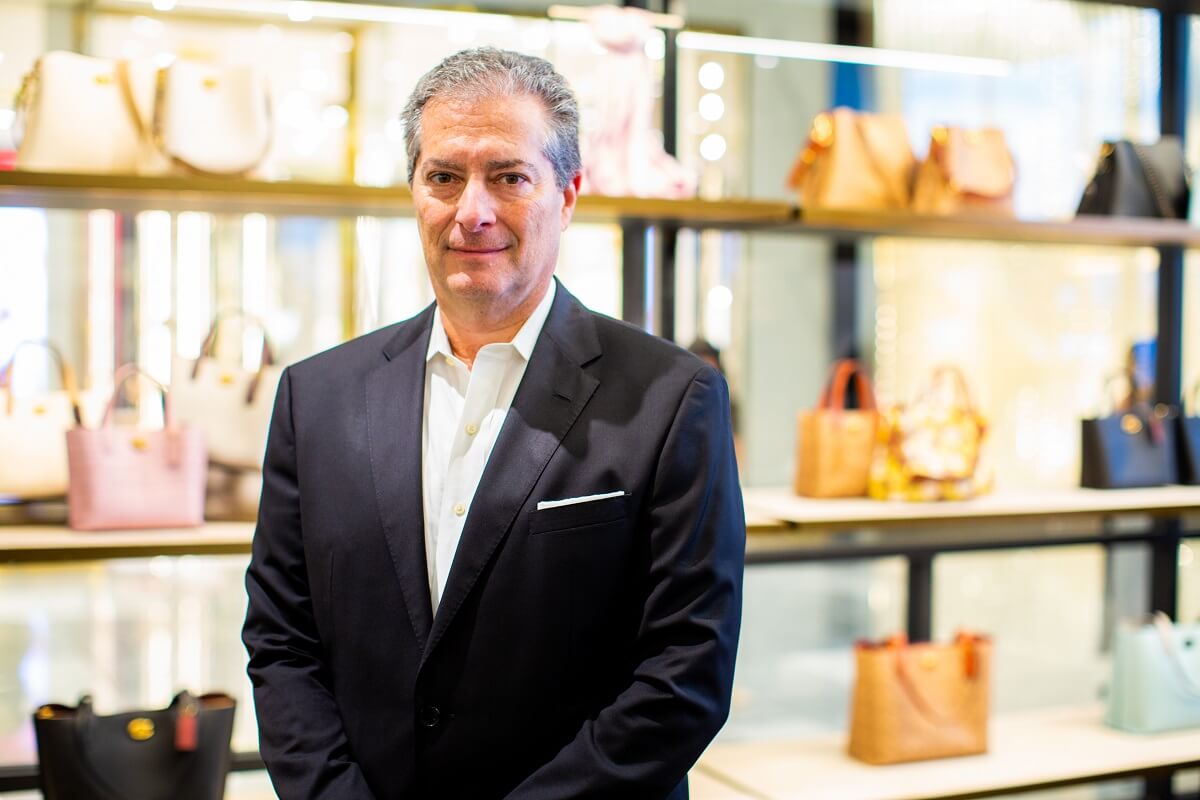 Coach CEO Todd Kahn stands by a display of bags in one of the company's stores.
"I was not a reader when I was in elementary school or even in high school," continued Kahn. "I sort of read what you were required to read. In my first two years at Touro, I became a really voracious reader. And I think that set me up to becoming a lifelong learner. That curiosity, that focus on learning and testing has served me well, whether it was a law student, a practicing lawyer, or of course, a business person."
Kahn took the LSATs after graduating and earned himself a spot in Boston University School of Law. At first, Kahn said he was intimidated by the size and Ivy League-pedigree of his fellow students. Those doubts quickly evaporated.
"I think BU had one of the largest classes in its history, over 430 students and my section had 150 people," explained Kahn. "And I really had a certain amount of anxiety. How would I perform in that? I was competing with students who had graduated from Harvard and Yale and Boston University and a host of other schools. And fortunately, I do think the small class size, the intimacy of the education that I received at Touro, allowed me to compete very successfully."
From M&A Lawyer to Corporate Counsel
Kahn's first position was with Fried Frank, a Wall Street law firm that specialized in mergers and acquisitions. One of their clients was apparel maker Salant Corporation, which owned well-known brands like Perry Ellis. After working on their account for two years and helping them emerge out of bankruptcy, a partner in Kahn's firm, asked him if he would join the company as counsel.
"I thought, "Wow", to be 29 years old as a general counsel of a public company was incredible, and what an opportunity. That was 1992 and that was my gateway to the accessory apparel industry," said Kahn.
"Very early on, I demonstrated a different type of general counsel, one that they had not experienced before," he said. "One who was focused on contributing to the business, focused on being commercial, but obviously protecting the institution and the IP. And we did some really, really innovative things then."
Kahn's Beginning at Coach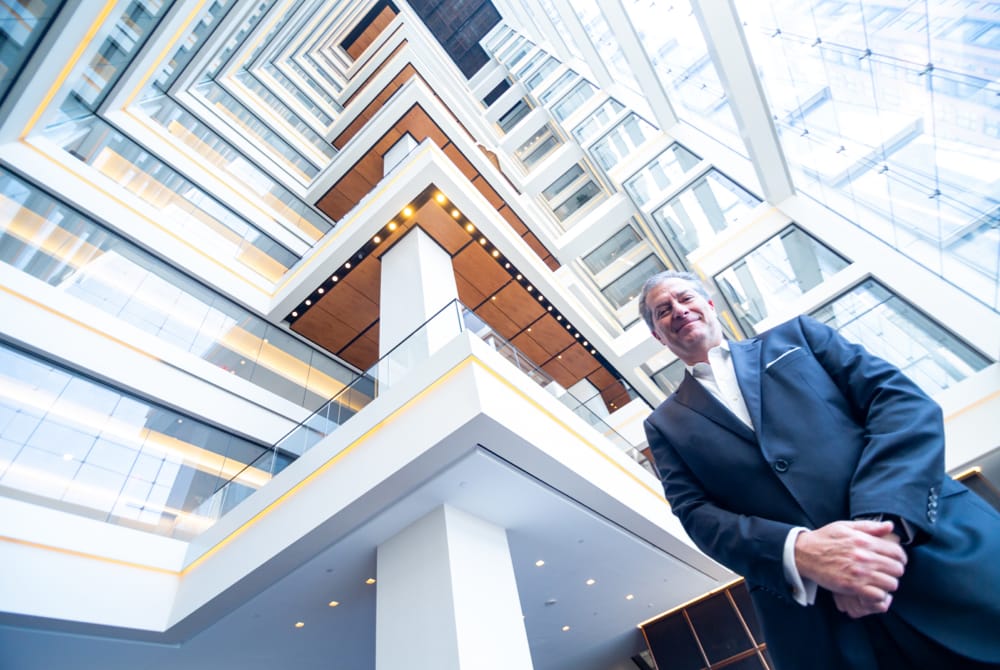 Kahn stands in the 15-story atrium of Coach's urban campus at 10 Hudson Yards. The double height conference rooms overlook the High Line.
After several years at Salant, Kahn focused on the business-side, and got back to his long-held business interests with stints at start-ups including one founded by rapper and mogul Sean Combs. When Kahn was approached by a member of Coach's human resources team to join the company as corporate counsel, it had been a while since Kahn had worked at a company in that capacity but, "I thought long and hard," recalled Kahn. "And I said, 'If you get to play for the Yankees, you don't really care what position you play.'"
(He jokes that he was referring to the Yankees of 2008, not the current team.)
The timing was fortuitous for both Kahn and Coach. Together with then-Coach CEO Lew Frankfort, Kahn was instrumental in expanding the company from a $2 billion business to a $5 billion empire.
"When I first started at Coach, I was most excited about the opportunity to work with the best people in our industry," said Kahn. "It was an incredible team, and just being in that room and then realizing, 'Hey, wait a minute, I can contribute to this.'"
Kahn especially enjoyed his relationship with Frankfort.
"Lew was a force, and he would test you every day. He was one of those leaders who had been in the company since it was 6 million dollars, and he had done everything one could do in the company," he explained. "On top of that, he had perfect recall. That was very intimidating, but it definitely made you bring your A game. Coach still makes me bring my A game every day."
As chief commercial officer, Kahn was responsible for every aspect of the Coach brand, other than marketing, design, and merchandise.
"I've had the good fortune of doing almost every job here," said Kahn. "Whether that was running wholesale, running our supply chain, building our [Hudson Yards] building that we're sitting in now, or managing IT. So, I've really had the experience beyond just being general counsel and the opportunity to learn so many aspects of the brand."
Leaving a Mark
One of Kahn's crowning accomplishments was helping to design and build the flagship offices of Coach in the Hudson Yards area of New York City. In charge of real estate and tasked with finding a new campus for Coach, Kahn brought Coach into the development team of 10 Hudson Yards, which helped launch the complex and reinvigorate a forgotten part of New York City.
"We had a little bit of input in the skyline of New York," said Kahn. "And that's pretty remarkable. We have a date on the calendar in about 20 years where I plan to have corned beef sandwiches and Dr. Brown's sodas on the High Line with our head of architecture and head of facilities. We'll be three very old men looking at what we were able to accomplish. And that will feel good."
Becoming CEO During a Pandemic
Two years ago, the company asked Kahn to take over as CEO of Coach, which represents 70 percent of Tapestry sales and 90 percent of the company's profit.
And while serving as president of Coach would be a fitting capstone to any career, just as Kahn was settling in, COVID hit. Kahn took drastic action and closed all 200 hundred American stores. Despite the hardships COVID caused on a personal and business level, he also saw an opportunity.
"Covid allowed us to reset our business and reset our brand," said Kahn. "And I really used that opportunity. We leaned in very heavily on digital. And it was interesting, if you would've asked me in April 2020, 'Would people sitting at home uncertain about their future buy a lot of handbags?' I would not have thought so, but handbags are an emotional purchase and humans are optimistic. We can be sitting at home for 12 hours on Zoom, not knowing what's going to happen and dealing with all kinds of issues. But generally speaking, we believe in a future, and we sometimes want to reward ourselves."
We don't just sell a handbag. We sell confidence.
Coach finished 2022 with one of its strongest quarters to date and the company's sales have rebounded to pre-pandemic levels. Their latest handbag sold out in two minutes.
"I love that tangible opportunity to change people's lives," said Kahn. "One of the things we love about Coach is—we have a lot of consumer data on this—that people who buy our product say that it makes them feel good. It makes them feel confident. We don't just sell a handbag. We sell confidence."
Giving Back and Giving Confidence
Kahn said that giving back is an important part of his mission as CEO of Coach. He is a founding member of the Coach Foundation and helped the charity raise $100 million. The charity's focus is on providing educational opportunities around the world.
"We really leaned in on education for the Coach Foundation," said Kahn. "We're doing scholarship programs and we're not only limited to the US. We have 5,000 scholarships in China, Japan, and the UK. The idea of education is important."
"My parents strived to allow me to get an education," he continued. "It's a non-negotiable that my children went to college. And I know it sets them on a different path. I want that opportunity for everyone."
Additionally, Kahn serves as a board member of the NYC cultural institution, The Shed. He was also active in having Coach work with Delivering Good, a non-profit that provides clothing and merchandise to those suffering from poverty.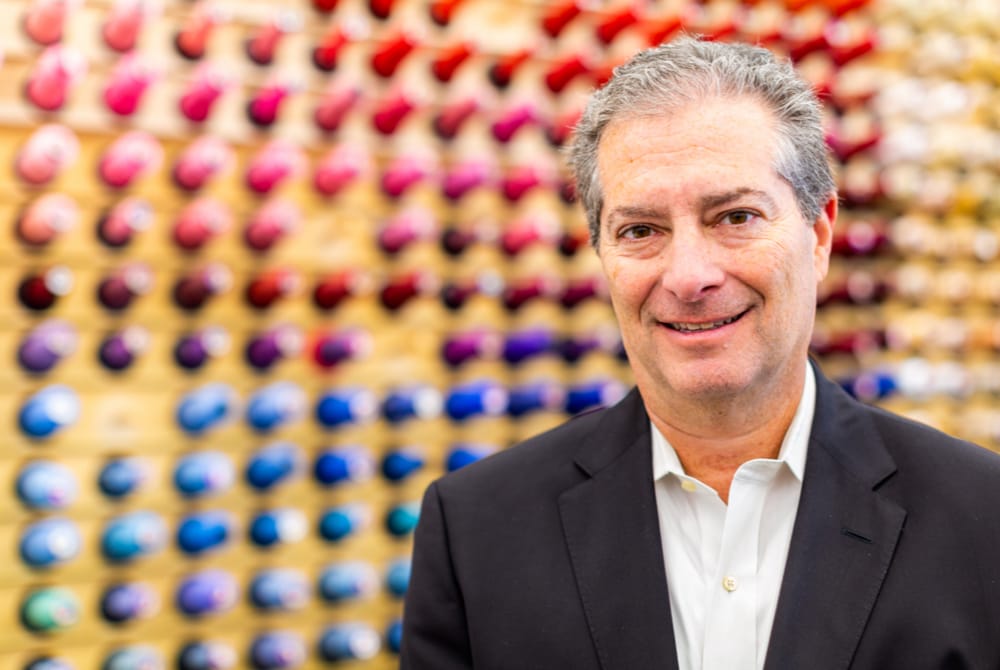 Kahn in Coach's design studio at 10 Hudson Yards, a unique feature of Coach's NYC campus
"Delivering Good, which uses products we make, has given away over a billion dollars to help people in need," said Kahn. "Whether that's somebody starting off in the workforce, or somebody coming out of prison who now needs to set their life in a different place—giving that person their first suit, their first briefcase or their first handbag for a job interview is really powerful."
Looking at the trajectory his own life took, Kahn sees a similar shape to Touro's mission.
"Touro looks at opportunities throughout our country. Where can we serve a need for education? And it's not just about a narrow goal like building alumni network or financials; it's about satisfying a need," he said. "And I think through the lens of the Jewish values, the study of humanities that were really at the core of Touro, those two principles, invoke the Hebrew idea of Tikkun Olam, healing or building a better world, not just for one set of people, but for all people."
"Touro has helped change the lives of thousands of people with that simple premise of: How do I heal the world?" concluded Kahn. "And I think that's pretty remarkable, and congratulations on 50 years. I look forward to seeing what you're going to be able to do and accomplish from here."