Edward C. Halperin, M.D., M.A.
New York Medical College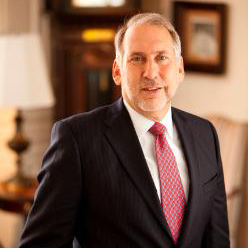 Areas of Expertise
Pediatrics, history of medicine, medical ethics, organ transplantation, and discrimination in higher education
Biography
Edward C. Halperin is the chancellor and chief executive officer of New York Medical College (NYMC), and a noted radiation oncologist, medical historian and health sciences educator. He received a Bachelor of Science in economics (summa cum laude) from The Wharton School of the University of Pennsylvania, his M.D. (cum laude) from Yale University and a Master of Arts from Duke University. He completed his internship in internal medicine at Stanford University and his residency and chief residency at Harvard Medical School/Massachusetts General Hospital.
Prior to joining NYMC in 2012, Dr. Halperin served as dean of the School of Medicine, Ford Foundation Professor of Medical Education and professor of radiation oncology, pediatrics and history at the University of Louisville, and in 2011 he took on the additional position of university vice provost. He was also on the faculty at Duke University for 23 years, serving as professor and chairman of the Department of Radiation Oncology, vice dean of the School of Medicine and associate vice chancellor. His research has focused on pediatric cancer, adult brain tumors, the role of radiotherapy in organ transplantation, ethics and the history of racial, religious and gender discrimination in higher education.
In The News
Videos