Samuel Levine, LL.M, JD
Touro Law / Jacob D. Fuchsberg Law Center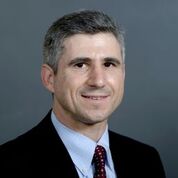 Professor Samuel J. Levine 2010 is professor of law and director of the Jewish Law Institute. He previously served as professor of law at Pepperdine University School of Law, and he has served as the Beznos Distinguished Professor at Michigan State University College of Law. He has published more than fifty law review articles and book chapters, and he has lectured throughout the United States on the subjects of legal ethics, Jewish law, criminal law, law and religion and constitutional law.
Professor Levine has been described in the pages of the Notre Dame Law Review as "one of the leading legal-ethics and professional-responsibility scholars of his generation," and in 2016, he received the Sanford D. Levy Award from the New York State Bar Association's Committee on Professional Ethics, in recognition of his contributions to the field of legal ethics.
Areas of Expertise
Legal ethics, Jewish law, law and religion.
Education
LL.M., Columbia University, 1996, highest honors
Rabbinical Ordination, Yeshiva University, 1996
J.D., Fordham University, 1994, cum laude
B.A., Yeshiva University, 1990, cum laude