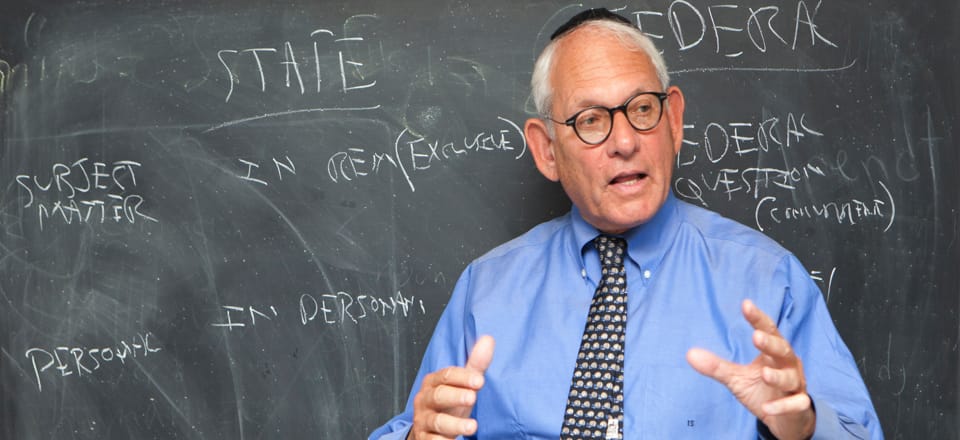 Political Science
Daniel Chill, JD
Professor
Biography
University Professor Daniel Chill holds a B.A. summa cum laude from Yeshiva University and a J.D. from Yale Law School. He teaches Legal Principles, Presidency and Executive Power, Congress and the Legislative Process, Supreme Court and the Constitution, State and Local Government, and Introduction to American Politics.
Prof. Chill is a partner in Graubard Miller, a Manhattan law firm, where he specializes in commercial litigation. Prof. Chill is also Chief Counsel to the New York State Task Force on Demographic Research and Reapportionment, a position he has held since 1982. He has been University Professor of Law and Political Science since 2004.
Prof. Chill has spent almost fifty years working with New York State government: From 1969 to 1975, he served as Chief Counsel to the Minority Leader of the New York State Assembly, and from 1975 to ­1976 as Chief Counsel to the Assembly Speaker. He served on the Legislative Bill Drafting Commission of the New York State Legislature from 1976 to 1981. His articles include "Political Gerrymandering: Was Elbridge Gerry Right?" Touro Law Review Volume 33, Number 3 and "Did the African-American Electorate Unintentionally Help Elect Donald Trump President?" Touro Law Review Volume 34, Number 1.
Apart from his legislative and scholarly work, Professor Chill has represented parties in more than eighty litigated cases in various courts including the U.S. Supreme Court, various Federal Circuit and District Courts, New York State Trial Courts (Supreme and Civil), the New York State Appellate Division (all 4 departments) and the New York State Court of Appeals. He can be reached at channing.chill@touro.edu.