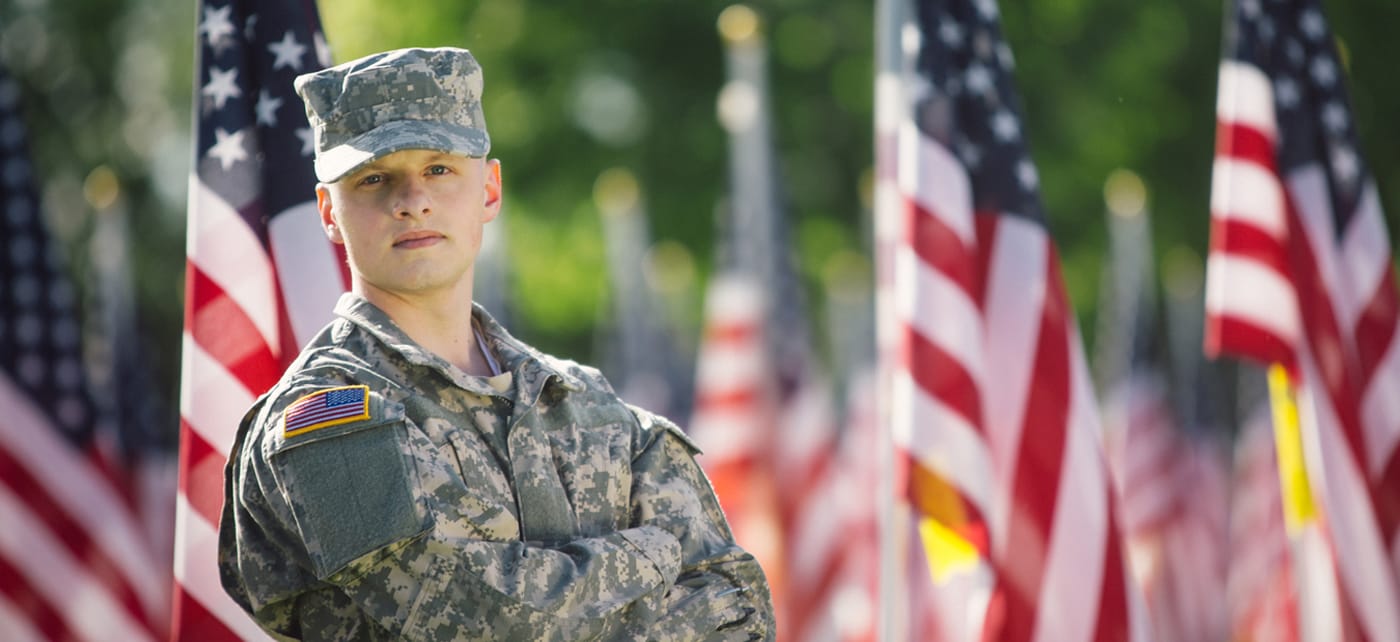 Veteran's Program
Veterans and Military Student Education Benefits
The Department of Veterans Affairs, The Department of Defense, the Reserves and National Guard forces of many states, and many states themselves (independent of the Reserve forces and National Guard) offer multiple types of tuition assistance to Veterans, current service members, State Militia, and family members.
You may receive financial support for undergraduate and graduate degrees, vocational and technical training, licensing and certification tests, apprenticeships, on-the-job training, and more. Touro University accepts all of these types of tuition assistance programs.
Touro University adheres to all policies of all tuition assistance providers and students are advised to review these policies published at official government websites or through military education advisors located at most active military installations.
Government Programs
These are the three most commonly used tuition assistance programs:
Veterans Administration (VA)
GI Bill® is a registered trademark of the U.S. Department of Veterans Affairs (VA). More information about education benefits offered by VA is available at the official U.S. government Web site at: www.benefits.va.gov/gibill
POST-9/11 GI BILL®
with changes of The Harry W. Colmery Veterans Educational Assistance Act, Forever GI Bill®
The Post-9/11 Veterans Educational Assistance Act of 2008 also known as Chapter 33, boasts the most comprehensive education benefits package since the original GI Bill® by providing financial support for education and housing.
Yellow Ribbon Programs:
Veterans with Post-9/11 GI Bill® benefit at 100% level may be eligible for the Yellow Ribbon Program which helps them pay for out-of-state, private school, or graduate school tuition that the Post-9/11 GI Bill® doesn't cover. Touro University participates in the Yellow Ribbon Programs for a wide range of degree programs at Undergraduate and Graduate level (Except for medical schools and some professional schools). The contribution amount may be different depending on the program.
MONTGOMERY GI BILL®-ACTIVE DUTY
The Montgomery GI Bill®-Active Duty or Chapter 30 provides up to 36 months of education benefits. This benefit may be used for degree and certificate programs, flight training, apprenticeship/on-the-job training and correspondence courses.
MONTGOMERY GI BILL®-SELECTED RESERVE
Montgomery GI Bill®-Selected Reserve or Chapter 1606 provides up to 36 months of education benefits to members of the Selected Reserve. This includes the Army, Marine Corps, Navy, Air Force, and Coast Guard Reserves. It also includes the Army National Guard and the Air National Guard.
DEPENDENTS EDUCATIONAL ASSISTANCE PROGRAM
The Survivors' and Dependents' Educational Assistance Program or Chapter 35, provides education and training opportunities to dependents of veterans who are permanently and totally disabled with a VA rating of 100% due to a service-related condition.
Veteran Readiness and Employment (VR&E)
Veteran Readiness and Employment (VR&E) or Chapter 31 helps veterans with service-connected disabilities prepare for, find, and keep suitable jobs.
Department of Defense (DoD)
The Department of Defense primarily offers current service members Federal Tuition Assistance (FTA) through their principle US military services: Army, Navy, Air Force, Marine Corps, and Coast Guard and the National Guard. Each service provides varying rates of tuition assistance. Touro University recommends you click on the links provided through:
MILITARY ONESOURCE
If you're looking for help with paying for tuition or finding a job, many agencies and groups are ready to assist. On this page, Military OneSource provides valuable information, benefits, and tips about higher education and employment.
TUITION ASSISTANCE PROGRAMS
These programs provide financial aid for voluntary, off-duty education programs that support your professional and personal goals. Each service branch offers its own program:
NATIONAL GUARD AND STATE MILITIA
The National Guard provides tuition assistance to members of the National Guard through each state and territory that contains National Guard forces. Find out your eligibility and application process for New York National Guard Education benefits at https://dmna.ny.gov/education/.
FEDERAL TUITION ASSISTANCE
Federal Tuition Assistance rates are the same between the various active military services and the National Guard but there are significant differences and limitations each applicant should research.
THE RECRUITMENT INCENTIVE AND RETENTION PROGRAM (RIRP)
The Recruitment Incentive and Retention Program (RIRP) is a New York State program designed to recruit and retain members for the State Military Forces (Army and Air National Guard, and Naval Militia). This competitive program will pay the cost of tuition up to SUNY tuition rates per semester.
New York State Veterans Tuition Award
Touro Programs
Our goal is for you to succeed. We work with you to make sure your academic career is successful, so you can go on to successful professional careers. To make that happen, we've developed programs, specifically for military students, to help you reach your goals.
"ON-TRACK" PROGRAM FOR COLLEGE PREP
The post 9/11 GI Bill® offers you the opportunity to address academic shortfalls before actually beginning your regular "matriculating" academic program and Touro University is prepared to help you make great use of this time. We will work hard to set you up for success in the key requirements necessary for college by offering you undergraduate courses in math, writing, science, and other skills. As you move forward you will know that you have the tools necessary to keep going with confidence.
The Post-9/11 Veterans Educational Assistance Act of 2008 also known as Chapter 33, boasts the most comprehensive education benefits package since the original GI Bill® by providing financial support for education and housing.
"PIPE-LINE" PROGRAM FOR GRADUATE & PROFESSIONAL DEGREES
The Touro University "Pipe-line" Program for high achieving VA students desiring the opportunity to continue their education towards a graduate degree or a professional degree in health service or the law. What makes this program unique is that it affords the established Touro undergraduate VA student unparalleled access into the higher-level programs through increased visibility to staff and one-on-one mentorship with key faculty. While Touro University doesn't guarantee admission or offer preferential treatment in getting into classes, this program will allow you to know exactly what needs to be done to meet the requirements of our graduate and professional programs.
The "Pipeline Program" does not guarantee admission into any of the Graduate/Professional programs that Touro offers. The student is still responsible for meeting all of the program requirements and entry into the "Pipeline Program" only provides students with the opportunity to receive assistance and additional guidance in determining where the student stands and what additional requirements must be met to gain entry into any of these programs